Workers race to replace damaged Soyuz crew capsule
BY STEPHEN CLARK
SPACEFLIGHT NOW
Posted: October 19, 2010


Responding to unexplained damage to a piece of the next Soyuz spacecraft, the Russian builder of the capsule has shipped a replacement descent module to Kazakhstan for preparations to launch the next three-person crew to the International Space Station in December.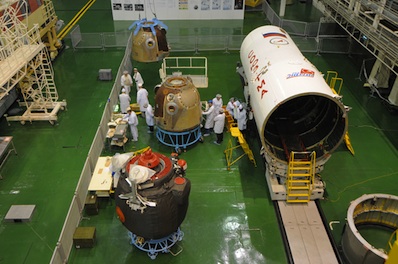 Two descent modules inside the Soyuz assembly and test facility at Baikonur. Credit: Energia



Russian officials ordered the unusual swapout after technicians discovered a problem with the descent module of the Soyuz TMA-20 spacecraft when it was unloaded after a train trip from its factory to the Baikonur Cosmodrome in Kazakhstan, according to Energia, the capsule's contractor.

A Russian cosmonaut and U.S. and Italian astronauts were supposed to strap into the Soyuz capsule Dec. 13 for a two-day ride to the space station. The descent module is the only part of the spacecraft that returns to Earth with space crews.

Engineers believe the module was damaged during the rail journey from Russia to Kazakhstan.

It is the second piece of Russian space hardware in three months to be damaged on a train. A Proton rocket was banged up on a rail trip to Baikonur in July.

Energia dispatched another crew compartment to the remote Kazakhstan space base last week, this time aboard a Russian cargo plane. The Russian contractor shipped the module that was scheduled to launch another trio of station residents in March 2011, according to Michael Suffredini, NASA's space station program manager.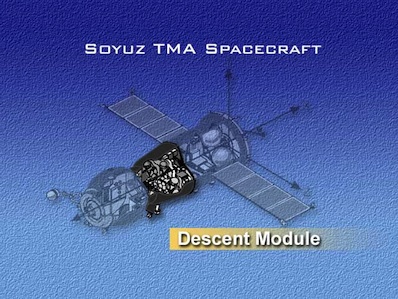 Diagram of the Soyuz spacecraft. The descent module is highlighted. Credit: NASA



"If all goes well, the impact could be as little as a couple day slip," Suffredini said Monday.

For now, launch is still scheduled for Dec. 13 at 1956 GMT (2:56 p.m. EST). The Soyuz will carry Russian cosmonaut Dmitry Kondratyev, U.S. astronaut Catherine Coleman and Italian space flier Paolo Nespoli for five months on the space station.

The three-person crew will dock to the complex Dec. 15, assuming liftoff remains set for Dec. 13.

According to Energia, about 30 Soyuz spacecraft are in different phases of production.

Technicians are working in three shifts to assemble and test the spacecraft for the next mission at Baikonur, the Soyuz contractor said in an Oct. 12 statement.

Soyuz descent modules weigh more than 6,000 pounds and have a habitable volume of 141 cubic feet, according to NASA.