President Obama signs space program agenda into law
BY WILLIAM HARWOOD
STORY WRITTEN FOR CBS NEWS "SPACE PLACE" & USED WITH PERMISSION
Posted: October 11, 2010


President Obama signed legislation Monday that authorizes $19 billion for NASA in fiscal 2011, funding an additional shuttle flight, accelerating development of a new heavy lift rocket for deep space exploration and pressing ahead with plans to use commercial spacecraft to ferry astronauts to and from the International Space Station.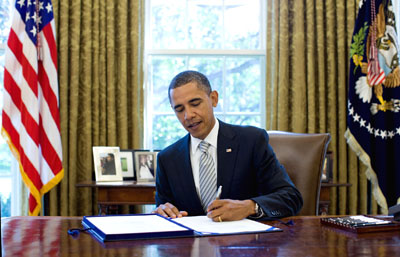 President Obama signs the NASA Authorization of 2010 into law. Credit: White House photo by Pete Souza



The budget cancels the Bush administration's Constellation moon program, but endorses development of a manned spacecraft for deep space exploration similar to the Orion capsule envisioned for the scrapped moon missions. It also calls for development of new technologies, continued robotic exploration and a major upgrade to the launch infrastructure at the Kennedy Space Center and the Cape Canaveral Air Force Station.

"We now have a way forward for NASA," said Sen. Bill Nelson, a Florida Democrat who flew aboard the shuttle Columbia in 1986 and who played a key role in winning approval for a modified version of the president's original budget request. "Now with the signing of this legislation into law, NASA has a blueprint, NASA has a roadmap.

"The goal is not the moon," he said. "We were there 40 years ago. The goal is Mars by a flexible path. The president has stated that goal ... and this legislation which he is signing into law will now set us on that course."

Nelson made the comments during a NASA teleconference with reporters before the president signed the legislation. NASA Administrator Charles Bolden made an opening statement but as has become standard practice, he took no questions and left the briefing in the hands of his deputy, Lori Garver.

In a written statement, Bolden said the agency will "foster a growing commercial space transportation industry that will allow NASA ... to start work on a heavy-lift architecture to take astronauts beyond low-Earth orbit and to develop a multi-purpose crew vehicle for use with our new space launch systems."

"We have been given a new path in space that will enable our country to develop greater capabilities, transforming the state of the art in aerospace technologies," he said. "We will continue to maintain and expand vital partnerships around the world. It will help us retool for the industries and jobs of the future that will be vital for long-term economic growth and national security.

The budget authorization now must go through the appropriations process, which Nelson warned is "going to be a tough session because of the need to cut back on spending with regard to the federal deficit."

"We're going to end up having an omnibus appropriations bill," he said. "But I believe there's some hope for NASA's funding because we got a unanimous support of all of the appropriations members for the NASA budget in the Senate appropriations bill that appropriated almost identically ... to what the president is signing into law today."

The president's initial budget request was formulated after an independent panel of space experts chaired by aerospace executive Norman Augustine concluded the Constellation program, and several other potential exploration strategies, could not be executed without a major boost in funding.

On the assumption NASA received an additional $3 billion a year, the panel recommended a so-called "flexible path" approach that called for bypassing the moon in favor of a variety of deep space targets. At the same time, the panel recommended extending the space station's life through at least 2020 and turning over manned flights to and from low-Earth orbit to private companies.

The Obama administration agreed with the broad outlines of the flexible path architecture and while it approved a modest increase in NASA's budget, it fell far short of what the Augustine panel said would be needed. The initial budget proposal deferred development of a new heavy lift rocket and set no timetable for deep space exploration.

The president later said he would support starting work on a new heavy lifter in the 2015 timeframe for flights to nearby asteroids by 2025 and eventual flights to the vicinity of Mars in the mid 2030s.

The compromise package signed by the president Monday accelerates the heavy lifter development, adds the additional shuttle flight and stretches out funding for development of commercial launchers.

"Probably the main thing the Augustine committee found was that the path NASA was on was not sustainable," said Sally Ride, a former shuttle astronaut and a member of the panel. "We are all excited about the new path, more of an emphasis on technologies, more of an emphasis on commercial capabilities done in the right way and with a focus on mission assurance and a good human-rating process. That would help free NASA to do the more exciting and challenging things we all believe NASA can and should be doing, getting astronauts beyond low-Earth orbit. ... In that regard, this bill is a very good step forward.

But, she warned, "the 600-pound gorilla here is the U.S. economy and the need for fiscal responsibility across all agencies."

"Would we have liked more money in the NASA budget? Yes. ... But the realities are very clear. And the fact that NASA did get an increase shows the support NASA has across the political spectrum. ... I think this is just an excellent bill that will take NASA forward."

Critics have charged that the budget does not adequately fund the new super rocket and that it will not fly by 2016 as promised without additional funding.

"The Senate bill forces NASA to build a rocket that doesn't meet its needs, with a budget that's not adequate to do the job and on a schedule that NASA's own analysis says is unrealistic," Rep. Gabrielle Giffords, D-Arizona, said during recent debate in the House. "That is not my idea of an executable and sustainable human spaceflight program."

But Nelson said Monday the budget plan would, in fact, cover that development of the new heavy lifter and that opponents were mis-informed as to how much money was potentially on the table.

"What is in this bill is eleven-and-a-half billion dollars over the next six years, anticipated, even though it's a three-year authorization, for development and testing of a heavy lift rocket," he said. "Now if we can't develop a new rocket for eleven-and-a-half billion dollars, building on a lot of the technologies that were already developed in spending nine billion (on the Constellation program's Ares rockets), if we can't do it for that, then we ought to question whether or not we can build a rocket."

Nelson also downplayed criticism of the plan's call for development of commercial crew transport by former Apollo astronauts Neil Armstrong, Gene Cernan and Jim Lovell. All three questioned the safety, cost and timetable for commercial spacecraft built by companies without prior manned space flight experience.

Since then, aerospace giant Boeing has announced plans to enter the competition, a move Nelson said reassured at least some of the critics.

"I think that changed the flavor of the whole thing, realizing you're going to have the best and the brightest aerospace companies competing for the contracts to deliver crew to and from the space station," Nelson said. "Once that became apparent, then I think there was a comfort there among these astronauts. ... I think that was one of the big things that turned it around."