NASA expects a gap in commercial crew funding
BY STEPHEN CLARK
SPACEFLIGHT NOW
Posted: October 11, 2010


PRAGUE -- Some companies could see a gap in funding between the first and second rounds of NASA's procurement to help develop commercial crew transportation services for low Earth orbit, according to the agency's top exploration official.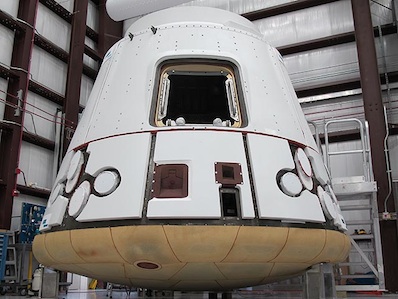 SpaceX is preparing a Dragon capsule for an unmanned test flight in November. Credit: Michael Rooks/SpaceX



NASA plans to release a request to industry for proposals in a second round of the commercial crew development, or CCDev, program on or about Oct. 25, the agency said in an announcement on the Federal Business Opportunities website.

Doug Cooke, the associate administrator for NASA's exploration directorate, said payments to the firms under the current CCDev procurement cycle are based on milestones. That means money from the last fiscal year, which concluded Sept. 30, will remain available through December, when the final milestones are scheduled, according to Cooke.

But the Oct. 1 notice of a second CCDev contest indicates the next awards will not come until March 2011. Proposals will be due approximately 45 days after the solicitation, according to NASA.

"There may be a little bit of a gap before we get more money out to industry," Cooke told Spaceflight Now at the 61st International Astronautical Congress in Prague.

Only companies receiving awards in both rounds of CCDev funding would see a gap. The new competition will be open to all companies, not just firms already collecting money from NASA.

NASA unveiled the five companies receiving the first round of CCDev funding Feb. 1, the same day the White House released its fiscal year 2011 budget request. The budget called for the hastened development of commercial crew transportation to take over the job of moving astronauts to and from the International Space Station.

The February space act agreements distributed $50 million in stimulus funds to the five winners.

The CCDev procurement is structured in space act agreements, agile mechanisms that allow NASA to invest in the work of private companies on designs for commercial spaceships or enabling technologies.

The Obama administration requested $3.3 billion for commercial crew services over the next three years, but a so-called compromise bill forged in the Senate slashed the proposal in half. After months of heated contention, the House of Representatives finally agreed to the Senate authorization bill in late September, calling for $1.6 billion for the commercial program.

President Obama signed the authorization act into law on Monday.

Appropriations legislation will ultimately set next year's NASA budget, but passage of a spending bill will wait until after this year's mid-term elections in November.

Cooke said $1.6 billion through 2013 will "present some challenges with funding, but that's OK."

"We're going to make the most effective use of that money," Cooke said. "It's in the positive direction of commercial crew."

He insisted the scaled-back approach to commercial crew transportation would still foster a viable market, at least for NASA's mission of staffing the space station.

It will be up to industry to put up any additional required funds and build the commercial space sector with other destinations in orbit, including private space stations like those being designed by Bigelow Aerospace.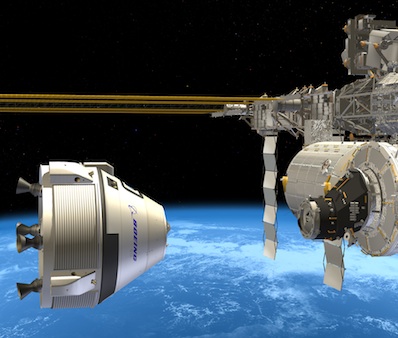 Artist's concept of Boeing's CST-100 crew capsule approaching the International Space Station. Credit: Boeing



There should be enough funding in the authorization bill to support three or four CCDev candidates early in the program, then a downselection to two providers, according to Elon Musk, founder and CEO of SpaceX.

Musk forecasts expenditures between $800 million and $1 billion to outfit SpaceX's Dragon capsule and Falcon 9 rockets for human flights. Some of that money could be deferred beyond 2013, the planning horizon in the current NASA bills.

Several industry sources say NASA must provide more funding in the fourth and fifth years of the commercial crew development cycle, before the privately-developed vehicles are flying on operational missions. That money should be separate from firm contracts for crew rotation missions to the space station, according to officials in the private sector.

Two companies, Boeing Co. and Sierra Nevada Corp., from the first CCDev selections are actually designing new commercial spaceships under their agreements with NASA. Three other winners received space act agreements to develop new spacecraft subsystems for human spaceflight.

Boeing's CST-100 crew capsule is a back-to-basics design specifically geared for shuttling crews back and forth to space stations, including both ISS and potential Bigelow complexes.

A Boeing spokesperson said the company is not commenting on the authorization act's implications for its commercial crew prospects. Boeing also considers the projected development cost of the CST-100 as competition sensitive.

Industry officials say the final cost of a privately-built human-rated spacecraft will depend on NASA's stringent safety and oversight requirements, implying more flexible standards would reduce costs.

Alluding to that concern, Cooke said NASA is considering several contractual alternatives to introduce more flexibility and efficiencies for revenue-oriented companies.

In a media teleconference Sept. 15, Boeing officials said they were hoping for fresh funding by Nov. 1 to keep the CST-100 design team in place. Without such money, Boeing's target to begin operational flights of the capsule by 2015 could be in jeopardy, according to John Elbon, the vice president and program manager of the company's commercial crew transportation system.

Boeing managers and executives have repeatedly cited NASA's turn to commercial crew services as the deciding factor in the business case for the CST-100.

Between 80 and 100 employees are working on the CST-100 project, which is being financed through Boeing capital and NASA's $18 million investment in the CCDev program.

Edmund Memi, a Boeing spokesperson, last week said the company is "assessing whether we can fund internally during this gap, but we have not made the final decision at this point to do so."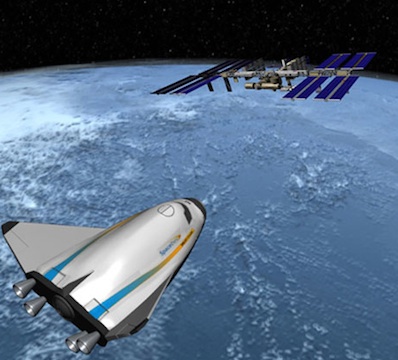 Artist's concept of a Dream Chaser spacecraft. Credit: Sierra Nevada



Sierra Nevada's Dream Chaser is receiving $20 million in CCDev funding, the largest award in the first round of the program.

The Dream Chaser is a lifting body spaceship based on the NASA-designed HL-20 spaceplane. It would launch vertically on an Atlas 5 rocket and return to Earth for landing on a runway. Sierra Nevada expects the Dream Chaser's first flight in 2014.

Sierra Nevada's SpaceDev division was already working on the Dream Chaser before NASA's commercial crew program. The winged craft was competed for NASA's commercial cargo initiative, but the agency ultimately selected SpaceX and Orbital Sciences Corp. for the job.

SpaceX was not one of the winners in the first round of CCDev, but the firm could stand a better chance at federal funds in round two, which will be targeted at maturing technologies.

"NASA intends to solicit proposals from all interested U.S. industry participants to further advance commercial crew space transportation system concepts and mature the design and development of elements of the system such as launch vehicles and spacecraft," the Oct. 1 CCDev announcement said.