Boeing allies with Space Adventures for tourist flights
BY STEPHEN CLARK
SPACEFLIGHT NOW
Posted: September 15, 2010


Wealthy space tourists could join astronauts on Boeing's proposed commercial spaceship under a framework agreement announced Wednesday between the aerospace contractor and Space Adventures.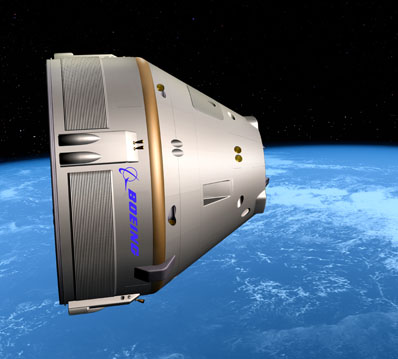 Artist's concept of the CST-100 capsule. Credit: Boeing



Boeing is developing a concept for a seven-person space capsule to ferry crews to the International Space Station and private orbital complexes beginning as soon as 2015.

"This opportunity to provide transportation services to NASA creates another opportunity to jumpstart the human migration to space," said Brewster Shaw, Boeing's vice president and general manager of space exploration. "One of our stated goals in our division is to become the Boeing commercial aircraft of human space commerce."

Space Adventures is a Virgina-based firm that has negotiated eight trips to the space station on Russian Soyuz vehicles since 2001. But Soyuz seats will be filled with space station crew members in the next few years, unless Russia ramps up Soyuz production and flies more missions to address the tourism market.

Eric Anderson, co-founder and chairman of Space Adventures, said the Boeing agreement will not only "service the market, but also grow the market."

"Right now, the problem is that there's not enough access to space," Anderson said. "We, as an industry, need more access to space.

The memorandum of agreement between Boeing and Space Adventures covers access to extra seats on the CST-100 spacecraft, a capsule being designed by Boeing to transport NASA astronauts to the space station.

Officials would not disclose the expected price of a tourist flight on the CST-100, only saying it would be "competitive" with Soyuz rates.

Guy Laliberte, the last spaceflight participant on a Soyuz, paid approximately $40 million for nearly 11 days in orbit, according to Anderson.

NASA crews must ride to and from the outpost on Soyuz flights until the agency either builds a government-owned spacecraft or the private sector develops a vehicle to fill the role.

That is a subject of debate between the Obama administration and both houses of Congress as the federal government rushes to pass a budget for fiscal year 2011.

The White House directed NASA to hand over transportation to low Earth orbit to commercial providers, proposing a $5 billion investment in the effort over the next five years.

But the Senate's NASA spending bill includes less than half of the White House funding request over the next three years. A House authorization act still pending passage calls for just $450 million for commercial crew transportation programs in the same time period.

Boeing's CST-100 spacecraft is receiving $18 million under a Space Act Agreement with NASA, but that funding runs out later this year. The Commercial Crew Development, or CCDev, contract distributed funding to several companies in early 2010 to help advance commercial human spacecraft concepts and technologies.

About 80 to 100 employees are working on CST-100 development, according to John Elbon, vice president and program manager of Boeing's commercial crew transportation system.

Boeing is relying on NASA money to continue work on the CST-100. The company will accomplish all of its milestones in the initial CCDev agreement by the end of this year, Elbon said.


| | |
| --- | --- |
| | A cross-section of the CST-100 capsule shows crew seating. Credit: Boeing |
Elbon is hopeful for new funding for commercial crew development by Nov. 1 to keep the team in place.

Deep division in Congress over the particulars of the NASA budget could force a continuing resolution in October, which would freeze the agency's funding at or near 2010 levels until a permanent budget is passed.

"If there's a continuing resolution, for example, that doesn't allow commercial crew to continue, that will create a gap in our development program," Elbon said.

A gap in money would threaten Boeing's goal to have the CST-100 ready for test flights in 2014 and operational by 2015, according to Elbon.

NASA funding is the crucial leg of Boeing's commercial space transportation concept, which is also designed to fly crews to private space stations for Bigelow Aerospace of Las Vegas.

"We couldn't be able to close our business case without funding from NASA to assist our development," Elbon said.

If built, Bigelow's first privately-built space complex will be more than half the size of the International Space Station and ready for duty by 2015.

The agreement with Space Adventures doesn't yet cover Bigelow missions, but the CST-100 could fly tourists on ISS sorties or dedicated flights.

"I think it's also a win-win for NASA," Elbon said. "Being able to sell the extra seats we have when we take NASA astronauts to the space station, that will also reduce the cost to NASA for those missions."

A roundtrip seat on a CST-100 capsule to Bigelow's space station will cost about $25 million, according to the company's founder and namesake, Robert Bigelow.

Elbon said Boeing has already built a CST-100 test article to start pressure checks as early as Saturday in Las Vegas.

Drop tests of the craft's airbag landing system also began this week, and Boeing has outfitted a simulator in Houston connected with an automated rendezvous and docking lab in Huntington Beach, Calif.

A CST-100 systems design review is on tap for Oct. 4, Elbon said.

Officials say the spacecraft is being designed to launch on several rockets, including the Atlas 5, Delta 4 and Falcon 9.

Boeing is joined by other commercial crew competitors such as SpaceX and Sierra Nevada Corp.