Group of navigation satellites launched by Proton rocket
BY STEPHEN CLARK
SPACEFLIGHT NOW
Posted: September 1, 2010
Updated @ 1 a.m. EDT


A Proton rocket blasted off overnight Wednesday with three spacecraft to help expand Russia's satellite navigation system to provide positioning services around the world.
The Proton rocket launched at 0053 GMT Thursday (8:53 p.m. EDT Wednesday) from pad 81 at the Baikonur Cosmodrome in Kazakhstan, where the first pink hues of sunrise splashed the dawn sky.
With six main engines burning, the Proton soared into mostly clear skies and jettisoned its first stage two minutes after liftoff. The three-stage rocket deployed a Block DM upper stage and the three Glonass payloads in space less than 10 minutes into the mission.
The Block DM was expected to fire twice to place the Glonass satellites in a circular orbit 12,000 miles above Earth with an inclination of 64.8 degrees.
Spacecraft separation occurred at 0426 GMT (12:26 a.m. EDT) in the targeted orbit, according to the Russian Space Agency.
The satellites are the second group of Glonass platforms launched this year. Three other spacecraft were orbited by a Proton rocket March 1.
Each satellite weighs about 3,000 pounds at launch, including maneuvering fuel to maintan the craft's orientation in space. The modernized Glonass M spacecraft are designed to operate for seven years in orbit, according to their manufacturer, Information Satellite Systems Reshetnev Co.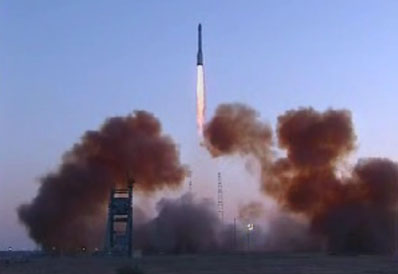 The Proton rocket lifts off with three Glonass navigation satellites. Credit: TsENKI TV



Glonass satellites broadcast navigation signals to military and civilian users from their orbital perch, reaching ground receivers across a swath of Earth nearly stretching from pole to pole.

According to a Russian Space Agency website, 21 Glonass satellites are currently operational. Two more spacecraft are considered spares.

Glonass satellites are scattered in three orbital groups, each designed for eight spacecraft to achieve global navigation coverage with a total of 24 operating satellites.

Three more Glonass M satellites are scheduled for launch in November.

Reshetnev is testing the first upgraded Glonass K spacecraft for launch on a Soyuz rocket from the Plesetsk Cosmodrome in December. The new series of Glonass satellites will feature longer lifetimes of up to 10 years.