New GPS satellites pass critical design review
BY STEPHEN CLARK
SPACEFLIGHT NOW
Posted: August 23, 2010


The U.S. Air Force and Lockheed Martin have completed the critical design review for an upgraded Global Positioning System constellation, clearing the way for the production of a new generation of navigation satellites.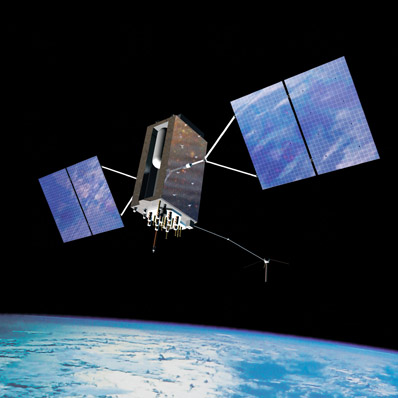 Artist's concept of a GPS 3 satellite. Credit: Lockheed Martin



The design review for the GPS 3 program cemented the design for a series of navigation satellites that will begin launching in 2014. Lockheed Martin's $3 billion contract with the Air Force covers the construction of up to 12 GPS 3A spacecraft, the company said in a statement.

The four-day space vehicle critical design review was accomplished two months ahead of schedule, concluding a series of design milestones for spacecraft components and subsystems, the statement said.

"With a focus on strong systems engineering and program management fundamentals, the team successfully executed a high-quality design review, which included 65 detailed CDR events," said Col. Bernard Gruber, the Air Force's GPS wing commander. "Having completed the milestone ahead of schedule with excellent results, the program is on firm footing, and I am confident the team will successfully deliver this critical next generation system to enhance GPS capabilities for millions of military and civilian users around the globe."

The GPS 3A satellites will provide improved positioning and timing services and more secure anti-jam capabilities, ensuring signals three times more accurate than existing GPS satellites, according to Lockheed Martin.

The next-generation satellite family will also introduce a new civil signal to make the GPS fleet more compatible with Europe's Galileo satellite navigation system.

"This successful review demonstrated with high confidence that our low-risk GPS 3 design will meet warfighter and civil user requirements and that we are fully prepared to enter the production phase of this vitally important program," said Joe Trench, Lockheed Martin's vice president of navigation systems.

Military and contractor teams plan more satellite improvements in the Block 3B and 3C series of GPS spacecraft to further replenish the orbiting fleet near the end of this decade.

In the meantime, the Air Force is launching a dozen GPS 2F satellites to bridge the gap between heritage spacecraft and the next-generation GPS 3 family. The first GPS 2F satellite, built by Boeing, blasted off in May and is now in the final stages of in-orbit testing, which is due to be finished by September, the Air Force said in an Aug. 10 statement.