Chinese mini-station moves one step closer to liftoff
BY STEPHEN CLARK
SPACEFLIGHT NOW
Posted: August 18, 2010


China has finished building an unmanned module that will be the centerpiece of the country's first space laboratory, state media reported Tuesday.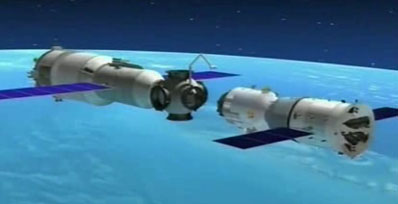 Animation of the Tiangong 1 module (left) and a Shenzhou capsule (right) in orbit.



The Xinhua news agency, citing a military source in Beijing, said China has completed construction of the Tiangong 1 space module. The vehicle is now being tested to check its electrical, mechanical and thermal properties, Xinhua reported.

The nearly 19,000-pound spacecraft will launch on a Long March 2F rocket sometime next year, setting the stage for a series of automated and crewed dockings in 2011 and 2012.

Xinhua reported the Long March booster is currently being tested.

Tiangong means heavenly palace in English.

The Shenzhou 8 spacecraft is being readied to launch in the second half of 2011, when it will rendezvous and dock with the Tiangong 1 module in orbit. Shenzhou 8 is currently planned to fly without a crew on China's first space docking attempt.

Shenzhou 8 is now under construction, Xinhua reported.

Two more Shenzhou spaceships are planned for launch in 2012 with Chinese astronauts. Each mission will visit the Tiangong lab for temporary stays. The Tiangong 1 module will offer more spacious quarters for Chinese astronauts to conduct research in orbit.

China's space program is shrouded in secrecy. State media reports are often the only official source of information on the country's space ambitions.

The military-run human space program has accomplished three piloted Shenzhou missions since 2003, when China became the third nation to send a human into space. The most recent Shenzhou flight in 2008 included China's first spacewalk.

Other Chinese space activities this year include the October blastoff of the country's second probe to the moon, the construction of the Beidou satellite navigation system, and continued launches of government reconnaissance spacecraft.