Sea Launch post-bankruptcy plan wins court approval
BY STEPHEN CLARK
SPACEFLIGHT NOW
Posted: July 27, 2010


A Delaware bankruptcy court confirmed Sea Launch's plan to reorganize under majority Russian ownership Tuesday, clearing a key hurdle on the firm's path to emerge from bankruptcy later this year.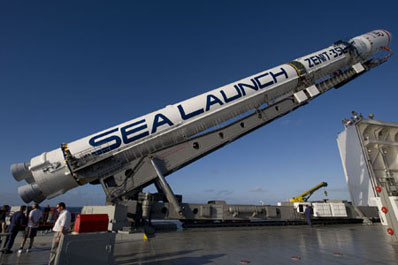 File photo of a Sea Launch Zenit 3SL rocket prepared for liftoff. Credit: Sea Launch/Kevin Brown



The milestone ruling came 13 months after Sea Launch filed for Chapter 11 bankruptcy protection in June 2009.

"Today was an important milestone," said Kjell Karlsen, president and general manager of Sea Launch. "To have this completed in 13 months, I'm very pleased that we've managed to get through this process that quickly. We now have a plan that makes us a much stronger company going forward."

The plan calls for Energia Overseas Ltd., a subsidiary of the Russian aerospace giant Energia, to purchase 85 percent of the stock in Sea Launch for $140 million in cash. The unsecured creditors, or firms that acquired a stake in Sea Launch in exchange for owed debts, will collectively hold 15 percent ownership in the reorganized launch business.

In an interview Tuesday, Karlsen said Sea Launch and its legal team resolved all but one objection to the reorganization plan prior to the hearing.

"They were all resolved, with one small exception, prior to the hearing today," Karlsen said. "And the judge went through that objection and ruled in our favor and he confirmed the plan."

Sea Launch's plan won't become effective until U.S. regulators review the company's restructuring and approve the transaction. Karlsen said he expects the review will be complete by the end of September, but he cautioned the review "will take as long as it will take."

"When the transaction has been approved, that's when we become effective and when the wheels start rolling and we start getting ready for our first launch," Karlsen said.

The previous Sea Launch ownership coalition was led by Boeing Co. with a 40 percent share. Energia, Aker of Norway, and Yuzhnoye and Yuzhmash of Ukraine held smaller shares.

Karlsen previously said Sea Launch can be profitable under the new plan with four launches per year. The company executed 30 Zenit 3SL rocket flights from the Odyssey launch platform in the Pacific Ocean between 1999 and 2009, when Sea Launch filed for bankruptcy.

The California-based firm's Land Launch subsidiary conducted four Zenit flights since 2008 from the Baikonur Cosmodrome in Kazakhstan.

While the company's reorganization plan has been stuck in litigation, Sea Launch has bulked up its launch backlog with new contracts for commercial satellite missions.

Earlier this month, Sea Launch announced a firm contract for delivery of an AsiaSat communications satellite to orbit between 2012 and 2014.

Last week, the launch provider signed an agreement with EchoStar Satellite Services to loft up to three spacecraft for the U.S.-based operator.

"The EchoStar (agreement) is a continuation of the agreement we have with them that gives them the opportunity to launch three satellites on Sea Launch subject to certain conditions that we have to meet, and today was one of those conditions," Karlsen said in an interview with Spaceflight Now.

Sea Launch's backlog now includes four firm contracts, including the AsiaSat deal, an Intelsat satellite launch, and agreements for two flights with Eutelsat payloads. The manifest doesn't include unannounced contracts or the conditional EchoStar agreement.

The next flight of a Land Launch rocket will occur between January and March of 2011 with the Intelsat 18 communications satellite. Sea Launch's next mission from the Pacific Ocean is scheduled for the third quarter of 2011, Karlsen said.

Karlsen said he anticipates more launch contract announcements in the coming months.

Energia Overseas also committed $200 million in working capital to facilitate hardware purchases from suppliers in the United States, Russia and Ukraine.

Boeing Co. builds the payload fairing for Sea Launch's Zenit 3SL rocket, Energia provides the Block DM upper stage, while Yuzhnoye and Yuzhmash of Ukraine are in charge of manufacturing the Zenit's first and second stages.