Troubled weather satellite receives final instrument
BY STEPHEN CLARK
SPACEFLIGHT NOW
Posted: July 25, 2010


The next U.S. weather satellite has received its final observing instrument and will begin pre-launch environmental testing in October, NASA announced last week.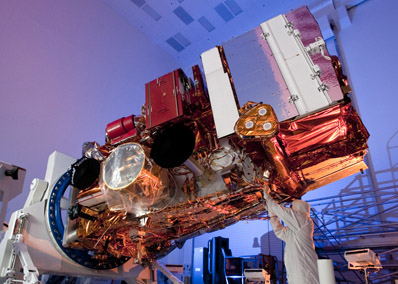 The CrIS instrument is installed on the NPP spacecraft. Credit: Ball Aerospace



The last of the NPOESS Preparatory Project's five weather sensors arrived at Ball Aerospace and Technologies Corp. in June and was integrated on the satellite July 14, Ball said in a statement.

NPP is scheduled to launch in October 2011 to replenish a fleet of polar-orbiting weather satellites operated by the National Oceanic and Atmospheric Administration.

The Cross-track Infrared Sounder, or CrIS instrument, was the final NPP payload bolted to the spacecraft at Ball's satellite factory in Boulder, Colo.

CrIS was responsible for an NPP launch delay from January to October 2011 after engineers discovered a voltage issue with electronic components. The sensor was manufactured by ITT Geospatial Systems.

"Successful integration of CrIS brings us one step closer to launching the nation's critically needed, next weather satellite," said Cary Ludtke, vice president and general manager for Ball's civil and operational space business unit.

CrIS will measure vertical profiles of atmospheric temperature and water vapor.

Development troubles with NPP's instruments have caused other delays. The Visible Infrared Imager Radiometer Suite was responsible for previous schedule slips, but it was delivered to Ball in January.

NPP was originally conceived as a NASA technology demonstration mission for the next generation of polar-orbiting weather satellites. But lengthy delays of the National Polar-orbiting Operational Environmental Satellite System, or NPOESS, constellation thrust NPP into a much-needed gapfiller role to bridge between the current fleet and the next program.

The White House terminated the NPOESS program in its fiscal year 2011 budget request in February after the projected life-cycle budget soared to more than $15 billion. NPOESS was jointly managed between NOAA, NASA and the Air Force, which also operates its own weather satellites.

NOAA announced in June that the Joint Polar Satellite System, the NPOESS replacement program, would start operations in 2014 with a clone of the NPP spacecraft.

"With an NPP bus that has already been built, with the instruments nearly all integrated, and with the ground systems prepared to support to NPP, that approach was the lowest risk," Mary Kicza, associate administrator of NOAA's satellite and information service, said in the June 28 announcement.