Competing NASA bills on collision course in Congress
BY STEPHEN CLARK
SPACEFLIGHT NOW
Posted: July 22, 2010


House and Senate committees voted Thursday on vastly different visions for NASA's future, setting up a legislative clash on the roles of the agency and commercial vendors in the next phase of space exploration.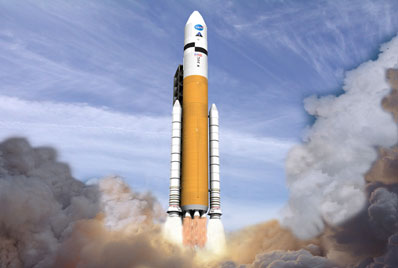 The Ares 5 rocket could be a baseline for a new heavy-lift launch vehicle, along with other designs based on space shuttle hardware. Credit: NASA



The House science committee affirmed its support of an additional shuttle flight Thursday, while the Senate appropriations panel approved its proposed 2011 budget for the space agency.

An amendment submitted by Rep. Suzanne Kosmas, D-Fla., was passed in the House Science and Technology Committee to add an extra space shuttle flight next summer.

"This mission will help to minimize the human spaceflight gap by stretching out the human spaceflight capabilities into mid-2011," Kosmas said when proposing the amendment.

The extra shuttle flight was part of legislation snaking its way through the Senate, but a draft of the House's NASA Authorization Act of 2010 did not direct NASA to conduct the additional mission.

"This extension of the shuttle program will help protect jobs while giving us more time to diversify our economy and provide new opportunities for Space Coast workers," Kosmas said in a statement.

Rep. Pete Olson, R-Texas, expressed support for the extra shuttle flight.

"Today, we fulfilled our promise to produce a NASA Authorization bill," Olson said in a statement. "But today's action is greater than a legislative achievement: It ensures our nation's space program remains the global leader and restores NASA's position as the premier exploration agency in the world."

The House science committee marked up its NASA legislation during a multi-hour hearing Thursday. The authorization act covers the next three years, which was amended down from a five-year authorization during Thursday's hearing.

A Kosmas amendment to boost the House bill's support for NASA's commercial crew transportation program was shot down by the committee.

The commercial crew program would help private companies develop piloted spacecraft for missions to the International Space Station in low Earth orbit.

Rep. Dana Rohrabacher, R-Calif., also lobbied for more funding for commercial crew programs. But other members of the panel voted against changes, saying the authorization bill represented a carefully-crafted balance between commercial crew and exploration priorities.

The House bill only calls for $150 million in direct funding for commercial crew projects through 2013. NASA would provide another $100 million per year under the pending legislation, summing an investment of $450 million spread over three years.

Those figures are significantly lower than the budget proposed in the Senate's authorization act and the Senate's spending bill, which offer $1.3 billion in commercial crew funding over the same time period.

"We really have to work within our means," said Rep. Bart Gordon, D-Tenn., chairman of the House Science and Technology Committee. "Even looking at the Senate bill, we're afraid that it is not within those budgetary guidelines."

The Senate Appropriation Committee approved a $19 billion NASA budget Thursday in an overall $60 billion spending package.

"We really did try to find a path forward that kept a balanced space program in human spaceflight, space techonology, science and also reliable transportation systems," said Sen. Barbara Mikulski, D-Md., chair of the Senate panel responsible for NASA's budget.

The Senate legislation was crafted as a compromise with the White House, which originally asked for $3.3 billion for the commercial crew program through 2013.


| | |
| --- | --- |
| | Artist's concept of an Orion spacecraft approaching the International Space Station. Credit: Lockheed Martin |
"While the Senate compromise comes much closer to the goals outlined in our bipartisan plan for NASA and strikes a better balance in terms of continuing the development of a NASA-led vehicle while supporting the growth of the commercial spaceflight industry, it was important to move the process forward in the House today," Kosmas said in a statement.

Legislation in both bodies directs NASA to develop a heavy-lift rocket and government-owned crew capsule for deep space missions. The craft should be based on the Ares and Orion vehicles canned in the White House's budget request.

"The administration's plan was not a responsible or realistic approach to human space flight and was not approved by the subcommittee," said Sen. Richard Shelby, R-Ala., a leading critic of the White House's plans for NASA. "Instead, the bill restores NASA to its historical purpose, a preeminent leader in space flight. The (Senate) bill solidifies America's human space flight program by funding a robust heavy-lift vehicle based on demonstrated technological reality."

But House lawmakers are directing NASA to build a human spacecraft for missions to the International Space Station. NASA could later turn over transporation to commercial providers once they demonstrate their capabilities, according to House legislation.

"Until that day, however, the least risky path to minimize our reliance on the Russians is to continue building a low Earth orbit launch system such as that envisioned by the Constellation program," said Rep. Ralph Hall, R-Texas, the ranking Republican on the House science panel.

Under Senate legislation, the Orion-based capsule would only be a backup to private companies for space station missions.