Boeing space capsule could be operational by 2015
BY STEPHEN CLARK
SPACEFLIGHT NOW
Posted: July 21, 2010


Boeing executives pulled back the curtain on their concept for a commercial human space capsule this week at the Farnborough International Airshow, saying the CST-100 spacecraft could be ready for operational space station flights by 2015 if NASA awards contract money next year.


| | |
| --- | --- |
| | Artist's concept of the CST-100 spacecraft. Credit: Boeing |
The aerospace giant is teaming with Bigelow Aerospace to develop a market for commercial human space transportation. Boeing's CST-100 capsule could service Bigelow's planned private space stations, but NASA's commitment to commercial crew initiatives "closes the business case" for the transport system, said Roger Krone, president Boeing Network and Space Systems.

"The money that NASA has proposed being invested in commercial crew allows us to close the business case," Krone said during a Monday briefing at the Farnborough airshow in England. "Without that, we would have a difficult time and it would be a difficult decision for us to decide to proceed without that funding, primarily because it's an indication that NASA is supportive of this kind of approach (and) would purchase the services later."

Boeing is also counting on Bigelow's vision for privately-built human-tended space stations to be realized.

"We do believe very strongly in space commerce," said Brewster Shaw, Boeing's vice president and general manager of space exploration. "It turns out that Bob Bigelow, bless his heart, is the closest thing to actual space commerce besides the U.S. government at this particular time, for human beings."

Robert Bigelow joined Boeing's presentation at Farnsborough and said his company's first space station made of inflatable modules could be in orbit and ready to serve customers by 2015.

Bigelow's first space complex is designed to be more than half the size of the International Space Station. A second Bigelow outpost would be even larger than the ISS.

"For commercial crew transportation system to work, there has to be more than just ISS," Krone said. "The business cases won't close on just supporting ISS."

Affordable space transportation is crucial to Bigelow's business model. The price for a roundtrip to the company's first space station would be nearly $25 million, most likely using the CST-100 capsule and an Atlas 5 rocket, Bigelow said.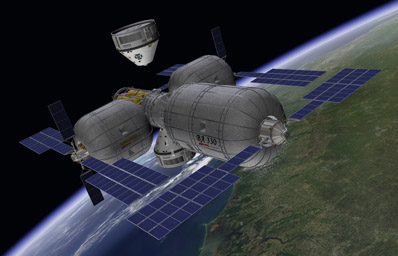 Artist's concept of a CST-100 spacecraft approaching a Bigelow space station. Credit: Boeing



"We think the combination of those two vehicles is a very good solution for space transportation," Bigelow said. "So it comes down to can they be constructed in an affordable way, and can we change that paradigm for cost for transportation."

About 75 percent of Bigelow's revenue would pay for transportation services, he said.

The White House requested $5 billion for NASA's commercial crew program during the next five years, enough to procure at least two competing human spacecraft developed by industry, according to NASA officials.

Legislation in the Senate would cut in half the Obama administration's proposed budget for commercial crew. The first draft bill from the House of Representatives would provide even less funding than the Senate version.

"It would be very difficult for us to make a decision to move out if there is no decision in Congress to support commercial crew," Krone said.

The CST-100 capsule would carry up to seven astronauts at a time to and from the International Space Station and Bigelow's space complex. It would take just one day to reach the space station, less than the travel time for the space shuttle or Russian Soyuz spaceships, according to John Elbon, vice president and general manager of Boeing's commercial crew transportation system.

Boeing's spacecraft design could accommodate missions with any number of crew members, even fully automated unmanned flights. It is designed to stay in orbit for up to seven months, return to Earth and touch down on land with airbag cushioning, Elbon said.

Early design work on the CST-100 has been funded under a NASA Commercial Crew Development, or CCDev, contract worth $18 million. The funding will continue through October, when engineers will convene for a systems-level critical design review.

Elbon said the capsule design is aimed at safety, simplicity and reducing recurring operations costs. Each spacecraft will be able to fly up to 10 missions.

"We focused on a capsule shaped similar to Apollo," Elbon said. "We focused on selecting systems that have been used in previous space programs, and we focused on just the capsule...so we can take the launch vehicle risk out of the equation."


| | |
| --- | --- |
| | Boeing says the CST-100 capsule could launch on the Falcon 9, Atlas 5, or Delta 4 rocket. Credit: Boeing |
The craft is compatible with existing Atlas 5, Delta 4 and Falcon 9 rockets, Elbon said.

The Atlas 5 and Delta 4 are in the early stages of being human-rated by United Launch Alliance. The Falcon 9 is designed to eventually carry human cargo, according to SpaceX.

A pusher launch abort system would be added to carry the capsule away from a rocket mishap, Elbon said.

The CST-100 will lean heavily on Boeing heritage from the Apollo, space shuttle and space station programs. The craft will also use automated navigation, rendezvous and docking technologies tested on the Pentagon's Orbital Express demonstration satellites in 2007, according to Boeing officials.

A Boeing spokesperson said the company is not yet releasing the CST-100's exact dimensions, but the capsule would be larger than the Apollo command module and smaller than the Orion capsule, which NASA was planning to be the next government-owned human spacecraft.

Elbon described the company's baseline schedule for the capsule, including a series of test flights in 2014 leading up to the first crewed mission led by two test pilots.

The capsule could be operational in 2015, Elbon said, but the schedule hinges on further NASA funding to Boeing.

The CCDev contract would need to be extended beyond October and a full CST-100 development contract should be awarded in the summer of 2011 to reach operational capability by 2015, according to Edmund Memi, a Boeing spokesperson.

Boeing is pressure testing a structural article of the CST-100, testing environmental and life support systems, conducting drop tests using airbags, and integrating avionics with the automated docking system from Orbital Express, Elbon said.


| | |
| --- | --- |
| | The capsule could carry up to seven crew members. Credit: Boeing |
The cost of Boeing's proposal isn't being released.

"The estimated cost is considered competition sensitive, but it would be substantially lower than an Orion-based version and would be competitive against other company proposals," Memi wrote Wednesday in an e-mail to Spaceflight Now. "Cost of development would also be dependent on the flight rate to be delivered and used to support ISS and Bigelow."

SpaceX says it can outfit its Dragon spacecraft for crew transportation within three years for approximately $300 million, but the Dragon is already on the verge of its first unmanned flight and much of its design work is already completed.

Memi said the CST-100's development would be "considerably cheaper" than the estimated $5 billion needed to turn the Orion capsule into a space station lifeboat.