Europe hopes to rescue Galileo from budget crunch
BY STEPHEN CLARK
SPACEFLIGHT NOW
Posted: July 7, 2010
Updated with comment from ILS


The European Union could request more funding for the Galileo navigation system from its cash-strapped member states by the end of this year, but it is unlikely European governments can afford to fully deploy the satellite fleet until after 2015, according to top space officials.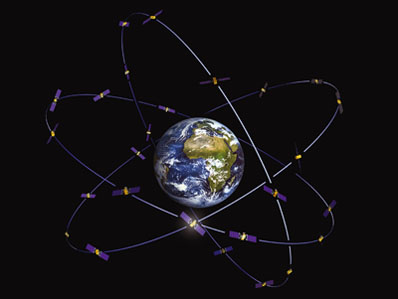 Artist's concept of the Galileo satellite fleet in orbit 14,400 miles above Earth. Credit: ESA/J. Huart



The initial 18 operational Galileo satellites are already on contract and should finish launching by 2014, but the first batch of spacecraft will only provide a fraction of the navigation services long promised by its developers.

Ultimately envisioned to include 30 operating spacecraft, the Galileo program is led by the European Commission, the EU's executive branch. Galileo is Europe's counterpart to the U.S. Global Positioning System providing precise location and timing data to users around the world.

But the European Commission's budget through 2013 isn't expected to cover procurement of all the remaining spacecraft and launch services.

In late 2007, the European Parliament approved 3.4 billion euros -- more than $4.2 billion at current exchange rates -- for the Galileo program through 2013, when officials then expected the system would be fully operational.

It's now clear Galileo will only be partially functional by 2014, according to a commission spokesperson.

Much of the 3.4 billion-euro budget was consumed by the Galileo In-Orbit Validation satellites being assembled by EADS Astrium and Thales Alenia Space. The IOV cost overruns, coupled with higher launch prices on Soyuz rockets, pushed the approved budget to the tipping point, officials said in interviews with Spaceflight Now.

The next European Commission budget cycle doesn't go into effect until 2014, so senior administrators will likely present several Galileo implementation scenarios to EU member states during a program review before the end of 2010, according to Javier Benedicto, the Galileo project manager at the European Space Agency.

Benedicto leads the ESA team managing the program's contracts and technical progress.

Managers hope the presentation yields further financial commitments from ESA member states, especially Germany, where 14 of the first 18 Galileo satellites will be built.

"This is a very fundamental discussion the commission will have with the member states toward the end of this year," Benedicto said Tuesday.

But given the severe economic and debt crunch, European governments might be wary of putting up more money for Galileo. Officials hope upcoming launches and technical progress will sway member states riding the fence.

"We are very keen to launch the first [validation] spacecraft next year, to see the rollout of the ground segment, and the operations in the control centers to convince the politicians in Europe that Galileo is a reality and it is worth investing a few hundred million euros more," Benedicto said.

As political leaders jockey for more funding, program managers are seeking ways to shave some of Galileo's ballooning costs.

"We are conducting constant cost-saving exercises to see where we can reduce costs with a view to accelerate deployment of the infrastructure, which is necessary for the core Galileo services," Benedicto said.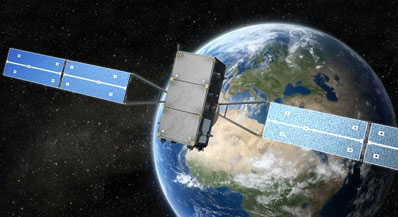 Artist's concept of an OHB-built Galileo spacecaft. Credit: OHB System AG



The commission needs to start contract negotiations for the rest of the Galileo satellites in 2011 to ensure there is no gap between the first batch of spacecraft and a second group of satellites, said Ingo Engeln, Galileo program director at OHB System AG of Bremen, Germany.

"We do not know how the European Union will proceed," Engeln said. "What we would like to have is a competition next year."

In partnership with Surrey Satellite Technology Ltd. of the United Kingdom, OHB beat out a consortium of Astrium and Thales to manufacture the 14 operational satellites scheduled to launch between the end of 2012 and the middle of 2014.

The commission plans another competition between the OHB and Astrium contractor teams, but the number of units in the second batch of satellites, if any, will depend on how much money is still available when negotiations re-open.

The OHB-built satellites will follow the four validation spacecraft, which are due to launch in pairs on two Soyuz rockets in June and October 2011 from Kourou, French Guiana.

The pathfinder satellites, which will be transitioned to the operational fleet, are being assembled and tested at a Thales factory in Rome.

The delays and cost overruns in the validation program stem from complications in innovative security systems, a request from the European Commission to modify the search-and-rescue payload, and postponements of the first Soyuz rocket launch from Kourou, according to a Thales spokesperson.

Next June's Galileo mission will the third launch of the Soyuz from Kourou.

Engeln said the design and development of OHB's 14 satellites continues on schedule for launch readiness by the end of 2012. A contract with Arianespace confirms five Soyuz rockets will launch 10 of the 1,600-pound satellites, while the remaining four craft have an option of launching on one Ariane 5 vehicle or two more Soyuz rockets.

One cost-cutting measure, Engeln said, could be for the commission to seek a more affordable launch option for the rest of the Galileo satellites.

Five Soyuz rocket launches and associated services were valued at 397 million euros, according to the commission's contract announcement in January. The launch price was higher than Galileo officials expected, complicating the already-mounting budget trouble.

"What we could think about is where we could reduce costs, where we could save some money because not all the money is spent yet," Engeln said. "For example, the launches are not all under contract. Not all of the 14 satellites have a launch at the moment, only 10 of them. So there's some money left which could be used in a more efficient way to improve the situation."

International Launch Services says the Russian Proton rocket could launch 18 Galileo satellites on three flights at a lower price than the Soyuz. ILS was preparing to submit a bid on the next round of Galileo launch contracts. "ILS is still actively involved in the proposal submittal for the Galileo program," said Karen Monaghan, a company spokesperson.

Based in Virginia, ILS oversees commercial launches of the Proton rocket.

"There might be possibilities to be more efficient," Engeln said, referring to the Proton bid. "Maybe this is one of them."

A European Commission spokesperson declined to discuss the Proton bid, but it is the organization's policy to favor European launches. Although the Soyuz is built by Russia, it would be launched commercially by Arianespace -- a French company -- from the European-run spaceport in South America.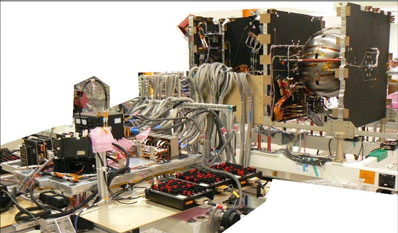 One of the Galileo validation satellites in assembly and testing at Thales Alenia Space in Rome. Credit: ESA



European leaders still plan to award Galileo ground segment contracts later this year, according to Benedicto. Those agreements must be signed to ensure the initial satellites provide at least some capabilities after they launch.

Officials at the European Commission would not provide numbers on the Galileo budget's projected shortfall.

"This is something that needs to be established within the context of the next financial perspectives. Discussions on this are currently ongoing within the commission, and hence, at this stage we are unable to give further detail," Fabio Pirotta, spokesperson for the European Commission's vice president of industry and entrepreneurship, wrote in an e-mail.

The Galileo program's current structure calls for a total of 26 so-called Full Operational Capability satellites. Combined with the four validation craft, the FOC satellites would give the fleet a total of 30 platforms in space, including three in-orbit spares.

The 30 satellites would be spread among three orbital trajectories 14,400 miles above Earth to provide global navigation coverage.

Engineers and managers are already planning on having only a partial Galileo satellite fleet, at least briefly, after the first 18 spacecraft finish launching in 2014. But ESA, European Commission and industrial officials all say Galileo cannot meet all of its requirements without more satellites.

According to Benedicto, 18 satellites would be enough to offer a "significant" open service and search-and-rescue capability to the mass market, in conjunction with the existing GPS satellites. Galileo and GPS are designed to be completely compatible.

Galileo's public regulated service aimed at government users could be started with 18 satellites in orbit, but its capabilities would be degraded. Around 24 spacecraft would be necessary to fully operate the encrypted regulated service, Benedicto said.

The program's fee-based commercial service, which promises higher performance to corporate users, and Galileo's safety-of-life mission could not be exploited under such a limited satellite fleet.

Benedicto, ESA's top Galileo project official, said the system may not require 30 satellites to achieve an acceptable level of performance.

"I think the size of the constellation should be around 22 to 24 spacecraft, so a few more satellites will need to be procured," Benedicto said. "I think 18 satellites are not going to be sufficient to bring Galileo to the point where Europe wants to bring this system."

Pirotta said the European Commission remains committed to Galileo, and "the EU is confident that it will be able to provide an initial service capability in 2014."