Europe, Canada eye extra Soyuz for station access
BY STEPHEN CLARK
SPACEFLIGHT NOW
Posted: July 1, 2010


European and Canadian space officials are in talks with Russia to purchase dedicated Soyuz capsules to ferry their astronauts to the International Space Station.


| | |
| --- | --- |
| | File photo of a Soyuz rocket launch. Credit: NASA/Bill Ingalls |
The discussions focus on continuing crew transportation services after 2015, and possibly expanding European and Canadian astronaut access to the orbiting lab before then.

Russian space officials briefly discussed the plans in a press conference earlier this month, but senior Canadian Space Agency and European Space Agency managers confirmed the negotiations in interviews with Spaceflight Now.

Canada and Europe are discussing a deal with Roscosmos, the Russian federal space agency, for Soyuz spacecraft to fly short-duration missions beginning sometime between 2013 and 2016.

"We are looking how to complement our current flight opportunities, and we are indeed discussing [this] with Roscosmos," said Simonetta Di Pippo, ESA's director of human spaceflight.

The Canadian Space Agency is also negotiating with Roscosmos to pay for an extra Soyuz flight, but the talks are still preliminary, according to Gilles Leclerc, agency's director-general for space exploration.

"There's only been a couple of calls to Roscosmos," Leclerc said in a June 25 interview. "The Canadian Space Agency has discussed with Roscosmos the possibility of producing an additional Soyuz spacecraft that would serve the needs of the ISS partners."

Although flights lasting one to three weeks are most likely under the potential deal, ESA and CSA could mount longer missions of up to several months. ESA and Russia are evaluating both options and should issue a technical report by September, Di Pippo said June 30.

Under current agreements between the space station partners, Russia receives half of the crew time aboard the complex. NASA oversees the other half of the station's resources and divides its crews among itself, Japan, Europe and Canada.

NASA receives 76.6 percent of the crew time it manages, and the agency allocates 12.8 percent to Japan, 8.3 percent to ESA and 2.3 percent to Canada.

The crew allotment gives Japan and Europe approximately one crew member aboard the station each year to stay in orbit for up to six months. CSA's smaller slice of the resource pie means Canadian astronauts only fly on the complex every few years.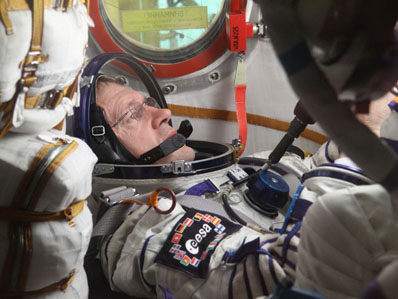 ESA astronaut Frank De Winne trains inside a Soyuz spacecraft before launch last year. Credit: NASA/Victor Zelentsov



But international astronauts also flew short missions on the space shuttle to gain experience and provide greater access to the space station. With the shuttle's retirement next year, partner astronauts' only flight opportunities will be on long-duration expeditions on the orbiting lab.

European and Canadian officials want to maintain the flight rate in the future.

The station partners haven't decided on a crew transportation policy beyond 2015, but NASA hopes commercial spacecraft will be ready to ferry U.S. astronauts to the complex by then. When private companies are ready, NASA will abandon the Soyuz for launch and landing services but retain Russia in a backup capacity.

"Under our agreement with NASA, they have the obligation to carry Canadian astronauts to the ISS," Leclerc said. "We're starting to see the issues of access to the ISS, both in terms of crew and down-mass. All of the partners are looking very carefully at this now."

NASA has purchased Soyuz seats for U.S., European, Japanese and Canadian expedition crews through 2014.

"In the same vein that NASA has purchased a series of flights to and from the space station, ESA and CSA are looking at this same option," Leclerc said.

The Japan Aerospace Exploration Agency is not participating in the negotiations for more access to the station. A JAXA spokesperson said Japan is focusing only on long-duration flights already on the manifest.

Russia currently launches four Soyuz vehicles each year with Russian, NASA and partner space fliers on half-year rotations on the station.

Space officials from Russia, Europe and Canada say a fifth Soyuz each year is desirable, but the extra mission hinges on money.

"So far, we don't have this fifth vehicle in our federal space program," said Alexei Krasnov, head of the Roscosmos human spaceflight directorate. "We have plans for the fifth vehicle, and we will move in that direction when we have financial means."

Krasnov said Energia, the Soyuz prime contractor, is attracting funding from international sources to help pay for the extra flight.

Russia is also working on deals with India and Space Adventures, the U.S.-based tourism firm, to fly standalone Soyuz flights in the next few years.

"We know about the interest of our colleagues from the European Space Agency and the Canadian Space Agency, who would like to discuss this issue and potentially conclude an agreement for additional flights for the citizens of the European Union and Canada," Krasnov said.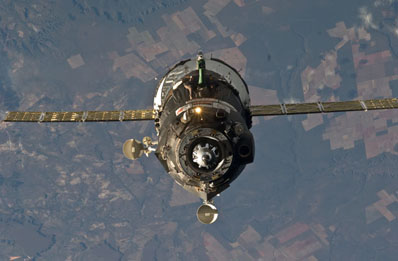 File photo of a Soyuz spacecraft approaching the International Space Station. Credit: NASA



In the last contract extension between NASA and Russia, the U.S. agreed to pay Roscosmos $335 million for transportation and crew rescue services in 2013 and 2014. The agreement has a value of nearly $56 million per seat, up from the previous published rate of $51 million per roundtrip.

For a dedicated Soyuz flight, Di Pippo said the cost would also include provisions for food and payload transportation, pushing the price even higher.

Di Pippo said ESA could not provide an estimated price of an individual Soyuz mission or a series of flights launched once per year. Leclerc also said it was too early to give a cost figure.

"The discussions we are having with Roscosmos are taking care of the need to reduce the overall purchase cost, in order to get a final price which is sustainable," Di Pippo said.

Leclerc said Canada has not set aside money for Soyuz flights yet.

"I don't think we have the budget in the long term for this activity," Leclerc said. "But this is the type of thing we have to consider to best use the capabilities of the space station going forward through the next decade."