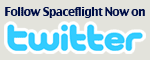 NewsAlert





Sign up for our NewsAlert service and have the latest news in astronomy and space e-mailed direct to your desktop.


Privacy note: your e-mail address will not be used for any other purpose.







Satellite imagery illustrates reach of Gulf oil spill
BY STEPHEN CLARK
SPACEFLIGHT NOW
Posted: June 29, 2010


A NASA spacecraft circling more than 400 miles above Earth has snapped a striking picture of oil streaming ashore in Mississippi, adding another photo to the growing catalog of satellite images of the Gulf of Mexico oil spill.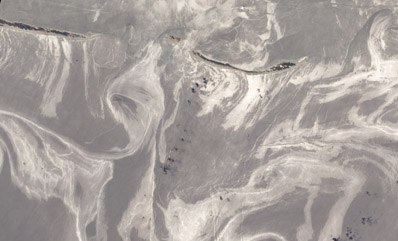 Oil moves onshore Horn Island (left) and Petit Bois Island (right) off the coast of Mississippi in this snapshot from orbit June 26. Credit: Jesse Allen, Robert Simmon and NASA EO 1 Team



The Earth Observing 1, or EO 1, satellite spotted the oil encroaching on Petit Bois Island and Horn Island just offshore Pascagoula, Miss. The oil slick appears bright in the image, which was taken Saturday by EO 1's Advanced Land Imager.

According to NASA, the Mississippi barrier islands are classified as lightly oiled this week, and officials say smaller sections are moderately and heavily oiled.

Scientists have also called upon powerful cameras aboard NASA's Terra and Aqua satellites to track the oil spill. The MODIS instruments on both spacecraft see the oil when the sunglint falls inside the slick, producing a clear discoloration visible from space.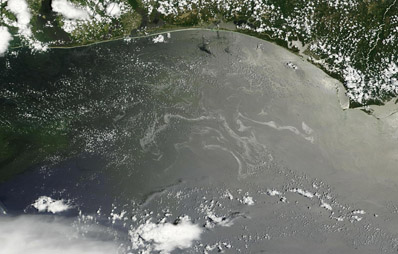 A NASA instrument in orbit captured this image June 27, showing the oil slick off the coast of Alabama and the Florida panhandle. Credit: NASA MODIS Rapid Response Team



The National Oceanic and Atmospheric Administration uses experimental satellite data to develop trajectory forecasts, oil movement models, and environmental mitigation plans when the slick reaches shore.

International satellites have also observed the BP oil spill.

The European Space Agency's Envisat spacecraft carries a radar capable of seeing the oil spill through clouds and at night.

Commercial Earth observation satellites are collecting high-resolution imagery of the spill, skimming vessels and drilling rigs, providing a dramatic look into efforts to stop the underwater leak and remove oil from the ocean's surface.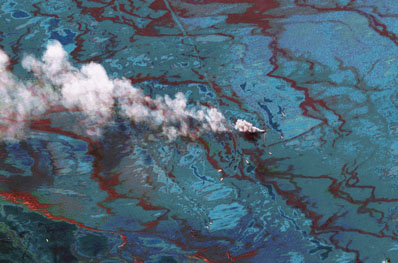 The commercial WorldView 2 satellite took this picture of the Gulf oil spill June 15. Credit: DigitalGlobe



The expanding environmental catastrophe began April 20, when the Deepwater Horizon drilling rig off the coast of southeast Louisiana exploded and sank two days later, killing 11 workers.

Measurements of the oil flow rate from the 5,000-foot-deep well have been unreliable from the start, but the latest official estimate indicates up to 150 million gallons of oil may have leaked into the Gulf of Mexico since the crisis began.