NASA: China not invited to join space station program
BY STEPHEN CLARK
SPACEFLIGHT NOW
Posted: June 25, 2010


NASA says the International Space Station partner countries have not invited China to join the orbiting lab complex, dismissing a Russian news story proclaiming the Russian space agency contacted the rising space power about signing on to the project.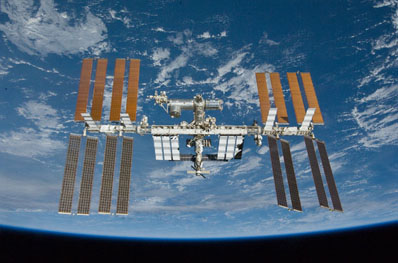 File photo of the International Space Station. Credit: NASA



Speaking at the International Economic Forum in St. Petersburg, Anatoly Perminov, the head of the Russian space program, said China had not responded to an invitation to join the space station.

The news was posted Thursday on the website of Roscosmos, the Russian space agency. Roscosmos cited the Interfax news agency in the web posting.

The web update caused a stir in the United States, and NASA released a short statement denying the report.

"We checked and confirmed with the director of the Russian Federal Space Agency human space flight program that Russia has not issued an invitation to China to join the International Space Station Program," a NASA spokesperson said in a written statement provided to Spaceflight Now.

But leaders of the Russian space program and the European Space Agency have been open to Chinese participation in the international project.

During a Beijing speech last month, ESA's director-general expressed support for including China in the space station program. South Korea and India have also been included on the list of prospective space station partners.

In the original report posted on the Roscosmos web site, Perminov said Russia contacted China to ask if they were interested to join the space station program, saying the Soyuz spacecraft needs a backup for access to the complex once the space shuttle retires.

After the shuttle fleet stops flying, the Soyuz will be the only vehicle to carry residents to and from the orbiting lab until U.S. companies develop private capsules for the job. NASA hopes a commercial spacecraft is ready to transport humans by 2015.

China has not responded to Russia's overture, according to Perminov's quote in the Interfax report.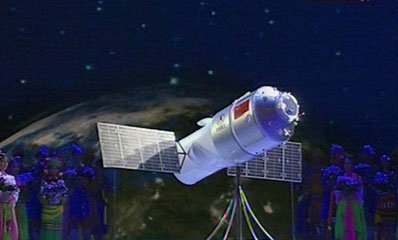 A model of China's Tiangong space laboratory.



ESA and Russia have cooperated with Chinese robotic space missions in recent years, and China enlisted Russian design help in the early stages of its own military-run human space program.

China's piloted Shenzhou capsule has launched with passengers three times since 2003, achieving a flight of nearly five days in 2005 and the Chinese program's first spacewalk in 2008.

As soon as next year, China will launch its own modest space station named Tiangong 1. Shenzhou crews will visit the small laboratory for short stays to conduct military and scientific experiments.