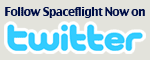 NewsAlert





Sign up for our NewsAlert service and have the latest news in astronomy and space e-mailed direct to your desktop.


Privacy note: your e-mail address will not be used for any other purpose.





Photos show recovery of asteroid capsule
Japanese and Australian recovery teams have picked up the 16-inch-wide capsule from the Hayabusa mission, which may contain the first samples of rock and dust from the surface of an asteroid.
Hayabusa landed at the Woomera Prohibited Area in South Australia around 1400 GMT (10 a.m. EDT) Sunday.
Officials first located the capsule in darkness a few hours after landing. After sunrise in Australia, the crews retrieved the capsule and located its heat shield, as seen in the bottom two images.
Photo credit: JAXA
Photo credit: JAXA
Photo credit: JAXA
Photo credit: JAXA
Photo credit: JAXA

Photo credit: JAXA





-->