NASA tests launch abort system for space capsules
BY WILLIAM HARWOOD
STORY WRITTEN FOR CBS NEWS "SPACE PLACE" & USED WITH PERMISSION
Posted: May 6, 2010


In a spectacular $220 million test, NASA fired a new astronaut escape system rocket in New Mexico Thursday, boosting a dummy crew module more than a mile up in just 20 seconds to demonstrate how a future manned spacecraft could be pulled to safety in the event of a catastrophic on-pad rocket failure.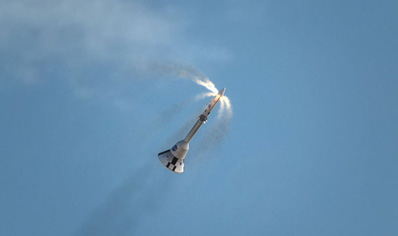 Credit: NASA



Using a solid-fuel motor generating some 500,000 pounds of thrust, the launch abort system ignited with a torrent of orange fire and smoke at 9 a.m. EDT, pulling the dummy crew module to nearly 450 mph in just 2.5 seconds with an acceleration of 16 times the force of gravity.

The motor burned for just six seconds or so, boosting the system to an altitude of nearly 4,000 feet and putting it on a ballistic trajectory with a predicted high point of roughly 6,000 feet.

An attitude control motor with eight computer-controlled exhaust ports helped maintain the craft's stability during the initial climb away from the White Sands Missile Range launch pad.

Ten seconds after takeoff, the attitude control motor began re-positioning the vehicle to a capsule-first orientation and as the craft passed through the apex of its trajectory, the burned-out escape rocket was jettisoned. Drogue parachutes then deployed to slow and stabilize the capsule before three 116-foot-wide parachutes unfurled for the final descent.

The heavily instrumented capsule, which will not be used again, hit the ground two minutes and 14 seconds or so after launch, 6,919 feet from its takeoff point. Touchdown velocity was 16 mph, about 6 mph slower than predicted.

"It's a great day for the country, for NASA and for industry," said NASA Test Conductor Don Reed. "It was absolutely successful. We didn't see anything anomalous. Everything worked as it was expected. In fact, we actually touched down at significantly less velocity than we predicted. The performance was absolutely astounding."

Developed as part of NASA's embattled Constellation moon program, the launch abort system is a critical element in the agency's drive to improve launch safety. The system was designed to be capable of pulling a crew to safety at any point from launch through an altitude of more than 55 miles.

The space shuttle does not have escape rockets, relying instead on high-reliability components and the ability to reach a runway or a lower-than-planned orbit with a single main engine failure at any point during the climb to space.

For multiple engine failures that might preclude a safe landing, the shuttle is equipped with a post-Challenger crew bailout system. But that system can only be used if the orbiter is in controlled, level flight and safely away from its external tank and boosters. There are no survivable booster failures.

Based on actual flight experience and safety upgrades over the years, the odds of a catastrophic failure during a shuttle launch are believed to be roughly 1-in-207. NASA managers hoped to improve those odds to 1-in-1,000 or better for the Orion capsules and Ares I rockets being developed as part of the Constellation program.

The Obama administration, citing high costs and tight budgets, has proposed canceling Constellation in favor of commercially developed rockets and capsules. NASA managers say the launch abort system technology tested Thursday could be incorporated in any such rocket.

"There are two parts of launch abort," Mark Geyer, NASA's Orion project manager, told reporters Thursday. "One, you need to get out of the way quick. Two, you need to make sure you can steer it so you can safely get out of the way and three, you need to make sure you have a chance to get the parachutes out. So no matter what the size is, you've got to integrate that system.

"I think the key part about this, regardless of the thrust level, is we've shown you can put those disparate pieces together in an integrated system with computers and everything else and make it work. So I think it's obviously very much applicable to any other system."

While similar in concept to the escape rockets used in the Apollo program, the new system relies on an active guidance system and state-of-the-art technology to reduce weight and improve reliability. Unlike the Apollo escape rockets, the motor designed for Orion points upward, using four exhaust ports that turn the plume 155 degrees to provide forward thrust.

The result is a more powerful, lighter and shorter escape system.

"The beauty of (Thursday's test) is it puts all the key elements together and launches them in this extreme environment," Geyer said before launch. "That's going to apply to anybody. All those elements on going to be needed, no matter who does this job."


Additional coverage for subscribers:


VIDEO: PAD ABORT 1 TEST AS SEEN LIVE PLAY


VIDEO: TRACKING CAMERA REPLAY OF THE TEST PLAY


VIDEO: OFFICIALS DELIVER POST-TEST BRIEFING PLAY


VIDEO: ANIMATED PREVIEW OF THE TEST SEQUENCE PLAY


SUBSCRIBE NOW