Satellites key to predicting Gulf oil spill's next move
BY STEPHEN CLARK
SPACEFLIGHT NOW
Posted: April 30, 2010


The oil slick in the Gulf of Mexico has caught the eyes of orbiting satellites, which have collected wide-angle and high-resolution snapshots of the growing catastrophe for analysis by emergency responders.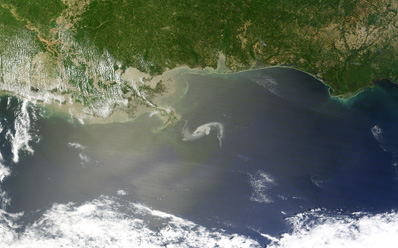 The MODIS instrument on NASA's Terra satellite captured this image on April 29. Credit: NASA/Earth Observatory/Jesse Allen



The National Oceanic and Atmospheric Administration, the government agency leading the scientific response the oil spill, is gathering satellite data from U.S., European, Canadian and Japanese satellites to pinpoint the oil's precise location, boundaries and movement.

The combination of optical and radar imagery gives scientists and emergency crews precise "shapefiles" that map the dimensions of the enlarging oil slick, which covered nearly 5,000 square miles as of Friday morning.

The shapefiles are plugged into advanced computer models to predict where the oil residue will travel based on winds and ocean currents, according to NOAA.

The models forecast the location of the oil one, two and three days later.

NASA's Terra and Aqua satellites, Canada's Radarsat spacecraft, the Japanese Advanced Land Observation Satellite, Germany's TerraSAR-X radar observer and the French Spot remote sensing platforms have all provided data for the shapefiles, NOAA officials said.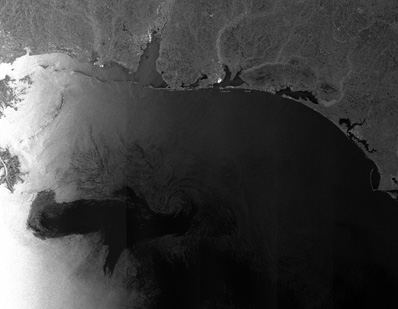 A radar on the Envisat satellite took this picture of the oil spill at night on April 28. Credit: ESA



The European Space Agency's Envisat spacecraft has also turned its camera and radar instrument toward the Gulf Coast.

Satellite imagery is also being used to distinguish between normal marine pollution and the damaging effects directly related to the spill, according to NOAA.

An oil drilling rig off the coast of Louisiana exploded April 20 and sank two days later, sending a stream of crude oil into the Gulf of Mexico. Officials estimate about 210,000 gallons of oil continue leaking from the ocean floor each day.

Parts of the oil slick have already reached the Louisiana coast, and shorelines in Mississippi, Alabama and Florida are at risk over the next few days.

The international fleet of satellites will continue to provide imagery immediately to NOAA and U.S. authorities as the oil spill spreads across a wider swath of the Gulf.