Latest cargo ship heads for International Space Station
BY JUSTIN RAY
SPACEFLIGHT NOW
Posted: April 28, 2010


A three-day orbital chase by a robotic cargo freighter to catch the International Space Station began today with successful launch of the Russian-made resupply ship.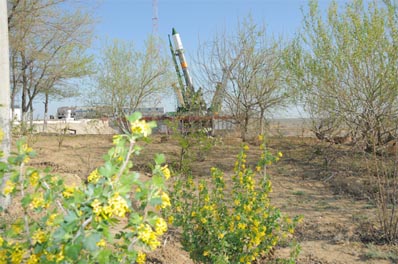 The rocket is erected the pad for launch. Credit: Energia



Flying atop a Soyuz booster, the Progress spacecraft rocketed away from the Baikonur Cosmodrome in Kazakhstan at 1:15 p.m. EDT (1715 GMT).

A preliminary orbit was achieved after a nine-minute ascent provided by the three-stage rocket, and onboard commands were issued to unfurl the craft's communications and navigation antennas and extend two power-generating solar arrays that span 35 feet.

A series of precise engine firings scheduled for later today and again on Friday will guide the freighter toward its automated docking Saturday at 2:35 p.m. EDT (1835 GMT). It will be the 37th such cargo craft received by the station.

The 24-foot long ship will link up with the Earth-facing port on the Pirs docking module, a spot vacated by a previous Progress vessel that undocked last Thursday after spending six months at the outpost. The old vehicle, packed with trash, was commanded to deorbit over the Pacific Ocean on Tuesday.

Today's launch was known in the station's assembly matrix as Progress mission 37P. The spacecraft's formal Russian designation is Progress M-05M.

The cargo-delivery vehicle is hauling two-and-a-half tons of supplies to the station. The "dry" cargo tucked aboard the Progress amounts to 3,031 pounds in the form of spare parts, life support gear and equipment hardware.

The refueling module carries 1,918 pounds of propellant for transfer into the Russian segment of the complex to feed the station's maneuvering thrusters. The vessel also has 220 pounds of water and 110 pounds of oxygen and air.

The space station is staffed by the Expedition 23 crew of commander Oleg Kotov, NASA astronauts T.J. Creamer and Tracy Caldwell Dyson, Russian cosmonauts Alexander Skvortsov and Mikhail Kornienko, and Japanese astronaut Soichi Noguchi.

Kotov and Skvortsov will be standing by Saturday to take over manual control of the approaching Progress spacecraft if the autopilot experiences a problem. They spent time Tuesday reviewing procedures for the backup system just in case it is needed.

After the Progress arrives, the station crew will turn its focus to the upcoming space shuttle construction mission.

Atlantis is scheduled to launch from Kennedy Space Center in Florida on May 14 to deliver the Russian Rassvet module. You can follow along with Atlantis' flight in our Mission Status Center.