Satellites provide bird's-eye view of Iceland volcano
BY STEPHEN CLARK
SPACEFLIGHT NOW
Posted: April 18, 2010


Observation satellites circling nearly 500 miles above Earth have captured views of the Iceland volcano and ash cloud disrupting European and trans-Atlantic air travel.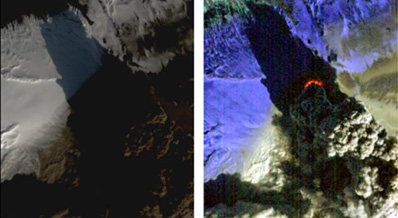 The Earth Observing 1 satellite took these visible (left) and infrared (right) images of the Eyjafjallajokull volcano on Saturday. Credit: NASA/JPL/EO 1 Mission/GSFC/Ashley Davies



NASA released two images from the Earth Observing 1 satellite Sunday afternoon showing high-resolution views of the Eyjafjallajokull volcano in southern Iceland.

The satellite's Hyperion instrument took the pictures Saturday. One image shows the volcano in visible wavelengths, while the other photo reveals intense thermal activity near the volcano's fissure in the Eyjafjallajokull glacier.

According to NASA, the EO 1 satellite's infrared image shows at least 60 megawatts of thermal energy being released at the volcano's vent. That is enough energy to power 60,000 homes, NASA said.

Since its explosive eruption began April 14, the volcano has thrown clouds of ash high into the atmosphere and melted a large area of ice covering the Iceland landscape.

Upper level winds drove the ash cloud toward Europe, where it halted air traffic across the northern half of the continent.


| | |
| --- | --- |
| | In this image taken Thursday, Envisat observed the Eyjafjallajokull ash plume streaming over the United Kingdom. Credit: ESA |
Officials are worried ash could be ingested into jet engines, disrupt aircraft sensors and reduce visibility for pilots.

As of late Sunday, airspace was closed in parts of nearly two dozen countries, including the United Kingdom, most of Germany, and parts of France, according to the European Organization for the Safety of Air Navigation, or Eurocontrol.

Eurocontrol estimates more than 60,000 flights have been cancelled since Thursday.

Officials say about half of the planned European flights could operate as scheduled Monday, but the location of the volcanic ash cloud will determine what flights are permitted to take off. Safety is the first priority, according to European leaders.

Satellites are an important tool to track the movement of volcanic ash and gases for aviation authorities. Space-based instruments are capable of observing sulphur dioxide and dangerous aerosols in ash clouds on a global scale, according to the European Space Agency.

Along with weather satellites, specialized spacecraft such as Europe's Envisat Earth observatory and NASA's Terra, Aqua and Aura satellites are equipped to monitor evolution of volcanic ash.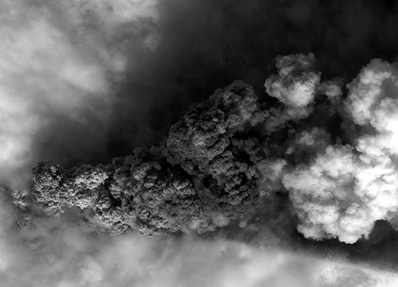 One of DigitalGlobe's private Earth observation satellites took this high-resolution picture of the Eyjafjallajokull volcano. Credit: DigitalGlobe



The Envisat spacecraft's medium-resolution camera captured one of the first satellite pictures of the ash cloud as it streamed across Scotland Thursday morning.

On Friday, Terra pointed its MODIS instrument toward Europe and snapped a picture of the ash plume moving over northern Europe.

DigitalGlobe, the U.S.-based commercial operator of the QuickBird and WorldView imaging satellites, also released a high-resolution picture one of its spacecraft collected over Iceland.