Launch pad demolition paves way for uncertain transition
BY STEPHEN CLARK
SPACEFLIGHT NOW
Posted: April 12, 2010


Although its once-planned tenant is being scrapped, the servicing towers at the Kennedy Space Center's launch pad 39B will be demolished this summer to ready the complex for an uncertain future.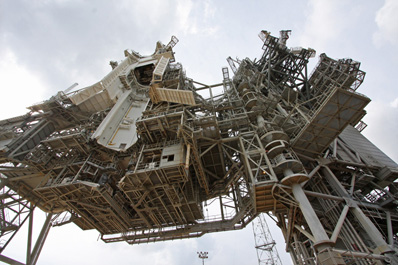 This up-close view shows launch pad 39B's fixed and rotating service structures. Credit: Stephen Clark/Spaceflight Now



The $1.3 million job was originally planned to begin outfitting the seaside launch pad to host Ares 1 rockets, the booster NASA was planning to carry crews to orbit after the space shuttle's retirement.

NASA is going ahead with plans to bring down the fixed and rotating service structures at pad 39B, even though the Ares 1 rocket and the entire Constellation program are being axed.

Officials say they are continuing with the pad facelift to prepare the facility to support future commercial or heavy-lift rocket development work.

But the identity of the historic pad's next user is unknown.

"This clean pad that we're going to is not designed for one specific launcher," said Robert Cabana, director of KSC.

"Once we're finished with it, it's going to be a new asset that can support any type of program," said Jose Perez-Morales, a pad project manager at KSC.

LVI Services Inc., a New York-based demolition and remediation firm, will begin work in late June or early July, Perez-Morales said.

The demolition will not use explosives like those used on other abandoned launch pads. Perez-Morales said the structures will be dismantled in a "very controlled" process as workers take apart the towers one piece at a time.

The launch pad will not be imploded to protect the facility's concrete surface and lightning towers, which will be reused.

NASA signed the contract with LVI in early March. The agreement stipulates that the pad be leveled within 200 days after NASA gives approval to proceed this summer, Perez-Morales said in an interview Friday.

After the structures are demolished later this year, only the pad's lightning protection system and water tower will remain in place.

"Pad B is going through a lot of changes," Perez-Morales said. "By the end of year, it will not look anything like it does today. It will give us the opportunity to start with a new clean structure."

The towers were used to prepare 53 space shuttle missions for flight between 1986 and 2006, beginning with the final launch of the shuttle Challenger.


| | |
| --- | --- |
| | The last time pad 39B hosted a space shuttle was in April and May of 2009, when Endeavour was poised on the pad for a potential rescue mission. Credit: NASA-KSC |
Workers removed the lightning mast, the walkway astronauts used to board space shuttles, and the gaseous oxygen vent hood from pad 39B before the modified complex was used to launch the Ares 1-X test flight last October.

Three 594-foot-tall steel and fiberglass lightning towers were installed around the pad to protect it from electrical surges during thunderstorms. The lightning towers will remain at the pad after the demolition work.

The 247-foot-tall fixed service structure was assembled from parts of the Apollo-era mobile launch towers used by the Saturn 5 rocket. NASA added the retractable rotating service structure specifically for the shuttle program.

Launch pad 39B was first used by the Saturn 5 rocket on the Apollo 10 mission, a dress rehearsal for the first lunar landing. Saturn 1B rockets launched crews on missions to the Skylab space station in 1973. Three astronauts took off from the pad aboard another Saturn rocket in 1975 on a mission to dock with a Soviet Soyuz spacecraft during a detente in Cold War relations.

Perez-Morales said technicians are currently disconnecting the structures from propellant lines in preparation for the dismantling. Workers are also salvaging thousands of copper cables from the pad.

The site's tanks for hydrazine and nitrogen tetroxide, the toxic propellants used by the shuttle's manuevering thrusters, will also be decommissioned and destroyed, officials said

Massive storage spheres for liquid hydrogen and liquid oxygen will be cleaned and refurbished for use on future rockets, according to Perez-Morales.

Officials hope the pad will be ready to support a new rocket program after 2012.

"Any new program we expect to still be two years away," Perez-Morales said. "We still have some way to go before the pad is ready."


| | |
| --- | --- |
| | File photo of the Ares 1 mobile launcher under construction at KSC. Credit: NASA-KSC |
Engineers are still working off plans for pad 39B to accommodate a new 390-foot-tall mobile launcher topped off in January. A network of electrical, communications and propellant systems will be added before the moveable tower and launch platform are ready for duty.

Cabana said although the mobile launcher was designed for the Ares 1 rocket, the structure could handle a wide range of other vehicles.

NASA is continuing the launch pad facelift despite the cancellation fo the Ares 1 rocket. Agency leaders say KSC's facilities could be used by future still-undefined commercial crew transportation and heavy-lift rocket development programs.

"There is still some work that we have to do, depending on what program will be used," Perez-Morales said. "There's some work with the sound suppression system, all the electronics, the refurbishment of the [liquid oxygen] and the hydrogen tanks, all the connections to the new mobile launcher. That will be some work that will be done in the next couple of years."

After the space shuttle's retirement later this year, the center's launch pads, Vehicle Assembly Building and other infrastructure will be left without a clear mission.

Senior officials last week announced KSC would be home of the commercial crew program office that will manage $5.8 billion over the next five years to oversee the development of private space transportation systems for NASA astronauts.

The space center is also receiving $1.9 billion prescribed in NASA's projected budget for the next five years to modernize NASA and Air Force facilities into a 21st century launch complex.

"My vision would be to have Launch Complex 39 be able to support multiple rockets," Cabana said. "We're also going to maintain the ability to still build a heavy-lift rocket that will take us beyond low Earth orbit and launching from Launch Complex 39."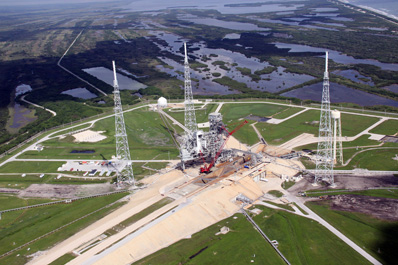 An aerial view of launch pad 39B in its current state. Credit: NASA-KSC



Different vehicles could be assembled inside the VAB, rolled to one of the oceanfront pads and launched on test flights, crewed missions, or expeditions beyond Earth orbit, Cabana said.

"We're still going to be the center for excellence in launch operations," Cabana said. "That's my goal. I just want to be able to launch more than one rocket."

But those plans are still short on specifics.

The fate of nearby pad 39A is also up in the air, depending on its future use. That complex is now launching the final few shuttle missions.

"If they decide that pad will be used for heavy-lift, then I can assure you it will go through the same decommissioning process [as pad 39B]," Perez-Morales said. "If we start using that pad for test flights, just like we did for Ares 1-X, there might be some slight modificatinos that we will do to be able to do those kinds of test flights. It will be very dependent upon what future use pad A is going to have."

Under the Constellation program, pad 39A was supposed to be overhauled for launches of the massive unmanned Ares 5 cargo-carrying booster.