Iridium puts out bulletin seeking hosted payloads
BY STEPHEN CLARK
SPACEFLIGHT NOW
Posted: March 27, 2010


The U.S. Air Force is answering a call from Iridium to put payloads, experiments and sensors on the company's next-generation satellites, a top military official said this week.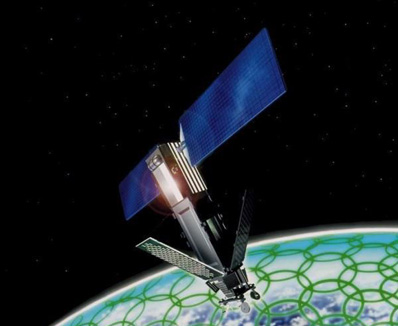 Artist's concept of a satellite in Iridium's contemporary fleet. Credit: Iridium



"We've looked at a couple of different potential applications of secondary hosted payloads on Iridium," said Gary Payton, undersecretary of the Air Force for space programs.

Iridium is in talks with government and international agencies for hosted payloads that would use extra room, power and communications capacity on the company's NEXT constellation, which is scheduled to begin launching in 2014.

"We think this is a great opportunity that's only going to come around once in a decade, or even longer," said John Campbell, Iridium's executive vice president for government programs. "We're anxious to find the right payload out of the many that we've looked at."

Campbell, also a retired Air Force general, is leading Iridium's negotiations with U.S. government agencies interested in utilizing the extra satellite space.

Payton said the Air Force's best match with Iridium involves experiments from the Space Test Program, the military's acquisition service for innovative technology demonstrations in orbit.

"We've got a list of around 40 to 60 STP space experiments, and many of them are finished and just sitting in clean rooms waiting for a ride," Payton said in an interview Thursday. "The Iridium idea might be a good way to work off a lot of those secondary experiments from the Space Test Program."

Space Test Program experiments have previously flown on dedicated small satellites as secondary payloads on military launches.

"A lot of these experiments really don't care what orbit they're in," Payton said. "They just want to get into space and see if their technology can or cannot work in space.

The Iridium NEXT constellation will include 66 satellites flying 485 miles above Earth in near-polar orbits. They craft will be spread apart to provide global mobile voice and data communications continuity as the company's current fleet of satellites is retired.

Iridium is in final negotiations with Lockheed Martin and Thales Alenia Space for the prime contract to build the fleet. But Iridium will first have to acquire financing for the project.

"We are now actively engaged in securing funding for NEXT with two export credit agences. Clearly, an important component of vendor selection will be the level of ECA support, and Lockheed and Thales are fully engaged in this process," Matthew Desch, Iridium's CEO, told investment analysts in a March 16 conference call.

Desch said he hopes to award the development and construction contract this summer. Iridium expects to finalize a list of suitable hosted payloads by the fall of 2011, according to Campbell.

The Air Force funded an Iridium study last year analyzing how the NEXT constellation could accommodate space situational awareness sensors capable of tracking other objects in orbit.

Space is rapidly becoming more bottlenecked with dead satellites, disposed rocket parts and loose debris from intentional and accidental orbital collisions. Air Force officials say it is critical to know where these objects are and what they are doing.

"While there's a great volume of space there in which they can move, they're all traveling at a very high rate of speed. As space becomes more congested, it's even more important that we understand where these objects are and what they're doing," Air Force Gen. Robert Kehler told a Senate strategic forces subcommittee earlier this month.

Kehler is the commander of Air Force Space Command, the organization responsible for air traffic control in space.

Payton said the best solution for the space situational awareness mission is the continued development of a potential fleet of Space Based Space Surveillance, or SBSS, satellites. The first SBSS demo mission is scheduled to launch this summer.

"From what I've seen of the space situational awareness applications on Iridium, I don't think we honestly gain that much, assuming we get SBSS on-orbit successfully," Payton said.

According to Campbell, no final decisions have been made on space situational awareness or any other payloads on Iridium NEXT.

Other applications for the military include space weather monitoring. The National Oceanic and Atmospheric Administration, or NOAA, is also discussing placing Earth observation and science instruments on Iridium NEXT satellites.

Researchers could also use GPS radio signals between Iridium and navigation satellites in higher orbits to measure atmospheric profile data on humidity and temperatures.

"Many of those sensors wouldn't take up the whole payload size, weight and power allocation. Some of them were actually very nice fits to fly multiple missions," Campbell said. "I think most likely what we'll find is we'll fly a mix of payloads, or potentially even multiple payloads on one satellite."

Campbell said each satellite has about 110 pounds of mass reserved for hosted payloads. Secondary instruments would also receive about 50 watts of continuous power and a communications rate of about 1 megabyte per second.

"We really have done quite a bit with the government over the last couple of years to find the right mission for NEXT," Campbell said Friday.