Athena rocket reborn under aerospace industry alliance
BY STEPHEN CLARK
SPACEFLIGHT NOW
Posted: March 25, 2010


Lockheed Martin and ATK announced Thursday the small Athena rocket program is being restarted to send light military satellites to orbit, primarily from launch sites in Florida and Alaska.


| | |
| --- | --- |
| | File photo of an Athena 1 rocket launch from Kodiak Island, Alaska. Credit: NASA |
The solid-fueled rocket flew seven times between 1995 and 2001, but the Athena has been grounded for nearly nine years, mainly because of the shrinking market for small satellites.

"We put the vehicle in what I call a hot standby mode after the last time we flew," said Al Simpson, Lockheed Martin's Athena program manager. "The two companies have decided to team together and reintroduce the program with some modernization."

The companies are restarting the project to compete for light military satellite launches, a market currently dominated by the Minotaur rocket family that uses retired strategic missile components.

"The Athena launch vehicle family offers low-risk, reliable launch services at an affordable price," said John Karas, Lockheed Martin's vice president and general manager of human spaceflight. "Athena combines both companies' heritage and expertise in launch systems, and makes key system upgrades to provide an enhanced product, skill set and performance capabilities to meet market needs."

The new Athena rocket will use a Castor 30 upper stage being designed for the Orbital Sciences Taurus 2 vehicle. The Castor 30 motor will replace the Orbus 21D motor used on earlier Athenas.

A Castor 120 first stage motor and a Castor 30 second stage will make up the new Athena 1c rocket. The more powerful Athena 2c configuration will feature Castor 120 first and second stages, plus a Castor 30 third stage motor. The Castor 120 has flown on Athena and Taurus rockets before.

ATK builds the Castor motors that will power the Athena rocket.

The Athena 2c will be capable of lifting up to 3,775 pounds to low Earth orbit, according to a Lockheed Martin statement. Lockheed Martin is also upgrading the Athena rocket's avionics.

Simpson said the Athena will likely be based at Cape Canaveral, Fla., and Kodiak Island, Alaska. The launch sites would provide access to low-inclination and polar orbits, respectively. Vandenberg Air Force Base, Calif., and Wallops Island, Va., would be other options.

The Athena rocket previously launched from Cape Canaveral, Kodiak and Vandenberg.

Complex 46 would be the home of the Athena 1c and Athena 2c rockets at Cape Canaveral. The state-run pad hosted two Athena launches in 1998 and 1999, but it hasn't been used since then.

"We helped the state develop that pad. We flew off there twice. It's a very familiar pad, so we're absolutely interested in going back there," Simpson said. "Being solid rocket motor based, we don't have a lot of ground system infrastructure that's required like a liquid rocket would [need]."

Space Florida, the state government's aerospace development agency, has a license to outfit the launch pad for commercial launch providers. Space Florida has already conducted corrosion control and maintenance work on Complex 46's mobile gantry, but more activities are necessary before the pad is ready for operations again.

"Space Florida is looking at working with us on that issue," Simpson said. "It really is a fairly straightforward thing for us to go back there."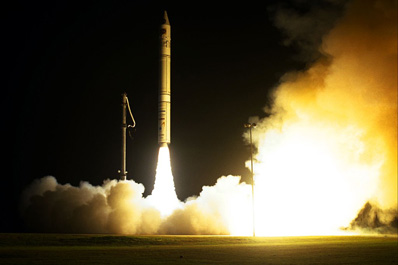 File photo of an Athena 2 launch from Cape Canaveral, Fla. Credit: NASA



Lockheed Martin estimates about 75 workers will be required to ready Complex 46 for launch activities. During operations, Simpson said around 20 full-time employees will be based in Florida, but that number will surge to about 50 workers during launch campaigns.

Simpson said internal studies show the Athena would be cost-competitive with the Minotaur family, even though the Minotaur takes advantage of surplus Minuteman and Peacekeeper missile stages.

"When you do a cost comparison, we think we can be competitive," Simpson said in an interview Thursday.

The retired hardware is called government-furnished equipment, but it requires resources to store and maintain the stages, which are already packed with solid propellant.

"The new Athena family will fill an industry need for lift capability in this payload range," said Scott Lehr, ATK's vice president and general manager of strategic and commercial systems. "There is a growing need for responsive launch capabilities to serve the Department of Defense, NASA and other customer requirements."

The Pentagon's Operationally Responsive Space program is developing satellites that can be rapidly assembled and launched based on urgent tactical warfighter needs. The first operational ORS spacecraft is due for launch on a Minotaur 1 rocket this fall.

The Falcon 1 rocket operated by SpaceX also launched an ORS demonstration mission in 2008, but the booster failed to reach orbit. Peter Wegner, director of the ORS initiative, said he wanted to use a broad range of rockets for responsive satellites, including the Minotaur and Falcon families.

Wegner said in an October interview there are more than 100 available Minuteman motor stacks and approximately 44 Peacekeeper units ready to use on the Minotaur 1 and Minotaur 4 rockets, respectively.

But those stored components are aging and the military plans to phase out the Minotaur by around 2017.

The Minotaur has led the U.S. small launch market for the last decade. The flight rate of the air-launched Pegasus rocket has declined over that period, and the workhorse launcher has just one contract on its manifest.

"By reintroducing the Athena, and with its small lift performance range, we think we have a product offering that our customers would be interested in to serve their needs of the future," Simpson said.

Potential customers are interested in the Athena rocket, according to Simpson. He said the sales focus is on military and civil government demands.

"We have received a very positive response," Simpson said. "We're in active negotiations with several customers right now. There is a certain degree of familiarity with the Athena product line from when we flew before."