Navy considers backup plans after another MUOS delay
BY STEPHEN CLARK
SPACEFLIGHT NOW
Posted: March 12, 2010


The U.S. Navy says it will not start launching its next-generation MUOS communications satellites until September 2011.
As a result, military space officials are racing to develop several options to diminish a pending gap in critical tactical mobile communications.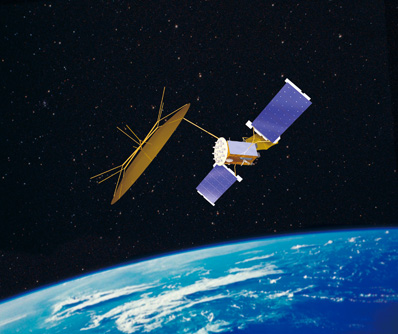 Artist's concept of a MUOS satellite. Credit: Lockheed Martin



The Mobile User Objective System, or MUOS, satellites will replace an aging mix of obsolete military satellites. Managers estimate narrowband communications capabilities will "degrade below the required level of availability" by January 2011. Without mitigations, the narrowband capacity would remain unacceptably low until the first MUOS satellite is ready for operations, according to the Government Accountability Office.

But U.S. troops will have to wait nearly a year longer than expected due to difficulties in MUOS satellite development.

"MUOS is in the midst of another delay," said Navy Vice Adm. David Dorsett, deputy chief of naval operations for information dominance.

"Last year, you were informed that MUOS was going to be delayed about 11 months," Dorsett told the Senate Armed Forces Committee's Subcommittee on Strategic Forces during a Wednesday hearing. "It looks like our estimate at this point is that the first MUOS satellite now is expected to be launched in September 2011, with an on-orbit capability in December 2011. That's about a 10-month delay from what you were briefed previously."

The MUOS program will consist of four operational satellites and one on-orbit spare. The spacecraft are built by Lockheed Martin Corp.

In prepared testimony, Dorsett and Gary Federici, a deputy assistant secretary of the Navy, said the military's narrowband satellite communications constellation currently includes eight UHF Follow-On, or UFO, spacecraft, two residual previous generation Fleet Satellites, the LEASAT 5 platform launched in 1990, and leased capacity on the United Kingdom's Skynet 5C satellite.

Once launched, MUOS satellites will provide "worldwide tactical narrowband netted, point-to-point, and broadcast voice and data services in challenging environments include double canopy foliage, urban environments, high sea states, and all weather conditions," according to Dorsett and Federici's testimony.

The spacecraft are also designed for mobile communications with hand-held terminals, UAVs, missiles, aircraft and remote sensors.

Navy officials are considering commercial solutions to ensure warfighters experience no communications outages.

"Looking at a commercially-hosted payload is the right approach," Dorsett said. "It reduces the risk that we otherwise would have. Last year, we made a decision that we could afford more risk. With the additional delay of MUOS, we made a decision that no longer could afford that risk."

Dorsett, also the Director of Naval Intelligence, said more MUOS delays without mitigations would place "the entire joint force at a level of risk that, frankly, would not be appropriate."

"We really want to explore that [commercial] option," Federici told the Senate panel. "It could be a hosted for a lease, or it could be a purchase."

Opening up part of the UHF spectrum reserved for government use would be beneficial to commercial operators and should be "part of the calculation," Dorsett said.

A mysteriously secretive U.S. government satellite named PAN launched in September was the source of much speculation linked to the potential gap between heritage narrowband satellites and the delayed MUOS program.

Some observers concluded PAN, which is based on a commercial Lockheed Martin satellite bus, may be designed to bridge the gap between the two systems, particularly in the Middle East region. But no military or civilian government agency claimed ownership of PAN, a rare circumstance in recent space history.

The Navy is developing and implementing other options to optimize communications capacity on existing satellites, including reconfiguring the UHF payload on the newest UFO spacecraft to increase the number of channels available for use. The military may also lease another narrowband channel on a SICRAL communications satellite owned by the Italian government.

Officials are also pursuing upgrades to ground terminals and seeking a bandwidth-sharing deal with Australia. The experimental TacSat 4 mobile communications satellite may also provide some limited narrowband capacity after its launch in late 2010.