Congress fires opening salvo in NASA budget cycle
BY STEPHEN CLARK
SPACEFLIGHT NOW
Posted: February 24, 2010


Sen. Bill Nelson, a Florida lawmaker and former space shuttle flier, renewed a call for President Obama to set clear priorities for NASA on Wednesday as members of a Senate subcommittee sounded off on the space agency's controversial new budget.


| | |
| --- | --- |
| | Sen. Bill Nelson's official Senate portrait. Credit: U.S. Senate |
The budget set NASA on a new course, proposed the cancellation of the agency's next-generation Constellation program, and directed NASA to turn over human spaceflight to commercial providers.

In the first day of Congressional hearings on NASA's new direction Wednesday, NASA chief Charles Bolden was questioned on the space policy's roots, details and ultimate destination.

Bolden said he had the approval of senior Obama administration officials to say Mars is the long-term objective for human space exploration.

"Our program seems to enable the capabilities we will need for astronauts to explore the moon, the asteroids and eventually Mars," Bolden told the Senate Subcommittee on Science and Space.

Nelson said the president needs to make a statement on NASA and accused White House budgeteers in the Office of Management and Budget of controlling space policy.




"I think OMB is running the space program," Nelson said. "This is where I think the president has to step out and take control and exert and offer the leadership on the goal that has now been articulated by the administrator...which is Mars."

The Florida Democrat also recommended Obama make a statement on NASA before the budget was released Feb. 1.

"If you leave it to OMB, if we get there, it's going to be long time coming," Nelson said. "But if you have a presidential decision...then things can start popping."

The NASA overhaul received a mixed response from the space community, largely due to grave concerns over the loss of thousands of jobs among the agency's contractors.

"You add the [workforce] angst to a statement that the Constellation program is going to be killed, and add to that that it was rolled out in a budget message," Nelson said. "It gave the perception that the president was killing the manned space program."

Bolden apologized for the slow release of budget documents after the Feb. 1 announcement. Officials are still finalizing the details of the policy, according to Bolden.

NASA released a budget estimate Monday offering more information on key new commercial and research and development programs. The documents indicated NASA will develop a powerful new hydrocarbon rocket engine by 2020 and fund testing of other enabling technologies, such as autonomous rendezvous and docking and orbital propellant depots. All would go far toward human exploration of deep space, according to NASA.

A new heavy-lift rocket -- a mandatory element of any exploration initiative -- is being put on the backburner. Many of the capabilities NASA would pursue under the budget could be applied to a new super booster, but the Obama administration has not given explicit orders to design and build such a rocket.

In a Feb. 6 press conference at Kennedy Space Center, Bolden estimated a heavy-lift rocket would not emerge until the mid-2020s, or later.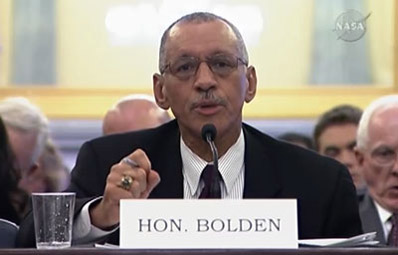 Bolden testifies before a Senate committee on Wednesday. Credit: NASA TV



The absence of a heavy-lift launcher and spacecraft capable of excursions to the moon, Mars and nearby asteroids leaves the United States "on the sidelines" of space exploration, Nelson said.

The budget estimate also did not establish a timetable or objective for exploration beyond Earth orbit, but Bolden repeated his call for missions to Mars during Wednesday's hearing.

"I can't provide a date certain for the first human mission to Mars because there are too many capabilities that we don't yet have in our kit bag," Bolden said.

Nelson, the subcommittee's chairman, was joined by Sen. David Vitter, R-La., and Sen. George Lemieux, R-Fla.

Vitter, who represents a key space assembly facility in New Orleans, called the new NASA budget "radical" and said it offered "little more than a hope and a prayer" in the abilities of commercial companies to pick up the mantle of crew transporation to space.

Vitter said the budget would cede U.S. leadership in space and asked Bolden for background on the discussions leading up the the White House decision. The administrator declined to reveal any "pre-decisional" work.

Bolden said he is trying to find middle ground between groups "radically" in favor of keeping the Constellation program and others lobbying for reliance on commercial space entities.

Nelson said Congress will attempt to "perfect" the Obama plan during the budget cycle, but it could be months before lawmakers officially weigh in on NASA.

"We live in the world of perception, and if the substance is different than the perception, then we've got to straighten it out," Nelson said. "And where the perception is substance, if we disagree with the substance, then we have to change it."

Bolden is scheduled to testify before the House Committee on Science and Technology on Thursday morning.