ULA considers medium-lift launch market strategies
BY STEPHEN CLARK
SPACEFLIGHT NOW
Posted: February 16, 2010


United Launch Alliance is taking a wait-and-see approach in deciding how to pursue the medium-class launch market after it phases out the stalwart Delta 2 rocket family.
"We're waiting for the market to shape up," said Michael Gass, ULA president and CEO. "So the major driver is what's going to be the size of the market."
The company operates the Evolved Expendable Launch Vehicle fleet, made up of the Atlas 5 and Delta 4 rocket families, for a broad range of U.S. military, NASA and commercial payloads.
But current schedules call for ULA's smallest rocket, the Delta 2, to be retired in late 2011. The Delta 2 has long been a favorite booster for medium-class Earth observatories, planetary exploration probes and military satellites.
ULA will continue flying the larger Atlas 5 and Delta 4 vehicles, but those vehicles are tailored for larger missions, leaving the company on the sidelines in the medium launch market.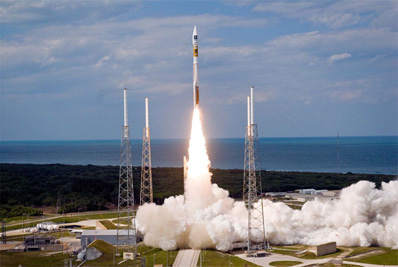 File photo of an Atlas 5 rocket launch from Cape Canaveral. Credit: Pat Corkery/ULA



The challenge is that launch market forecasts are notoriously finicky, especially in the medium sector, which is dominated by Earth observation payloads, according to industry officials.

In an interview with Spaceflight Now, Gass said United Launch Alliance is evaluating several options to stay in the intermediate market, including slashing costs on unsold Delta 2 vehicles or modifying the larger Atlas 5 and Delta 4 rockets to carry smaller payloads.

A critical factor in ULA's strategy will be the predicted size of the medium-lift market available to U.S. rockets.

"It's always about what is the market," Gass said.

Gass said ULA expects low demand for medium-class missions in the next decade.

"Right now, we see the market in the low range, at the best two to four [missions per year], or even less," Gass said.

Such numbers would be insufficient to justify fielding a rocket like the Delta 2 specifically aimed at the medium-class launch business.

NASA has been a leading customer for medium-class launch services, but the agency doesn't have any intermediate-sized payloads scheduled for launch between 2011 and 2014, according to William Wrobel, the outgoing assistant associate administrator for launch services.

Missions expected to launch in 2014, which include the SMAP and ICESat 2 Earth observation satellites, would need to be assigned rockets by around 2012.

By then, a new stable of rockets being developed by SpaceX and Orbital Sciences Corp. should be regularly launching, giving NASA other options for medium-class space transportation for satellites.

The Falcon 9 and Taurus 2 boosters are expected to begin flying in 2010 and 2011, respectively, to deliver cargo to the International Space Station under a commercial contract with NASA.

The Falcon 9, with lift capabilities between the Delta 2 and Delta 4 rockets, has already won a handful of contracts for commercial launches of communications satellites and Earth observation spacecraft. But NASA has not awarded any of its satellite missions to Falcon 9, even though the rocket is part of the NASA Launch Services contract, an open-ended agreement that puts the Falcon 9 in a pool of vehicles the agency can choose from to haul robotic platforms to space.

Commercial Soyuz rockets launching from the European spaceport in French Guiana will also be contending for commercial satellite operators in the medium-lift market.

NASA's proposed budget over the next five years includes funding for new Earth science spacecraft, and the bulk of the new missions will be in the lifting range of medium-sized rockets. NASA-operated Earth observation satellites almost exclusively launch into polar orbit from Vandenberg Air Force Base, Calif.

Delta and Atlas rockets regularly blast off from Vandenberg on polar orbit missions, giving ULA an advantage for launching new Earth science satellites. SpaceX is in talks with the Air Force to renovate a retired Vandenberg launch pad for Falcon 9 flights to polar orbit.

There are still five Delta 2 rockets available for purchase to meet any short-term demands, so ULA has time to wait and see how the market evolves before making any decisions on a new system.


| | |
| --- | --- |
| | File photo of a Delta 2 rocket on the launch pad. Credit: NASA-KSC |
"If there really is a demand, we're going to try to price those Delta 2's to support that demand and see if the market shapes up and grows," Gass said.

The most powerful Delta 2 rocket version, with nine 46-inch-wide solid rocket boosters, can haul 13,440 pounds to low Earth orbit. All five remaining Delta 2 first stages are specially outfitted to fly in this Delta 2-Heavy configuration, but the rockets could be modified to fit other variants, Wrobel told Spaceflight Now last year.

"It's all a function of pricing it appropriately, and we're trying to demonstrate that we'll have the expertise to support it because the people that have supported Delta 2 are embedded in our operations, so the experience is still there," Gass said.

According to Gass, the leftover Delta 2 rockets could sustain the expected pace of medium-class launches through 2015. But maintaining ground facilities to support only a handful of flights will come with high costs.

"The challenge when you field a vehicle you're only launching once a year is to make sure you have the appropriate infrastructure, which comes with the cost, to able to support those missions with the same level of mission success and reliability that they expect from United Launch Alliance," Gass said.

"We have to convince the customer, but it's a challenge," Gass said. "It's not something that we'll make a lot of money on, but it's something that least keeps our presence in the medium market until the market shapes up and we have greater clarity on it."

After the Delta 2 is eventually retired, ULA plans to remain in the medium-lift business, but company leaders are still deciding the best strategy to pursue it.

Company officials are studying three alternatives:

Standalone vehicle: If ULA's slice of launch market for mid-range satellites is more than about five missions per year, the company could restart Delta 2 production or develop a dedicated rocket to execute the flights.


EELV with smaller upper stage: Under some scenarios, ULA could add a less powerful second stage to its Atlas 5 or Delta 4 rockets to provide lift capacity comparable to the Delta 2 rocket. During the Delta 4 booster's early development phase, officials planned a "Small" version with a solid-fueled second stage. The idea was scrapped because the Delta 2 served the same market.


Dual-payload EELV missions: If the medium-class launch outlook is thin, ULA could field a special payload adapter to launch two satellites at a time to similar orbits. This would be especially practical for missions bound for geosynchronous orbit, such as communications satellites, or Earth observation spacecraft headed for sun-synchronous orbit over Earth's poles.

"If the market's going to be one or two missions a year, then dual-payload is potentially the way to go," Gass said. "If it's anywhere from two to four launches a year, probably an upper stage that's tailored to the medium market would be the right thing utilizing the EELV infrastructure. If the market grows beyond that, and it's a steady market, then a standalone medium vehicle may be warranted."

ULA is already designing a dual-payload launch system baselined for the Atlas 5 rocket.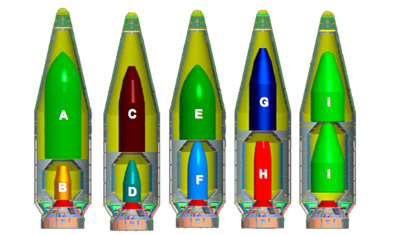 This diagram shows potential layouts of an Atlas 5 rocket four-meter payload fairing with dual payloads. The letters represent the fairing envelopes of other vehicles that would fit inside the Dual Spacecraft System. Credit: ULA



The Dual Spacecraft System would use existing Atlas 5 upper stage adapters to create a clamshell-like enclosure for a lower payload. Another satellite would ride in the upper position, allowing for spacecraft combinations of different sizes and missions, including pairing government and commercial payloads on the same flight.

The new adapter has already passed several design reviews under internal ULA funding. The Dual Spacecraft System would be available about 18 months after a customer's order, according to a paper presented at an American Institute of Aeronautics and Astronautics conference in 2008.

ULA is waiting for the launch market to stabilize before committing to one of the options.

"One of the things we have in the launch vehicle business, and we've proven it, is we can develop a launch vehicle faster than the market can develop satellites," Gass said. "By the time a satellite architecture is developed...in the time to come up with the concept, getting money, getting the satellite on order and getting the satellite ready to launch, we can develop a whole new launch vehicle inside that time."

"The satellite architecture is typically in the six-year timeframe, and we fielded the [Atlas 5 and Delta 4] systems in three years from the time we were fully turned on for development until first launch," Gass said.