Earth science, deep space probes get budget boost
BY STEPHEN CLARK
SPACEFLIGHT NOW
Posted: February 3, 2010


NASA's new proposed budget includes $5 billion for science, bolstering the agency's fleet of Earth science missions and restarting production of plutonium to power robotic probes to the outer solar system.
The Obama administration is requesting an 11 percent increase for science over 2010 funding levels.
The extra money will expand NASA's Earth science satellite missions, fund a replacement for the Orbiting Carbon Observatory lost in a launch failure last year, and restart U.S. production of plutonium-238 to generate electricity in space.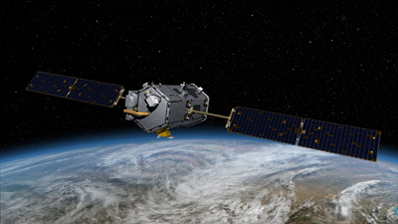 Artist's concept of OCO. Credit: NASA/JPL



The Earth science division would receive $1.8 billion in 2011, an increase of $382 million over the enacted 2010 budget.

Ed Weiler, associate administrator of the science directorate, said specific new missions could be identified in a few weeks after further discussions with White House officials.

"When you get $2 billion like this spread over five years, it's a unique opportunity, certainly in my experience," Weiler said. "You want to be sure you get it right. You want to be sure what you're laying out is affordable and executable."

New satellites are likely to tackle high-priority climate science objectives determined by the National Research Council's decadal survey.

"We're extremely happy with it," Weiler said. "We look forward to the additional funds in Earth science to really aggressively go after new and important climate science missions."

The budget would also add more low-cost Venture-class Earth science missions.

The OCO satellite lost in a Taurus rocket failure in February 2009 will also be replaced under the 2011 budget, which provides $170 million for the new mission.

A NASA spokesperson said the budget "includes funding for rapid development and launch of an OCO 2 mission that has identical capabilities as the first one."

The new mission could be ready for launch by February 2013, but NASA will not set a formal date until a confirmation review later this year, according to an agency spokesperson.

NASA started studying an OCO replacement within days of the launch mishap, narrowing down alternatives until deciding on flying a carbon copy of OCO within about 28 months of receiving funding.

"Luckily, we had done all that due diligence and planning, so we were ready to run," Weiler said.

Congress added $50 million for OCO under NASA's 2010 budget in December.

"We got a Congressional budget that kept the option alive in [fiscal year] 2010, so we knew we could get through [fiscal year] '10 keeping the team alive and keeping the option open," Weiler said. "The good news in this budget is the president decided that this is an important mission for both science and understanding our climate."

The White House is also directing NASA and the Department of Energy to restart production of plutonium-238. U.S. laboratories stopped making plutonium-238 more than 20 years ago.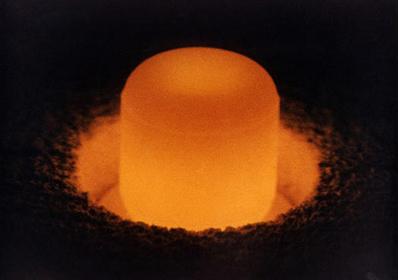 Plutonium-238 in a ground laboratory. Credit: Department of Energy



"We are in discussions about restarting plutonium-238 production in the United States. It's a very complex issue. It involves a lot of agencies, but the news is good there," Weiler said.

The Department of Energy has replenished its stockpiles with orders from Russian atomic labs, but dwindling supplies in both countries are straining demands for future robotic probes to the outer planets.

A planned flagship probe to Jupiter's moon Europa in 2020 will require a significant supply of plutonium to power its extensive suite of instruments.

"I think people have recognized that Pu-238 is important, both for exploration and for science missions," Weiler said. "In our case, especially for deep space missions."

President Obama requested $30 million to begin the multi-year process of restarting plutonium-238 production in 2010, but Congress cut the spending from the final budget.

NASA is also developing an Advanced Stirling Radioisotope Generator, a more efficient power system that would reduce consumption of precious plutonium. Under the proposed 2011 budget, the ASRG would be ready for a flight test on a Discovery-class space science mission by 2014 or 2015.

Other highlights of the science budget includes the initiation of the Solar Probe Plus mission that will fly in the sun's corona after launching in 2015.

The joint Mars Trace Gas Orbiter between NASA and the European Space Agency will also move into the mission formulation phase, according to Weiler. The probe will launch in 2016.