Kennedy Space Center hit hard by NASA course change
BY STEPHEN CLARK
SPACEFLIGHT NOW
Posted: February 2, 2010


The director of the Kennedy Space Center said Tuesday the spaceport's two launch pads, mammoth Vehicle Assembly Building and other one-of-a-kind facilities will be upgraded and made available to private space companies after the space shuttle's retirement.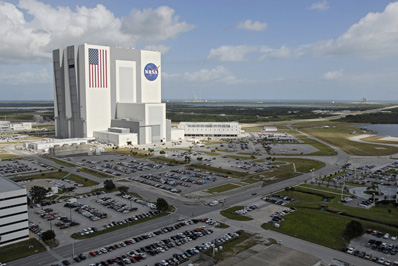 An aerial view of Launch Complex 39, including the VAB, launch pads and other facilities. Credit: NASA-KSC



Although unmanned commercial and government payloads will continue launching from the Florida Space Coast, the future of Apollo and shuttle-era infrastructure at KSC is now in doubt after Monday's proposed recasting of NASA's human space program.

"This is a big deal, and the Kennedy Space Center is affected by it," said Robert Cabana, director of the space center.

The facilities include the 525-foot-tall Vehicle Assembly Building, twin oceanfront launch pads, a launch control center and payload and shuttle processing hangars.

"Whether it's commercial or government, we are going to have facilities available, up to date, ready to launch to support anything to ensure that we are the premier launch complex anywhere," Cabana told reporters Tuesday afternoon.

The Constellation program, which is being scrubbed under the new NASA budget, planned to utilize many of the same facilities at Launch Complex 39 that supported the Apollo and space shuttle programs.

Details of potential commercial successors to the shuttle are still being developed, but none of the foreseen competitors have committed to being based at KSC. Cabana, a shuttle commander, was also not sure of KSC's role in future manned space endeavors, but NASA officials say the space center will have a competitive advantage.

"Launch Complex 39 is not going to go to waste," Cabana said. "That's a unique facility out there. Unique assets. I think they will be available for commercial use also."

SpaceX and United Launch Alliance, two companies at the early forefront of the commercial crew program, both operate satellite launch pads at nearby Cape Canaveral Air Force Station. If selected by NASA, SpaceX would stage human launches from the Air Force's Complex 40.

ULA hasn't decided whether it would upgrade its existing facilities or move to a new pad, according to Michael Gass, the company's president and CEO.

Under the fiscal year 2011 budget request, KSC would receive nearly $2 billion over the next five years to reshape the spaceport into a 21st century launch complex.

"The money that's available there to go to the Kennedy Space Center for improving the launch complex is because we've got facilities that need improvement," Cabana said. "This is a 1960s-era facility, and we want it to be able to support whatever comes."


| | |
| --- | --- |
| | KSC Director Robert Cabana. Credit: NASA |
Cabana said KSC officials are still working with NASA leaders, the Air Force and potential customers to determine what improvements are most needed.

"It takes 48 hours to transition [the Eastern Range] from one launch to another," Cabana said. "That's kind of archaic in today's computer age. There's a lot that could be done to improve that. We ought to be able to switch it in less than an hour with today's technology, not 48 hours."

Communications infrastructure, wiring, fiber-optics, propellant systems and delivery networks also need upgrades.

"There's a lot that can be done to improve that, make it more reliable, make it more automated and use fewer people to do the job better," Cabana said. "We have a lot we can dig into to make this place a more efficient and better place to operate and make it more commercial-friendly."

Other improvements on tap are environmental cleanup activities and making the space center more open to customers, including moving the perimeter fence to permit greater access to research and payload processing facilities.

"There's work available, there's money available, and we're going to capture our fair share of it," Cabana said.

Cabana said he wasn't sure when the storied KSC launch pads would host another launch after this year.

"It depends on what partnerships come up in commercial space and when we go exploring beyond Earth orbit," Cabana said.

In the meantime, the spaceport must weather the loss of an estimated 7,000 jobs after the shuttle's retirement later this year, almost exclusively from the contractor workforce.

The budget also proposes spending $7.8 billion in the next five years on space technology demonstrations and $3 billion over five years for more robotic precursor missions throughout the solar system.

"We got a lot of rockets coming our way on these launch sites over on the Cape side to launch these NASA payloads," Cabana said. "And there's going to be more of them now with this increased focus on science and technology."