NASA tops off new Ares launch tower at the Cape
BY STEPHEN CLARK
SPACEFLIGHT NOW
Posted: January 28, 2010


Workers added the final piece of a 390-foot-tall Ares 1 mobile launch tower at Kennedy Space Center on Thursday, topping off a new member of the Cape Canaveral skyline as questions swirl on whether the eye-catching structure will ever be used.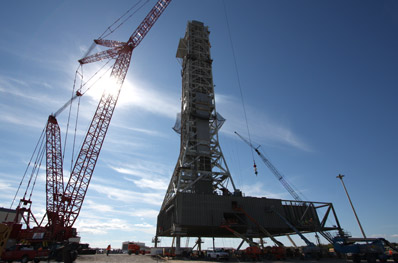 Credit: Stephen Clark/Spaceflight Now



A giant crane slowly lifted the tenth and final section of the ironwork structure Thursday morning. The tower is mounted atop a square platform built to haul Ares 1 rockets from the spaceport's massive Vehicle Assembly Building to seaside launch pad 39B.

NASA started stacking the launch tower in October and added sections one at a time at the mobile launcher park site just north of the VAB and near the space shuttle's three processing hangars.

Hensel Phelps of Orlando, Fla., is overseeing the construction of the mobile launcher. The contract is valued at nearly $264 million, if NASA exercises an option for a second platform and tower.

The total cost of the mobile launcher project is estimated at around $500 million, according to NASA.

But the ultimate fate of the skyscraping tower is up in the air as the White House appears on the brink of canceling the Ares 1 rocket and scrapping NASA's Constellation program taking aim on the moon.

The structure was designed specifically for the Ares 1 but could be modified to support other heavy-lift rockets. A price tag for potential changes to the tower is unknown.

A NASA spokesperson said current schedules call for the mobile launcher to be ready to support Ares 1 vehicle processing by January 2014.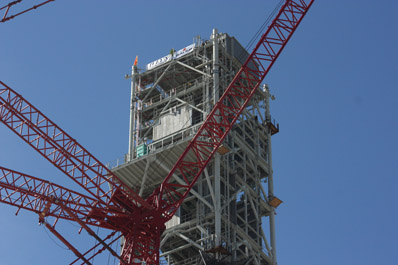 Credit: Stephen Clark/Spaceflight Now



Before 2014, engineers will add electrical, communications and control systems to the tower. Umbilical lines, fuel plumbing and instrumentation will also be installed on the structure, but those components will be covered in subsequent work contracts.

According to NASA, the mobile launcher consists of the main support structure that comprises the base, tower and facility ground support systems, which inlude power, communications, conditioned air, and water for cooling, wash-down, and ignition over-pressure protection.

NASA plans to begin dismantling pad 39B's shuttle-era fixed service structure this summer.