Veteran astronauts find new roles in commercial sector
BY STEPHEN CLARK
SPACEFLIGHT NOW
Posted: January 14, 2010


Two former space shuttle and space station commanders are now competitors in the nascent world of commercial human spaceflight, a start-up industry still in its infancy but likely close to receiving a major boost from the White House.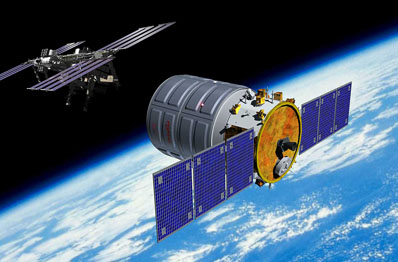 Artist's concept of a Cygnus spacecraft approaching the International Space Station. Credit: Orbital Sciences



Ken Bowersox and Frank Culbertson are vice presidents at Space Exploration Technologies Corp. and Orbital Sciences Corp., two U.S. companies at the forefront of the private space industry.

SpaceX's Dragon capsule and Orbital's Cygnus spacecraft have already been selected by NASA to ferry cargo to the International Space Station beginning next year. Both companies are now vying for a NASA contract to begin developing vehicles capable of carrying humans to the International Space Station.

"We're interested in the [crew] market if it ever comes around," Culbertson said.

The commercial providers could take up the job of carrying astronauts to and from the complex if President Obama directs NASA to revamp its current exploration program.

SpaceX and Orbital submitted proposals for the Commercial Crew Development solicitation last fall. Called CCDev for short, the program was designed to award $50 million in seed money to industrial teams studying man-rated vehicles launching to low Earth orbit.

Funding for the CCDev agreements will come from stimulus money approved by Congress last year. NASA could award all $50 million to a single team or split the money among several winners.

NASA initially planned to sign agreements with the winners in November. The award date was later postponed to December and then January.

A NASA spokesperson did not offer an explanation for the delays, but Culbertson said the slips were troublesome.

"It's becoming somewhat problematic in our mind because they have to spend all that money by the end of this fiscal year," Culbertson said. "That's only seven or eight months out, so I don't know how they're going to incentivize folks to provide a product that will be useful."

The White House is expected to decide on NASA's future in the next few weeks after a blue-ribbon presidential commission found the agency's Constellation moon program "unsustainable" under current budget conditions.


| | |
| --- | --- |
| | Schematic showing a Dragon spacecraft carrying astronauts. Credit: SpaceX |
The committee presented multiple options to the administration, most of which included scrapping NASA's Ares 1 rocket and relying on commercial providers to transport astronauts to low Earth orbit. Under such a scenario, NASA could focus on developing exploration technologies geared for human expeditions to deep space.

SpaceX, Orbital and other companies are positioning themselves to take over crew transportation services.

"We're setting a good foundation for how to do commercial endeavors associated with human spaceflight," Culbertson said. "I do think that sometime in the future, we will see emphasis moving in the direction of providing other capabilities commercially, including human transport. That's not going to happen overnight, and it's not going to be cheap. But I think it will come eventually."

The Dragon capsule and its Falcon 9 rocket were designed with astronauts in mind.

According to Bowersox, SpaceX would add a launch escape system, seats, cockpit displays, flight controls and life support systems to modify the Dragon to carry astronauts.

Culbertson would not discuss Orbital's proposal for commercial crew services because the competition has not concluded. Orbital's Cygnus cargo freighter and Taurus 2 rocket may be reconfigured to haul astronauts.

Orbital hired Culbertson, 60, in August 2008 as senior vice president and deputy general manager of the company's advanced programs group, which oversees human spaceflight activities.

Culbertson, a three-time space flier, commanded a space shuttle mission in 1993 and headed the third resident crew to live on the International Space Station in 2001. He also managed NASA's part in the Shuttle-Mir program in the late 1990s.


| | |
| --- | --- |
| | Frank Culbertson in a Russian Sokol spacesuit during his 2001 tenure aboard the space station. Credit: NASA |
"I've done a lot of really exciting and interesting things in my life," Culbertson said. "In the commercial world, this is probably the most exciting thing I've done recently."

Bowersox joined SpaceX last June as vice president of astronaut safety and mission assurance.

"The word astronaut is in there so anything that SpaceX does involving astronauts, then I get to play," Bowersox said. "The other part is safety and mission assurance, which is kind of a classic safety and mission assurance function trying to help increase the probability that the missions are going to be successful."

Bowersox, 53, flew on five missions, commanding a shuttle flight to the Hubble Space Telescope and leading the Expedition 6 crew on the space station in 2002 and 2003.

Neither astronaut has given up on space travel just yet.

If Orbital or SpaceX is selected to develop a human-rated spaceship, the companies may provide specialists or expert operators to control spacecraft systems. Contractors could also fly private astronauts on test flights before launching on NASA missions.

"If Orbital were providing the vehicle, I would be on the first flight," Culbertson said.

Bowersox said Elon Musk, SpaceX's founder and CEO, would decide the composition of the first manned flight of Dragon.

But that won't stop Bowersox from lobbying for another trip to space.

"If he asked me, I'd tell him I was the obvious choice," Bowersox said. "He knows I'd love to go."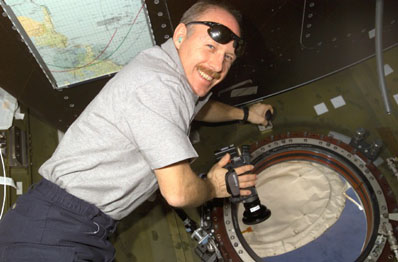 Ken Bowersox aboard the space station in 2003. Credit: NASA



The would-be contractors and NASA are still in the earliest phases of ironing out the composition on crews on commercial spacecraft.

"One of the approaches I like is to have a spacecraft operator responsible for the vehicle, have another person assisting with the management of the vehicle, and then having another set of folks who have less to worry about managing the transport vehicle and are thinking about the destination or thinking about the fun of the trip," Bowersox said.

"The highest training load is going to be for that one Dragon specialist, whomever that ends up being," Bowersox said. "But to start with, it makes a lot sense to use SpaceX crews, and then bring in customer crews afterwards."

Although the first flight of a commercial crew transport vehicle is still around three years away, Bowersox isn't hanging up his spacesuit.

"There's older guys than me at NASA flying," Bowersox said. I'm not too old yet. How old was John Glenn when he flew? I've got 20-something years left."