Ocean-watching satellite facing delays in Argentina
BY STEPHEN CLARK
SPACEFLIGHT NOW
Posted: December 26, 2009


The launch of a joint mission between NASA and Argentina to measure salt in Earth's oceans could be delayed nearly one year due to trouble at the spacecraft's factory.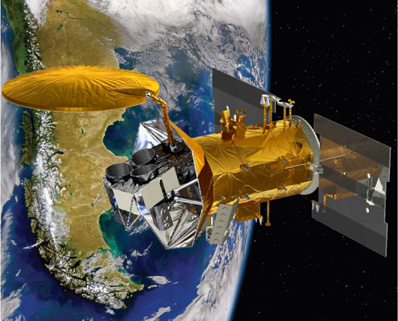 Artist's concept of the SAC-D/Aquarius satellite. Credit: NASA/JPL



The mission is a joint endeavor between NASA and Argentina's space agency, CONAE. NASA's Aquarius instrument will measure ocean salinity levels across the globe to learn new information about the water cycle, a key driver of the world's climate.

CONAE is providing a spacecraft named SAC-D to host the Aquarius payload and six other instruments from Argentina, Italy and France.

Aquarius is an L-band instrument package with a scatterometer and radiometer built by NASA's Jet Propulsion Laboratory and Goddard Space Flight Center.

The 3,100-pound satellite was scheduled to lift off in May 2010, but the official launch date is now undetermined. SAC-D will launch on a Delta 2 rocket from Vandenberg Air Force Base, Calif.

The launch may slip until early 2011, according to industry sources.

"There have been delays in the development of the spacecraft, which is being built by NASA's partner on the mission, Argentina's National Commission on Space Activities (CONAE). NASA and CONAE are reviewing the remaining observatory integration and test schedule, as well as the launch manifest at Vandenberg Air Force Base to determine a new launch readiness date," said Alan Buis, a JPL spokesman.

NASA delivered the Aquarius payload to CONAE in Buenos Aires in June. CONAE is responsible for integrating Aquarius and other instruments on the spacecraft, then shipping the satellite to the United States for launch.

If SAC-D's launch is formally postponed until 2011, there will be just one Delta 2 rocket flight slated for next year. The launcher currently has four more flights on the books, including SAC-D, an Italian radar satellite, the NPP weather observatory and NASA's GRAIL mission to the moon.

Eight Delta 2 rockets successfully launched on military, NASA and commercial missions in 2009.

The next Delta 2 mission is now expected to launch the fourth COSMO-SkyMed Earth observation satellite for Italy.