Obama, Bolden to meet in Oval Office on Wednesday
BY STEPHEN CLARK
SPACEFLIGHT NOW
Posted: December 16, 2009


President Obama plans to meet with NASA Administator Charles Bolden on Wednesday afternoon as the White House draws a road map for the space program's future.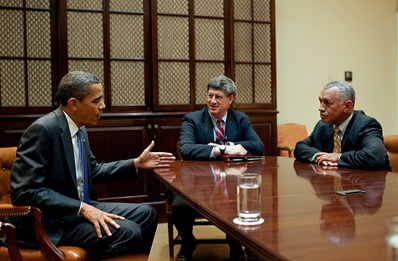 President Obama and then-administrator nominee Charles Bolden meet in May. Credit: Official White House photo by Pete Souza



The meeting is scheduled for 3:05 p.m. EST in the Oval Office, according to the president's daily schedule released by the White House.

Obama and Bolden will discuss the findings of the Augustine commission, a board of experts established to review the status of NASA's Constellation moon program and present alternatives to the administration.

NASA officials were not available for comment on the meeting late Tuesday.

The panel, chaired by former aerospace executive Norm Augustine, released its final report in October.

The committee found the Constellation program was on an "unsustainable trajectory" and faced significant budgetary and schedule challenges. Board members recommended NASA turn to commercial providers to transport astronauts to orbit after the space shuttle is retired next year.

The Constellation program was founded after former President Bush unveiled plans to return humans to the moon. NASA is designing the Ares rocket family and Orion spacecraft in the next-generation architecture.

But crew launches of the system won't begin until 2015, according to NASA. The Augustine commission provided a bleaker assessment, predicting manned flights would be delayed until at least 2017.

Obama, Bolden and John Holdren, the White House science advisor, are expected to play key roles in any decision on NASA's future.

The White House has so far given no indication on any potential decision.