First SBIRS early warning satellite delayed until 2011
BY STEPHEN CLARK
SPACEFLIGHT NOW
Posted: December 10, 2009


Lockheed Martin has finished environmental testing on the first satellite in a new series of space-based missile warning platforms, but the over-budget, behind-schedule system won't be delivered until 2011, according to the U.S. Air Force.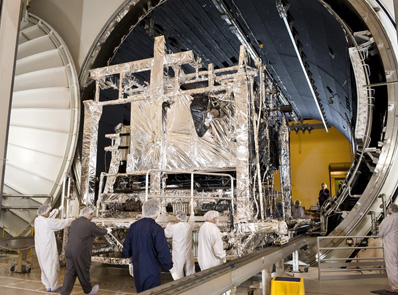 The SBIRS GEO 1 spacecraft finishes thermal vacuum testing in November. Credit: Lockheed Martin



The $11.5 billion network, called the Space-Based Infrared System, will provide military leaders early warning of enemy missile launches. SBIRS will take over for the Defense Support Program, an aging group of satellites on constant vigil since 1970.

"The U.S. and its citizens expect missile warning," said Col. John Mueller, vice commander of the SBIRS Wing at the Air Force's Space and Missile Systems Center at Los Angeles Air Force Base, Calif.

The second-generation SBIRS constellation includes infrared sensors mounted on top secret satellites in egg-shaped Molniya orbits and dedicated spacecraft in geosynchronous orbit. The sensors are known as HEO and GEO, respectively.

Two of four HEO instruments have already been launched. Mueller said those sensors are "exceeding warfighter expecations."

But the four GEO satellites have faced a steeper climb in development, construction and testing. The satellites are eight years behind schedule and the SBIRS program is an estimated $7.5 billion over budget, according to a report from the Senate Appropriations Committee.

Engineers had to re-design part of GEO satellites' flight software, adding cost to the program before the software was finally completed in July.

The Senate report also cited parts quality issues as another challenge facing the SBIRS program.

Mueller said the Air Force now expects the first satellite, named GEO 1, to be delivered in early 2011, when the spacecraft is shipped from a Lockheed Martin factory in California to the launch site at Cape Canaveral, Fla. Launch on an Atlas 5 rocket would follow a few months later.

The satellite recently completed space environment testing to verify it can survive the rigors of launch and the extreme temperatures of space.


| | |
| --- | --- |
| | The SBIRS GEO 1 spacecraft finishes thermal vacuum testing in November. Credit: Lockheed Martin |
The software performed well during thermal vaccum testing, but engineers are still doing qualification tests of the software on development models, according to Mueller.

"The SBIRS program, with the completion of thermal (vacuum testing), has completed the last significant environmental test that was facing the launch of the GEO satellite. Right now, we are on a fairly deterministic path toward launch," Mueller said.

Thermal vaccum testing went according to plan, giving officials some confidence in the early 2011 delivery date.

"We came through fairly clean, and as a result we've got a lot more confidence in our schedule to go because there's not a lot of re-work required," Mueller said.

Lockheed Martin engineers will next perform a battery of integrated spacecraft and systems tests on GEO 1.

GEO 2 is undergoing baseline electrical checks before beginning environmental testing. The second SBIRS satellite is scheduled for delivery in 2012, about 14 months behind GEO 1.

"GEO 1, as a first of its class satellite, is going through a number of first-time integration problems," Mueller said. "The way that we look at this is we compare GEO 1's flow to GEO 2's flow. The guy running GEO 2 looks like a lot smarter right now because he's absorbing all the lessons learned from GEO 1 and applying them, so his flow looks a lot better. GEO 1 is blazing a trail through the wilderness."

Despite the budget difficulties and technical glitches, Mueller expects SBIRS satellites to be available to support a steady rate of launches as needed to refresh the early warning satellite constellation.

Two more SBIRS satellites, GEO 3 and GEO 4, have been authorized and the Air Force is in final contract negoations with Lockheed Martin on those two spacecraft.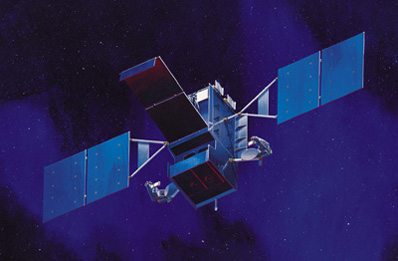 Artist's concept of a SBIRS GEO satellite in orbit. Credit: U.S. Air Force



John Young, the former chief of Pentagon acquisition, directed the Air Force to procure options for another two SBIRS satellites, GEO 5 and GEO 6. In parallel, military officials are studying concepts for a third-generation infrared surveillance system, dubbed 3GIRS.

Young ordered Air Force acquisition officials to evaluate and present the status of the third-generation system before exercising a contract option on a GEO 6 satellite, Mueller said.

But Young has been replaced with Ashton Carter, who took office in April and has not weighed in on SBIRS procurement. Mueller said a review is planned early next year.

In the Senate report, the appropriations committee expressed support for the third-generation program. The House of Representatives pledged much less funding, and a conference agreement between the Senate and House is still pending.

Mueller said a Pentagon decision between more SBIRS satellites and moving on to the third-generation system would depend on the status of SBIRS development, the health of the early warning constellation, and the on-orbit performance of SBIRS satellites.

According to Mueller, the DSP constellation "is operational and it's meeting the users' requirements." There will be a "graceful transition" between DSP and SBIRS operations," Mueller said.

Nevertheless, Pentagon officials have considered placing a gapfiller sensor on a low-cost satellite platform and has already built a $65 million payload to fly on a commercial communications satellite next year. The hosted sensor is a technology demonstrator for the 3GIRS studies already underway.

"We hope that when we present this case to Dr. Carter that he will agree with us that we have the correct acquisition strategy in place, and we'll proceed accordingly," Mueller said.