NASA assumes ownership of next space station module
BY STEPHEN CLARK
SPACEFLIGHT NOW
Posted: November 21, 2009


The European Space Agency formally handed over ownership of the Tranquility module to NASA on Friday, two-and-a-half months before the connecting node's February launch on shuttle Endeavour.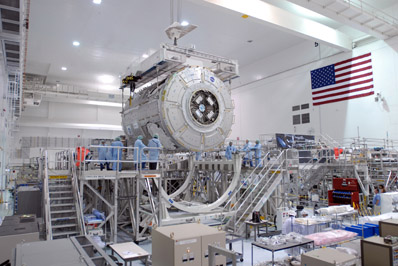 File photo of Tranquility's processing at KSC. Credit: NASA



The exchange occurred in a ceremony inside the Space Station Processing Facility at Kennedy Space Center. ESA space station program manager Bernardo Pitto signed over control of the module to Mike Suffredini, the NASA station program manager.

"We're very proud to accept this module," Suffredini said.

Tranquility and a small windowed room called Cupola will be launched together on Endeavour's STS-130 mission, currently scheduled for liftoff Feb. 4. The modules have a combined launch mass of almost 30,000 pounds.

The modules are among the last major components of the complex to be prepared for launch inside the cavernous processing building. The facility has been home to U.S., European and Japanese modules before their launch to the station.

"It's sort of a bittersweet moment, as we are tailing off of assembly," Suffredini said. "As we head into operations, facilities like this one will be more barren as we put things together on orbit."

"There's no room to be sentimental," Patti said. "It would actually be worse if everything was still here."

Built by Thales Alenia Space in Italy, Tranquility measures nearly 15 feet in diameter and almost 23 feet long. The barrel-shaped module was delivered to KSC in May.

ESA and the Italian Space Agency oversaw the construction in a barter arrangement with NASA. The trade, which also included the building of the Harmony module, was in exchange for a space shuttle launch for Europe's Columbus laboratory module in 2008.

Equipment in Tranquility will help control the station's atmosphere, generate oxygen and recycle water. The COLBERT treadmill and a toilet will also be permanently located inside the module.

Tranquility allows astronauts to move most of the hardware from the Destiny laboratory, freeing up more space for research.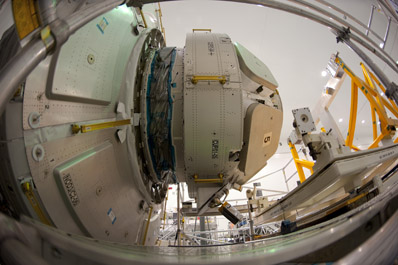 File photo of Tranquility's processing at KSC. Credit: ESA/S. Corvaja



The Cupola includes seven windows to give station crew members a panoramic view for Earth observation and robotics operations, including capturing incoming cargo vehicles for berthing to the outpost.

Suffredini said Tranquility will be attached to the port side of the Node 1 module, called Unity. The Cupola will eventually be attached to the down-facing side of Tranquility. A small module connector named Pressurized Mating Adapter 3 will be repositioned to the end of Tranquility, according to Suffredini.

"We are trying to optimize its location, based on where other modules ultimately end up," Suffredini said.

Tranquility was originally supposed to be located on the nadir, or Earth-facing, port on Unity. But that would cause clearance issues with docking Russian spacecraft on the nearby Zarya module.

A Russian stowage module was originally expected to launch by the time Tranquility arrived, providing an extension to clear the docking clearance concerns. The Russian component now will not launch until 2011.