Rocket barons share thoughts on launch industry
BY STEPHEN CLARK
SPACEFLIGHT NOW
Posted: November 20, 2009


Managers of the top commercial launch providers, including bankrupt Sea Launch, disagree on the outlook of the industry as satellite operators clamor for more participants in the launch market.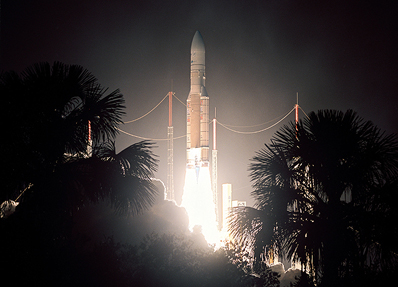 File photo of Ariane 5 rocket launch. Arianespace



Arianespace and International Launch Services command the lion's share of the commercial launch industry, after Sea Launch suspended operations after filing for Chapter 11 bankruptcy protection in June.

The companies launch commercial satellites to geostationary transfer orbits on Ariane 5, Soyuz, Proton and Zenit rockets.

Arianespace and ILS can now launch about 21 commercial communications satellites per year, based on combined average flight rates. Up to 28 payloads could be launched annually if both providers ramped up operations. Those numbers don't include the expected addition of the Soyuz rocket to Arianespace's fleet next year.

The Ariane 5 is launching two satellites at a time about seven times each year. The Proton launches on commercial missions six to eight times per year. The maximum flight rates for the vehicles are nine missions annually for Ariane and 10 commercial flights per year for Proton, according to company officials.

"It is clear there are less satellites to launch than in the past," said Jean-Yves Le Gall, chairman and CEO of Arianespace. "And with ILS and Arianespace, we cover all the needs of our customers. So I do not see the need to have other launch companies in this market."

Frank McKenna, president of ILS, agrees that two able providers could efficiently handle the demands of satellite operators worldwide.

"I think that the fixed costs with multiple players coming into the market is going to be an issue because the demand won't sustain robust launch rates," McKenna said.

But officials with Sea Launch say there is room for a third major market participant, and even McKenna said secondary players have a role to fill in the industry.

"Some of my competitors may say they already have access to space with the ability to fly on either Proton or Ariane, but if either of those two have an issue then the operators will suffer the consequences," said Kjell Karlsen, president and general manager of Sea Launch.

"Will there be new entries? Of course there are people that are coming into the market," McKenna said.

Sea Launch is reorganizing and expects to emerge from the Chapter 11 process early next year. The company hopes to resume launches from its ocean-going platform next fall.

The Sea Launch manifest has been emptied by payloads moving to Ariane 5 and Proton launchers. Most recently, the XM 5 radio broadcasting craft switched to the Proton rocket for a launch in late 2010, earlier than Sea Launch could conduct the mission.

Sea Launch's backlog now consists of three firm launches, two unidenfitifed Eutelsat missions and the Intelsat 17 satellite. Four more options from Intelsat are also on the manifest.

"We're taking a conservative view and we believe that we'll have a profitable business plan based on four launches per year. We'll be profitable with less, but we're building our case that four is our base case. I believe to fill our manifest with four or five launches per year is not out of the realm of likely possibilities," Karlsen said in a September interview.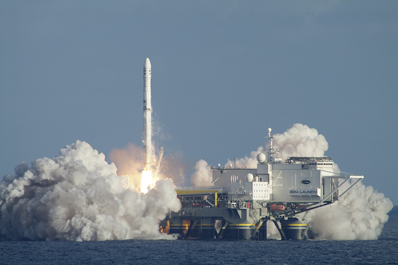 File photo of a Zenit 3SL rocket launch. Sea Launch



Sea Launch's land-based subsidiary, Land Launch, is planning two launches of Intelsat satellites, the first scheduled for later this month.

According to Karlsen, Sea Launch is continuing to negotiate for new contracts during the bankruptcy proceedings.

"It's not like we are a start-up. We have launched 30 times on Sea Launch and three times on Land Launch," Karlsen said.

Along with Sea Launch, the U.S. Atlas 5 rocket and China's Long March family are vying for a slice of the market.

After its upcoming launch of the Intelsat 14 communications satellite, the Atlas will turn its near-term focus to launching government payloads for the U.S. military and NASA.

China is seeking a stronger footing in the commercial launch business, having inked deals with Paris-based Eutelsat and a number of developing countries with aspirations for a satellite-based communications infrastructure.

Thales Alenia Space, a leading European satellite manufacturer, is offering operators spacecraft free of U.S.-built components under the export restrictions of the International Traffic in Arms Regulations. The ITAR laws are a set of U.S. government regulations that govern international trade of defense-related equipment, including satellite and rocket systems.

The China Academy of Space Technology is also ramping up production of communications satellites. The Chinese satellite-builder has established ties with small operators in Nigeria, Pakistan, Laos and Venezuela. CAST spacecraft exclusively launch on Long March rockets, which are marketed by China Great Wall Industry Corp.

Another up-and-coming participant in the market is the SpaceX Falcon 9 rocket, which can loft up to 10,000 pounds to geostationary transfer orbit. The Falcon 9 is vying for launches of medium-class communications satellites, but the new booster will not make its first flight until February, at the earliest.

Japanese and Indian rockets are also potential entrants into the commercial launch market.

All of these companies are jockeying for position in a market that is projected to consist of 20 to 24 commercial satellites per year between 2009 and 2018, according to industry studies.

These numbers lead some to fear of more oversupply in the finicky launch market and question the value of new participants and even established companies like Sea Launch.

The Federal Aviation Administration's Commercial Space Transportation Advisory Committee, or COMSTAC, released a report in May predicting an average of 20.8 commercial satellites and 15.7 commercial launches to geostationary transfer orbit in the next decade.

Euroconsult, a Paris-based reserch firm specializing in satellites, published a similar forecast in June calling for a total of 235 commercial geostationary communications payloads between 2009 and 2018.

Both reports project a peak in commercial launch activity early in the period, before the rate tapers off after 2012. This is due to cyclical investments in satellites to replace aging platforms, according to Euroconsult.

"We've had the advent of a global financial crisis last year," McKenna said. "That took some of the growth players, new operators, out of the market."


| | |
| --- | --- |
| | File photo of Proton launch. Credit: ILS |
Launch providers like Arianespace and ILS say they can meet the demands of communications companies, especially with the forecasts of reducing launch rates.

"We will see about the future of Sea Launch. But today, with just 14 new launch service contracts since the beginning of the year, with 8 to Ariane 5 and 6 to 8 on Proton, (we) cover all the needs," Le Gall said.

"For the medium-to-heavy-lift end of the business, 20 (launches) a year is a very, very good year. What I'm seeing in the manifest in 2011 and '12, doesn't really seem to totally support that," McKenna said.

Arianespace's backlog currently extends out three years, including 25 Ariane 5 and 10 Soyuz launches. Le Gall said the company's schedule is filled up for the next two years.

ILS has acquired seven payloads from Sea Launch since late 2008. That company's manifest now totals 25 satellites to be launched, including a multi-mission agreement with SES of Luxembourg. ILS still has a couple of openings in 2011, according to McKenna.

But leaders of the world's largest satellite operators have made repeated statements lambasting the state of the commercial rocket industry. Eutelsat and Intelsat have both kept contracts with Sea Launch and Land Launch, despite the company's financial trouble. Both companies say they would like to see more variety in the launch market.

Sea Launch officials are thankful for the support and agree with the strategy.

"Now we don't see any operator complaining about launch prices anymore. What they're worried about is access to space," Karlsen said.

"Whether they pay $100 million or $120 million for a launch probably is not going to make that big of a difference for a 6,000-kilogram (13,228-pound) satellite's business plan," Karlsen said. "But if they don't have their suppliers and can't get access to space, then that will make a huge difference on their business plans."