Beijing summit lands agreement for space talks
BY CRAIG COVAULT
SPACEFLIGHT NOW
Posted: November 18, 2009


President Barack Obama and Chinese president Hu Jintao have agreed to expand and formalize U.S.-Chinese discussions on new cooperative space efforts, including initial talks on robotic planetary exploration and human space options.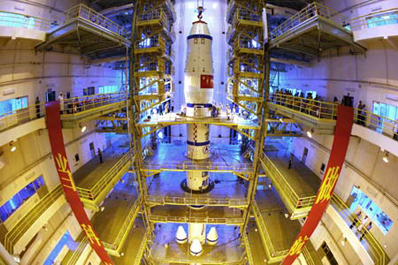 A Long March 2F rocket with a Shenzhou payload is prepared for launch. Credit: CNSA



The cooperation adopted at the summit in Beijing this week will begin with exchange visits of the top space managers from each country in 2010.

NASA Administrator Charlie Bolden, on a personal travel to nearby Japan, applauded the agreement saying he would be "perfectly willing to make the Chinese a partner in any space endeavor."

Doing so, however, will require a major shift in U.S. government policy toward China and new oversight of China's rapidly growing military space program.

The new role of the Chinese Air Force in military space was itself, a focus of controversy within the Chinese government this week.

Also NASA cooperation with China could also be a double edge sword for the space agency's public affairs and Congressional liaison offices.

This is because a new CNN/Opinion Research Corporation survey finds that 71% of Americans believe China is a direct economic threat to the U.S., while 51% percent consider China a direct military threat. Only 25% of 1,000 Americans surveyed still believe China has huge market potential to buy U.S. goods.

Previous NASA Administrator Mike Griffin made a short trip to China in 2006 to tour space facilities in Beijing and Shanghai, but concerns by the Bush Administration about Chinese human rights and arms trade issues kept the lid on any significant cooperation after that.

Unmanned space science cooperation, such as formal Chinese participation in the International Lunar Network (ILN) could occur more quickly.

The meetings involving the U.S and Chinese space agency heads will also include preliminary talks on human space flight topics. No joint programs, however, are in the works yet involving Chinese astronauts on the International Space Station. The U.S. and China have never held talks previously on joint manned flight options and the new discussions will center on whether Chinese science experiments or Chinese astronauts would be welcome on the ISS.

That is not a done deal by any means, because it would require unanimous consent from the current partners, and Japan may disapprove given current economic, cultural and political factors in the Pacific, as well as lingering sensitivities going back to World War II.

An even greater issue is whether the Chinese Shenzhou, based on the Soviet Soyuz, would ever be allowed to dock with the ISS, or whether Chinese station crewmembers would ever be allowed to launch on a U.S. launcher or Russian Soyuz.

The reverse side of that coin is whether the Chinese would ever allow a U.S. astronaut to launch on a Shenzhou. At least two U.S. astronauts speak fluent Chinese.

A more near-term program that could involve more visible Chinese cooperation short of astronauts on the ISS is science team involvement with the large Alpha Magnetic Spectrometer (AMS). The several-ton instrument is set for launch to the ISS on the STS-134 mission on Endeavour next July, the next-to-last space shuttle flight.

China has been heavily involved in the development of that unique instrument, a cosmic ray detector that will be important to identifying mysterious cold, dark matter in the universe.

The Beijing Institute of Spacecraft Engineering and Beijing Institute of Electrical Engineering were involved in building the AMS.

Other Chinese personnel involved in the STS-134 payload's construction and science team come from the Beijing Institute of High Energy Physics; the Sun Yat-sen University in Guangzhou; the Shandong University; the Southeast University in Nanjing and the Shanghai Jiaotong University.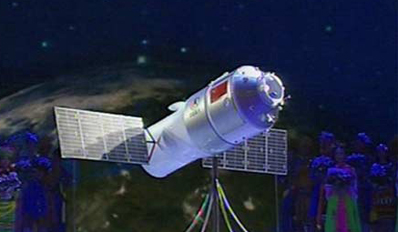 China is developing a docking test module for use as an outpost for Shenzhou docking practice. Astronauts can make temporary stays inside the module. Credit: CCTV



"Both President Obama and I said that we are willing to act on the basis of mutual benefit and reciprocity to deepen our cooperation on space," said President Hu.

Although the Obama agreement will accelerate cooperation, there are real concerns by U.S. officials about a lack of transparency in the Chinese manned program that is dominated by the People's Liberation Army (PLA).

"The potential costs of extensive cooperation between the U.S. and Chinese space programs far outweigh the likely benefit," says Dean Cheng, a Research Fellow in Chinese Political and Security Affairs in the Asian Studies Center at The Heritage Foundation.

"Steps that can safely be taken to build toward future collaboration must be cautious and contingent," Cheng says.

"China's space program is overwhelmingly military in nature. And nowhere more so than in the manned space program," he says.

The "commanders" or "directors," which include the head of the General Armaments Department, is one of the four general departments responsible for day-to-day management of the entire PLA," says Cheng.

"The challenges presented by the Chinese space program's strong ties to the PLA are exacerbated by the generally opaque nature of China's space program on issues ranging from who the top decision-makers are to the size of their budget.

"Any effort at cooperation is likely to be stymied so long as the PRC views transparency as a one-way affair," Cheng cautions. Griffin was especially adamant about his concerns on transparency during his visit.

Chinese President Hu said the two sides "also agreed to work together to continue to promote even greater progress in the growth of military-to-military ties."

The need for greater military ties between the U.S. and China are especially important for the U.S. to understand China's "intent" with military. In the weeks prior to the Obama summit, NASA dispatched former deputy administrator and shuttle astronaut Fred Gregory to China for informal discussions on cooperation.

Top NASA managers told Spaceflight Now that cooperative ideas would come nowhere near to what the U.S. and Soviet Union did in 1975 with the Apollo-Soyuz Test Project.

But they said limited unmanned cooperation, like what took place in 1991 when a NASA ozone mapping instrument was placed on a Soviet Meteor weather spacecraft, might be possible under the summit agreement.

China has for years desired an ISS role, even for basic science. Their officials have raised the idea often to me during six separate trips to China since 1985.

In 2001, in Beijing then Chinese space administrator Luan Enjie asked me and a colleague to intercede on his behalf with NASA administrator Dan Goldin to invite him to Washington for ISS talks.

In a rather solemn moment around a dinner table with the top leadership of China's space program, Luan spoke of the enormous share of humanity and energy that makes up China as it surges into the 21st century.

"Without China's participation, the ISS is not a true international program," Luan said convincingly. "We want more frequent communications with entrepreneurs, engineers and enterprises in the U.S. so that we can have extensive cooperation in the future," said Luan. "My hope is the U.S. can treat us as friends."

We met with Goldin shortly thereafter in Moscow, where he immediately rejected Luan's overture.

Luan then left the top spot in China's National Space Administration, where he lead the highly successful development and flight of Chang'e 1, China's first lunar orbiter.