Testing, reviews continue for grounded climate satellite
BY STEPHEN CLARK
SPACEFLIGHT NOW
Posted: October 15, 2009


Earth-watching instruments have been removed from the grounded Deep Space Climate Observatory for engineering tests, another sign of life for a mission left for dead four years ago.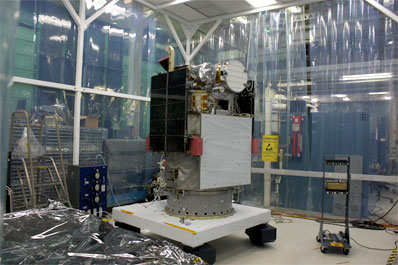 DSCOVR undergoes testing in Maryland earlier this year. Credit: Stephen Clark/Spaceflight Now



But NASA does not have enough money to check the health of the sensors and the mission's ultimate fate will probably come down to funding, according to a NASA report submitted to Congress this summer.

Congress appropriated $9 million earlier this year earmarked to test and refurbish DSCOVR's two Earth science instruments, a ten-channel imager and a radiation-measuring radiometer designed to keep a constant vigil on the planet from the L1 libration point a million miles away.

According to the report, the $9 million is "not sufficient to complete the instrument refurbishment, algorithm development and science operations center."

Officials are not sure how much the work will cost, and managers will finish a report establishing a tentative schedule and cost estimate next month, according to Steve Cole, a NASA spokesperson.

The instruments have already been removed from the DSCOVR spacecraft at the Goddard Space Flight Center in Greenbelt, Md.

If there is enough money, the mission's EPIC camera will be sent to the Lockheed Martin Corp. Advanced Technology Center in Palo Alto, Calif., for its checkout. The NISTAR radiometer suite will be returned to the National Institute of Standards and Technology facility in Germantown, Md.

A third DSCOVR instrument, called PlasMag, was already tested at Goddard last winter as part of an effort to power up and check the health of the refrigerator-sized satellite for a different would-be mission.

NOAA and the Air Force paid NASA to remove the spacecraft from its storage crate and determine if the satellite was still flyable.

Engineers at Goddard conducted magnetic cleanliness tests, a solar array deployment demonstration and extensive checks of all the satellite's electronics.

The testing included turning on PlasMag, but the Earth science instruments were left untouched until Congress stepped in.

The work was chartered to see if DSCOVR could be transformed into a mission devoted to monitoring space weather to help forecast solar storms that could affect satellites and astronauts in space and commerce on Earth.

Those services are currently provided by the Advanced Composition Explorer, an aging satellite also stationed at L1.

Repurposing DSCOVR is just one option NOAA is considering to replace the data collected by ACE. Other alternatives include flying an instrument on a commercial satellite or starting a brand new government mission dedicated to real-time space weather.

The Office of the Federal Coordinator for Meteorology established a committee to assess the space weather dilemma. The panel wrapped up their deliberations last month and reported their results to the White House Office of Science and Technology Policy for action, according to NOAA.

NASA's Congressional report studied eight options for DSCOVR's future, but only three of those alternatives were deemed practical and realistic. The report dismissed reconfiguring the satellite for another Earth science mission and entering into a partnership with a private company or international agency, citing a lack of interest and competing scientific priorities.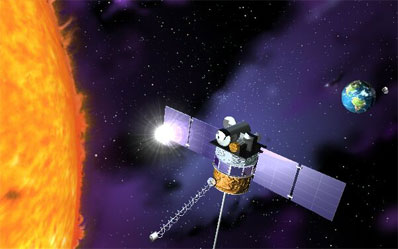 Artist's concept of DSCOVR in space. Credit: Scripps Institution of Oceanography



The options given closer scrutiny included launching DSCOVR on its original two-year Earth observation mission, a five-year mission devoted to space weather, or an in-the-middle concept to study both.

It would cost between $138 million and $300 million to fly DSCOVR as originally planned, with a focus on Earth science and minimal changes to the spacecraft.

But NASA says this option is not likely because it was not identified as a priority in the most recent Earth Science Decadal Survey by the National Research Council. Decadal surveys guide the agency in selecting missions based on the input of the scientific community.

Between $139 million and $285 million would be needed to pay for a space weather mission, including money for a new coronal mass ejection camera and upgrades to ensure the satellite could last for five years in space.

The hybrid mission's cost would range from $165 million to $319 million, according to NASA.

Most of the cost variability stems from uncertainty in the launch industry in the 2012 timeframe, when DSCOVR would be ready to fly in the scenarios costed by NASA.

Traditional launch vehicles at historical prices are unlikely to be available, the report said.

The best rocket options would be the Orbital Sciences Corp. Taurus 2, SpaceX's Falcon 9, or the larger Atlas 5 and Delta 4 boosters. DSCOVR is too large to fit on an Air Force-provided Minotaur vehicle.

Because of the unclear launch availability, rocket prices could range from $60 million to $200 million under all three alternatives.

DSCOVR's unique history began in 1998 when former Vice President Al Gore proposed the mission to provide live imagery of the full sunlit disk of Earth 24 hours a day for posting on the Internet.

The mission was first named Triana, after the sailor who first spotted land on Columbus's 1492 journey to the Americas.

After being criticized by lawmakers and NASA's inspector general, Triana was put on hold in 1999 and missed its scheduled launch on the space shuttle in 2000. NASA suspended work on the mission in 2001 and put the satellite in storage at Goddard.

The mission was formally cancelled in 2005 after NASA spent $97 million on the project.

DSCOVR sat in storage for seven years before the new round of testing began last year.

More work has been performed on the spacecraft in the last year than in the preceding seven years, according to Francisco Valero, lead scientist for DSCOVR's original Earth science mission.

Valero, a professor at the Scripps Institution of Oceanography in San Diego, continues to make the case for the scientific value of such a mission.

DSCOVR would have measured Earth's radiation budget, collecting data that could have proven the planet is absorbing more radiation than it is reflecting. The discovery would verify global warming, according to Valero.

NASA, NOAA and the Air Force are awaiting direction from the White House or Congress on the next chapter of DSCOVR's story, whatever that may be, officials said.