Latest freighter heads for International Space Station
BY JUSTIN RAY
SPACEFLIGHT NOW
Posted: October 14, 2009


Keeping the resupply line going to the International Space Station, the Russians have successfully launched their 35th routine but highly vital cargo-carrying spacecraft for the outpost in a magnificently beautiful ascent.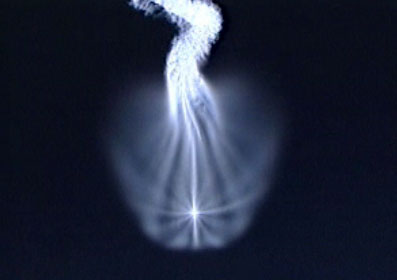 A dazzling view of the launch was provided in a live webcast. Credit: Russian Federal Space Agency



The unmanned Progress freighter was blasted into orbit atop a Soyuz booster at 9:14:37 p.m. EDT Wednesday from the Baikonur Cosmodrome in Kazakhstan. The launch came at local daybreak, allowing the core-stage engines to produce an undescribable dawn spectacle and its third stage to be visible all the way to the horizon.

A preliminary orbit was achieved after the nine-minute climb to space provided by the liquid-fueled rocket. Onboard commands then extended the Progress craft's two power-generating solar arrays that span 35 feet and unfurled communications and navigation antennas.

A pair of precise engine firings scheduled for Thursday morning and another one on Friday night will guide the Progress toward its automated rendezvous. The docking is planned to occur Saturday at 9:41 p.m. EDT.

The 24-foot long ship will attach itself to the Pirs docking module's port that was vacated when the Soyuz TMA-14 capsule departed and returned to Earth last Saturday with Russian cosmonaut Gennady Padalka, NASA astronaut Michael Barratt and Cirque du Soleil.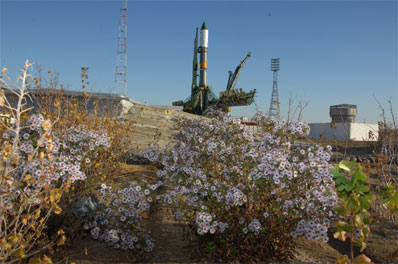 The rocket on the pad before launch. Credit: Energia



Wednesday's launch is known in the station's assembly matrix as Progress mission 35P. The spacecraft's formal Russian designation is Progress M-03M.

The Russian-made craft will deliver two-and-a-half tons of supplies to the station. The "dry" cargo tucked aboard the Progress amounts to 1,750 pounds in the form of spare parts, life support gear and equipment hardware.

The refueling module carries 1,918 pounds of propellant for transfer into the Russian segment of the complex to feed the station's maneuvering thrusters. The vessel also has 926 pounds of water.

The space station is occupied by the Expedition 21 crew of commander Frank De Winne, Roman Romanenko and Maxim Suraev, Canadian astronaut Robert Thirsk and NASA astronauts Jeff Williams an Nicole Stott.