Mars probe still mired in safe mode, managers optimistic
BY STEPHEN CLARK
SPACEFLIGHT NOW
Posted: September 25, 2009


After four unexplained glitches aboard NASA's Mars Reconnaissance Orbiter this year, the probe's science operations remain suspended as engineers investigate the mysterious string of problems.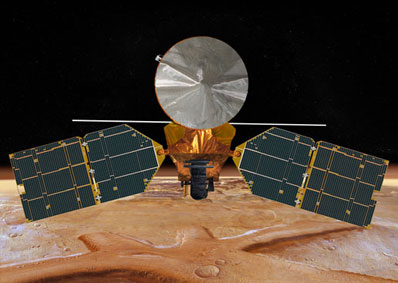 Credit: NASA/JPL



Jim Erickson, MRO's project manager, told reporters the orbiter is still in safe mode after the spacecraft's latest malfunction in late August.

"We are concerned that we've had such a long streak," Erickson said Thursday in a telephone briefing focused on the mission's latest scientific findings at the Red Planet.

During each of the glitches, MRO either spontaneously rebooted its computer or switched to a backup computer. The problems surfaced in February and June, then twice in August.

Control teams returned MRO to normal activities within a few days of the first three events.

"We are working hard to identify exactly what's going on," Erickson said.

Early analysis revealed a potential future scenario involving two nearly simultaneous computer resets that would jeopardize the spacecraft.

"We've identified that there are some issues that we think we need to fix in the short term, and we are working hard to put protection against those concerns on board right now," Erickson said.

That work will take several more weeks to finish as engineers continue investigating the root cause of the anomalies.

Erickson said he expects science operations to resume soon but would not say when the data-gathering activities would begin again.

"Our priorities are to keep the spacecraft safe, figure out exactly what's going on, and make sure it's productive in the long term," Erickson said.

Launched in 2005, MRO completed its primary science mission at Mars last November but is continuing its observations through at least 2010.