SpaceX doubles down on inaugural Falcon 9 mission
BY STEPHEN CLARK
SPACEFLIGHT NOW
Posted: September 24, 2009


SpaceX has announced the payload for the first Falcon 9 launch later this year will be a stripped-down version of the company's own Dragon capsule, a vehicle being developed to deliver supplies to the International Space Station.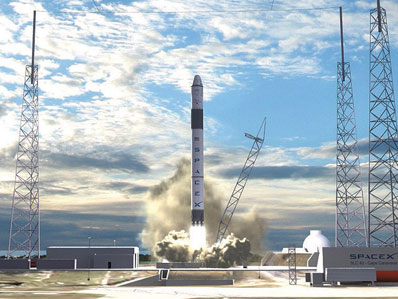 Artist's concept of the Falcon 9 rocket launching a Dragon capsule. Credit: SpaceX



In an update on the company's Web site, SpaceX said the demonstration launch would provide "valuable aerodynamic and performance data" for future Dragon test flights under the umbrella of NASA's Commercial Orbital Transportation Services and Commercial Resupply Services programs.

The payload is called the Dragon spacecraft qualification unit, a vehicle originally built only for ground testing to verify the spacecraft's myriad of systems are ready for flight.

"This is the actual article used to qualify Dragon for flight loads, so it is identical to the flight article as far as the core structure and mold line, but will not carry engines or avionics, therefore it is lighter," said Elon Musk, SpaceX's billionaire founder.

In an email response to questions, Musk told Spaceflight Now the qualification vehicle will send back some telemetry but not maneuver itself in its circular orbit about 155 miles high.

Officials previously refused to discuss the payload for the inaugural launch, saying only it was a demonstration mission for an unidentified customer.

Musk described the reasons for the decision to fly the inert Dragon on this year's launch.

"This gives us the best flight data in advance of our first COTS mission," Musk said. "It also removes the (payload) fairing from the schedule critical path and allows us to spend more time on making the fairing lighter and more reliable."

The company also said the first Falcon 9 rocket will be assembled at the Cape in November, and launch should occur one to three months after that milestone.

But according to an Air Force document first made public by the Orlando Sentinel, SpaceX has requested a launch date of Nov. 29 on the Air Force's Eastern Range. The range oversees launch operations and a network of required communications and tracking sites stretching from the U.S. East Coast across the Atlantic Ocean.

The range document lists a launch window on Nov. 29 between 1600 GMT and 2000 GMT (11 a.m. and 3 p.m. EST).

Musk said not to read too much into that date.

"It is possible, but unlikely that we would be able to launch on Nov 29," Musk said in an email response to questions.

"This should be thought of as a 'no earlier than" date,'" Musk said. "Everything would have to go right to make that date and that is rare in the rocket business. That did happen for the last two flights of Falcon 1 and we've learned a lot since then, but Falcon 9 is a new rocket."

Engineers are developing the Dragon with financial help from NASA's COTS program aimed at funding new domestic alternatives to unmanned Russian, European and Japanese freighters.

With funding directly tied to milestones, the program has already given SpaceX most of the maximum payment of $278 million in support of Dragon.

Orbital Sciences Corp. is designing and building its own contender, a ship called the Cygnus that is also receiving money from NASA.

Dragon and Cygnus were both selected for a combined 20 operatioal cargo delivery flights in a NASA contract awarded last December.

SpaceX plans three more Dragon demo flights next year for a series of progressively more challenging tests to prove out the ship's design and systems.

Those missions will use fully capable versions of the Dragon spacecraft with operable systems.

The demo missions begin with a four-and-a-half orbit test flight early next year to check out the craft's propulsion, commuications and reentry systems. That mission will fly on the Falcon 9 rocket's second launch.

The other two demos will include a close fly-by of the station and finally a berthing to the complex.

Operational cargo delivery missions should begin by early 2011, if everything goes as planned.

SpaceX engineers finished qualification testing on the Falcon 9's second stage Merlin vacuum engine last week and will soon begin acceptance checks on the power plant.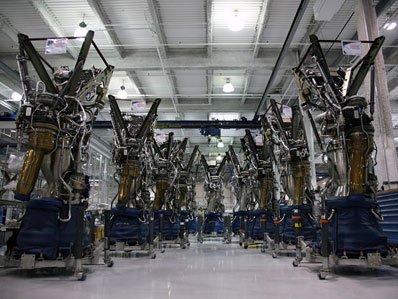 The nine first stage Merlin engines before being attached to the rocket. Credit: SpaceX



The first stage and its nine Merlin engines have already passed qualification testing.

Rocket hardware traveling from the company's California headquarters to the Florida launch site are stopping in Texas for final checks at SpaceX's test site.

The Falcon 9's second stage is currently undergoing structural and separation tests in Texas.

Officials plan to wrap up the testing in Texas with a firing of all nine first stage engines in a full flight configuration. One last hotfire is planned after the rocket is integrated in Florida.