Ares rocket test postponed by power unit failure
BY STEPHEN CLARK
SPACEFLIGHT NOW
Posted: August 27, 2009;
Updated at 7:30 p.m. EDT


Engineers scrubbed a critical rocket test in the high desert of Utah Thursday due to a last-second steering failure. Officials hope to try again on Tuesday.
Restrained by giant brackets, the 154-foot-long first stage of NASA's Ares 1 rocket was scheduled to ignite for a two-minute static firing at 3:15 p.m. EDT (1915 GMT).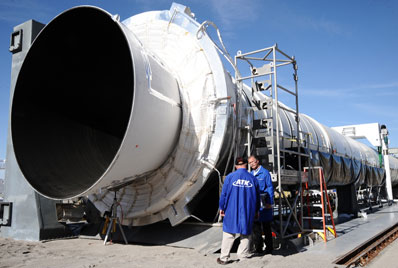 The Ares 1 test motor on Thursday morning. Credit: Gene Blevins/LA Daily News



The countdown was held 20 seconds before ignition due to problems with an auxiliary power unit that drives the motor's thrust vector control steering system, according to Alex Priskos, manager of the Ares 1 first stage element at Marshall Space Flight Center in Huntsville, Ala.

After several minutes, officials announced the test would be scrubbed for the day.

In a press conference later Thursday afternoon, officials said hydrazine fuel was not able to get to the power unit when it was commanded to turn on 20 seconds before ignition.

"We had an anomaly where the fuel did not get to the auxiliary power unit," said Pat Lampton, NASA's chief engineer for the Ares 1 first stage.

The system's plumbing includes a series of flow valves for the hydrazine to move from the fuel tank to the power unit, according to Lampton.

"We believe somewhere in those valves that we had the anomaly. One of those valves failed to operate," Lampton said.

Officials announced Thursday night the next attempt for the test would occur no earlier than Tuesday, Sept. 1.

"Our investigation is still ongoing so we will not be able to test tomorrow," an ATK Space Systems spokesperson said in a statement Thursday night.

Engineers should have enough time to determine the root cause of the problem and take corrective action to prepare the motor for another attempt on Tuesday.

The firing will be the first major ground test of the Ares 1 rocket, a vehicle NASA hopes will carry astronaut crews into space by 2015 or 2016.

Mounted on a hillside in northern Utah, the solid-fueled motor is instrumented with about 650 sensors to gather key data on the performance of the rocket.

Called Development Motor No. 1, the motor is an upsized solid rocket booster with an extra segment, optimized propellant geometry, a larger nozzle throat and upgraded insulation.

The rocket was designed and built by ATK, the prime contractor for the Ares 1 first stage and the space shuttle's solid rocket boosters.