Russian cargo ship launches toward the space station
BY SPACEFLIGHT NOW
Posted: July 24, 2009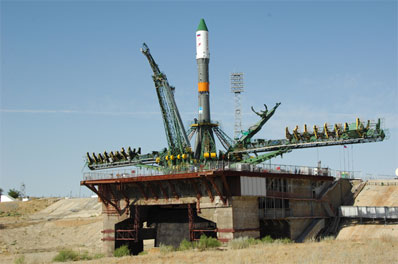 The rocket was rolled out to launch pad earlier this week. Credit: Energia



An unmanned resupply ship for the International Space Station was successfully launched into orbit today, headed for a docking next week after the space shuttle Endeavour leaves the outpost.

Flying atop a Russian Soyuz U booster, the Progress M-67 spacecraft rocketed away from the Baikonur Cosmodrome in Kazakhstan at 1056 GMT (6:56 a.m. EDT).

A preliminary orbit was achieved after a nine-minute ascent provided by the three-stage rocket. Onboard commands then extended the Progress craft's two power-generating solar arrays that span 35 feet and unfurled communications and navigation antennas.

A series of precise engine firings scheduled for later today and continuing on Tuesday will guide the Progress toward its automated linkup. The docking is planned to occur Wednesday at 1116 GMT (7:16 a.m. EDT), or about 18 hours after Endeavour departs.

The 24-foot long ship will attach itself to the aft-facing port on the Zvezda service module. Today's launch is known in the station's assembly matrix as Progress mission 34P.

The Russian-made craft will deliver two-and-a-half tons of supplies to the station. The "dry" cargo tucked aboard the Progress amounts to 2,718 pounds in the form of spare parts, life support gear and equipment hardware.

The refueling module carries 1,830 pounds of propellant for transfer into the Russian segment of the complex to feed the station's maneuvering thrusters. The vessel also has 463 pounds of water and 110 pounds of oxygen.

The space station is occupied by the Expedition 20 crew of commander Gennady Padalka, NASA astronauts Michael Barratt and Tim Kopra, European astronaut Frank De Winne, Russian cosmonaut Roman Romanenko and Canadian astronaut Robert Thirsk.

Padalka will be standing by Wednesday to manually dock the Progress if the automated system experiences a problem.