Repaired satellite finally blasts off from Baikonur
BY STEPHEN CLARK
SPACEFLIGHT NOW
Posted: June 21, 2009;
Updated June 22 with launch completion;
Updated June 22 with more details


A Malaysian communications satellite was shot into space Sunday after being grounded for nearly a year due to damage caused by a launch site crane accident last August.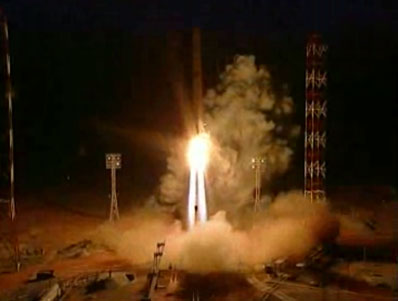 Image from launch webcast



A Land Launch Zenit 3SLB rocket lifted off at 2150 GMT (5:50 p.m. EDT) Sunday from Complex 45 at the Baikonur Cosmodrome in Kazakhstan. The first phase of the nighttime launch was picture-perfect, placing the launcher's upper stage and the MEASAT 3a satellite in a temporary parking orbit about 12 minutes after liftoff.

Two more burns of the Block DM-SLB upper stage later delivered the 5,216-pound spacecraft to an egg-shaped geosynchronous transfer orbit, punctuating the Zenit's third launch of the year.

Sea Launch Co., a parent company of the Land Launch consortium, declared the mission a success early Monday after the rocket released the payload into space at about 0415 GMT (12:15 a.m. EDT).

A ground station in Australia detected the first signals from the satellite a few moments later.

"Congratulations to MEASAT and to Orbital, and to the entire Land Launch team for successfully completing this mission," said Kjell Karlsen, Sea Launch president and general manager.

The rocket was shooting for an orbit with a low point of 7,220 miles, a high point of more than 22,000 miles, and an inclination of 10.63 degrees, according to Sea Launch.

MEASAT 3a will use its own propulsion system to raise its orbit to an altitude of 22,300 miles in the next few weeks. Controllers will put the vehicle through a series of tests before placing it in service by the end of July, according to the satellite operator, MEASAT Satellite Systems of Malaysia.

The satellite will be positioned in geosynchronous orbit along the equator at 91.5 degrees east longitude, where its C-band and Ku-band communications payload will link customers in Asia, the Middle East, Africa, Europe and Australia.

Sunday's launch was delayed from last August after a crane struck the spacecraft during final launch site processing at Baikonur. The crane collided with MEASAT 3a's Earth deck antenna, sparking nearly a year of investigations and repairs.

At the time of the accident, the satellite was already bolted to the rocket's upper stage and was about to be encapsulated inside the Zenit's payload fairing for launch. The craft was also loaded with more than 3,000 pounds of hydrazine, a toxic fuel used by the satellite's maneuvering thrusters.

Technicians removed the satellite from the rocket and drained the hydrazine from the fuel tank to make it safe for the damaged spacecraft to be shipped back to its builder, U.S.-based Orbital Sciences Corp.

"The incident presented a number of challenges to Orbital's MEASAT 3a program team, including unique issues not covered on a typical satellite program," said Mike Magoffin, Orbital's MEASAT 3a program director.

MEASAT 3a arrived in November at Orbital's manufacturing facility in Dulles, Va, where workers removed the satellite's deployable reflectors and electricity-producing solar array wings.

Orbital transported the satellite to NASA's White Sands Test Facility in New Mexico for more extensive decontamination, then returned the craft to Virginia for additional repairs, tests and inspections early this year.

MEASAT 3a reached Baikonur again in May to restart its launch campaign.

"We are very pleased to have helped our MEASAT customer get to the point of final launch preparations," Magoffin said. "Our efforts throughout the repair and retesting activity were focused on returning the spacecraft to the program's original mission assurance standards, which we have verified through thorough inspection and testing."

The satellite's C-band payload includes 12 transponders, a 7.5-foot deployable reflector antenna and a 3.9-foot mounted antenna. The system will support the next generation of telecommunications and video services, according to MEASAT.

The company's direct broadcasting service will be bolstered by the satellite's Ku-band payload, which includes 12 transponders attached to another 7.5-foot antenna. The communications package will beam programming to homes across Malaysia and Indonesia.

MEASAT 3a was originally ordered as a replacement for the MEASAT 1 satellite, which was launched in 1996 and later moved to another coverage zone for MEASAT. The new spacecraft, designed to last at least 15 years, will initially expand capacity and redundancy at the company's anchor position over East Asia.

"On the completion of in-orbit testing, MEASAT 3a will provide a significant boost to our network capacity, allowing the continued expansion of our business across the wider Asia-Pacific region," said Paul Brown-Kenyon, MEASAT's chief operating officer.

It will increase capacity by 50 percent at the 91.5-degree east slot, adding 24 transponders to the 48 channels already offered there by MEASAT 3.

Sunday's flight was the third mission for the Land Launch venture, which debuted last year. Land Launch is jointly owned by Sea Launch and Moscow-based Space International Services Ltd.

Sea Launch officials say one more Land Launch and another Sea Launch flight are scheduled for the fourth quarter of this year.