Spaceflight Now's Craig Covault wins major award
SPACEFLIGHT NOW
Posted: June 17, 2009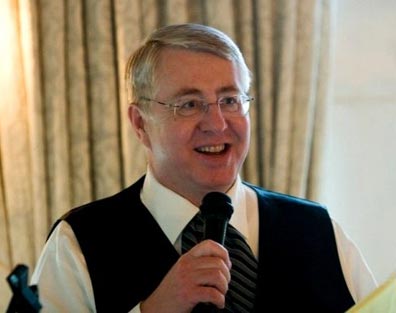 Craig Covault speaks at the adwards ceremony in Paris.

Craig Covault, editor-at-large for Spaceflight Now, has been awarded the "2009 Aerospace Journalist of the Year Award for Space".
The award was presented in Paris June 14 at an awards dinner that was part of the opening festivities for the 100th Paris Air Show underway this week. The dinner was attended by about 500 top international managers representing all areas of aerospace.
Covault's winning article "Secret Inspection Satellites Boost Space Intelligence" was published by Spaceflight Now on January 14. It revealed an historic and top secret breakthrough in military space operations.
The story describes how two Defense Advanced Research Project Agency "Mitex" satellites launched from Cape Canaveral were used to rendezvous with and directly inspect other satellite in the geosynchronous arc that circles earth at nearly 24,000 mi. altitude.
The article revealed how Mitex satellites can determine for example whether a Chinese satellite has hostile intent, and if necessary, disable them (with or without warning to China).
The new capability could also enable the development of "guard dog satellites" to protect U.S. spacecraft from the approach of similar craft that could be built by China.
And they can inspect disabled U.S. satellites -- as they did with the failing U.S. Air Force DSP 23 missile warning satellite -- to see if hostile intent was involved in its catastrophic failure.
The winning story ironically was the first article written by Covault for Spaceflight Now, after he was "riffed" by Aviation Week & Space Technology where he spent nearly 37 years before Aviation Week fell into financial difficulty forcing staff cuts there.
Other finalists for the 2009 Space Award were from Ad Astra magazine, Astronomy magazine, Smithsonian's Air & Space and Aviation Week.
The Journalist of the Year awards were initiated under the British Royal Aeronautical Society and l'Aero-Club de France. For 13 years they have been presented at the Farnborough and Paris Air shows on alternating years.
According to the awards' management organization, hundreds of entries are received each year from nearly every aerospace and defense publication in the world, as from newspaper, television, magazine and radio companies. A team of 35 fellow journalists then rate the entries on their reporting quality, originality and news impact. The judges are forbidden, however, to vote on entries from their own publications.
The space award this year was sponsored by ITT which develops major space systems like the navigation payloads on GPS satellites and imaging systems on geosynchronous orbit weather satellites.
This is the fourth major Journalist of the Year award to Covault.
He won the "Breaking News" category in 1999 in London and then again in 2000 at Paris.
In 2004 in Paris he received the overall top "Decade of Excellence" award as Aviation Week's Paris bureau chief between 1992-96 that included military air operations during the Bosnian war and his initial eight years at Cape Canaveral that included coverage of the 2003 Columbia space shuttle accident.