North Korea gambles as South readies own rocket
BY CRAIG COVAULT
SPACEFLIGHT NOW
Posted: June 14, 2009


A dynamic mix of factors could worsen the already deteriorating military posture between the U.S. and North Korea as President Barack Obama hosts South Korean President Lee Myung-bak at the White House this week.

Image Atlantic Council.

Two topics will dominate those talks, North Korea's holding of two women journalists from the U. S. and its continuing missile activity.

The North Koreans may greet this weeks meeting with a barrage of short and long range ballistic missile tests to make at least a virtual appearance at the same White House gathering.

One of those tests could mark a second effort to place a North Korean satellite into space, after a Taepodong 3 ballistic missile test launch failed to do so in April.

But now North Korea has more competition from South Korea.

The South has just completed a new space centre which will be used to send a satellite into orbit from its own territory for the first time, as early as July 30.

The South Korean Space Centre is in Goheung 300 miles south of Seoul.

If the schedule holds, the center will July 30 launch the South Korean KSLV-1 rocket, carrying a small engineering satellite.

The launcher has a Russian built first stage derived from Khrunichev's original Angara vehicle plans.

South Korea has already launched 10 satellites using overseas launch sites and recently completed a deal with Mitsubishi Heavy Industries for the launch of a large new imaging spacecraft on a Japanese H-2A by 2011-2012.


| | |
| --- | --- |
| | An artist's concept of the South Korean Earth-imaging satellite being developed with Europe. Credit: DLR |
Kompsat-3 will carry an imaging system co-developed with EADS Astrium in Europe and the German Aerospace Agency. From an orbit of 670 km, the pan sensor will have 700 mm resolution while its 4-band multispectral scanner will have 2.8 meter resolution.

This will be a far more advanced spacecraft than North Korea can even dream about.

But with South Korean President due next week at the White House, and the imminent launch of South Korea's first space booster, the North appears to be "acting out" to stay the focus of world attention. And the activities are drawing the concern of the Pentagon and the Kremlin as well as many other world governments.

The latest moves involve:

New facilities and test activity: North Korea is beginning to reveal a significant increase in ballistic missile development capability and ground test infrastructure. The U.S., Soviet Union and China were all able to make rapid progress from early flight test mistakes and North Korea is even further up the learning curve.


Missiles being transported around the country: Numerous missile movements are evident around factories and areas like new launch sites just completing construction. One major new facility on the Yellow Sea will allows testing of long range missiles without overflying Japan. It also would allow polar orbit space missions, according to analyst Charles Vick of Global Security.Org.


ICBM development: The third flight test of a long range Taepodong missile could be launched by July. It failed twice before but succeed in many key technical areas during its third test in April. It was flown then as a three stage vehicle ostensibly to launch a satellite. It managed to fly to within 1,000 mi. of Hawaii, however. The North is likely to use the satellite ruse again.

The main mission like the one earlier this years is expected to go off North Korea's primary east coast launch site. But a Taepodong 2 shorter range version of the heavy booster may be lurking on the West Coast Yellow Sea pad as well, evidence indicates.

Several shorter range Nodong missiles are also expected to be fired in tactical barrages between firings of the larger two missiles.



More nuclear tests: Other highly sensitive test data indicate that North Korea could conduct a third underground nuclear test by year's end.

A key U.S. intelligence site monitoring that North Korean threat is the Air Force Technical Applications Center (AFTAC) a top secret facility at Patrick AFB, Fla. adjacent to Cape Canaveral Air Force Station.

It is a seismic data fusion center receiving seismic data from dozens of stations around the world to provide evidence of underground tests. It also helps analyze air samples and electronic intelligence related to atomic tests. Some of that data flows to AFTAC from aircraft like this Air Force RC135-U "Combat Sent" electronic surveillance aircraft staged out of Japan.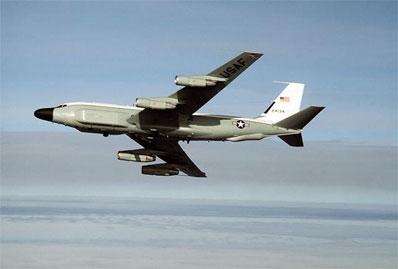 Credit: U.S. Air Force



This flurry of North Korean ballistic missile movements is keeps the U.S., South Korea and Japan in an extended guessing game about what is coming next.

On a tactical level this is forcing the U.S., and its allies to adjust intelligence operations on a near daily basis.

On a strategic and tactical level it is forcing the combined U.S. land sea and air forces defending South Korea to update potential target lists and lines of command and control.

New strategic and tactical planning and expenditures are evident by all the allies. The Missile Defense Agency is reviewing the radar and missile tactictics it could use for the next North Korean Test.

One option is to shoot down any Taepodong overflying Japan as a demonstration of what U.S. and Japanese Aegis destroyers can already do.

Japan is also accelerating plans for development of ballistic missile warning satellites that will be added to the multibillion dollar fleet of optical and radar imaging spacecraft launched by Japan after the first North Korean missile development surge in 1997.

But that new spacecraft is several years away from first flight. Until then Japan's own Aegis destroyers, assisted by the U.S. Navy can handle the job if a decision is made to shoot down a North Korean missile near Japan or in mid Pacific Ocean.

That tactic would demonstrate to North Korea that the U.S. and its allies are not going to allow the North to flaunt its treaty obligations.