U.S. military spacecraft aid search for missing Airbus
BY CRAIG COVAULT
SPACEFLIGHT NOW
Posted: June 1, 2009


U.S. Air Force Defense Support Program (DSP) missile warning satellite data collected early June 1 over the central Atlantic, is being examined to see if it captured a possibly fiery breakup or impact of the Air France Airbus A330 that disappeared enroute to Paris from Rio de Janeiro, Brazil.


| | |
| --- | --- |
| | DSP satellites with large infrared telescopes, like this one, may have seen the Airbus breakup and crash. Credit: Northrop Grumman |
The objective is to help locate the position of the aircraft when it went down and also provide insight into what may have caused the accident. Air France flight 447 was carrying 228 passengers and crew when it vanished.

"What the French government is trying to get, is any information which could have been gathered by (the) satellite system of U.S., if anything can help," Pierre-Henri Gourgeon, CEO of Air France-KLM, told reporters during a news conference June 1.

Two or three Northrop Grumman DSPs constantly scan that region of the Earth with powerful Aerojet-developed infrared telescopes. Rotating at 6 rpm, they are designed to detect the heat from the launch of land or sea based ballistic missiles. The satellites are based in geosynchronous orbit at nearly 23,000 miles in altitude.

Each satellite carries a 6,000 element mercury-cadmium-telluride detector able to discriminate not only missile launches but also many different kinds of thermal phenomenon such as lightning, meteorites and aircraft that are flying on afterburner or on fire.

The A330's telemetry system, which automatically sends data to the airline's maintenance computers, transmitted data indicating electrical problems and possible depressurization of the aircraft at 0233 GMT June 1, about three hours after takeoff. The A330 was about 230 miles northeast of the Brazilian coast approaching heavy thunderstorms that line the intertropical convergence zone (ITCZ) at that latitude. The ITCZ is an area of continuous low pressure that lines the equatorial regions.

The aircraft had already flown beyond radar contact and, like all airline traffic in the central Atlantic, was using satellite voice position reports or automated telemetry reports to enable air traffic control to know their locations.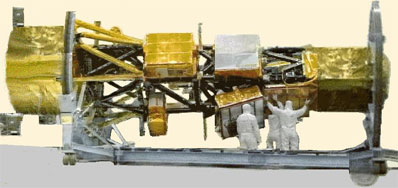 NRO's Lacrosse imaging radar spacecraft, like this one under construction at Lockheed Martin earlier, may be searching the central Atlantic for floating debris. Credit: National Reconnaissance Office



Data from two or three other U.S. military space systems are also being assessed to see if their sensors were pointing at the area where the Airbus went missing.

That includes data from the two new Space Based Infrared System (SBIRS) starring arrays riding piggyback on two National Reconnaissance Office spacecraft in highly elliptical orbits. SBIRS sensors do not scan, they stare.

And unlike the DSPs, the new SBIRS satellites are not yet positioned to provide a continual stare toward all areas of Earth. But if a flaming breakup occurred and a SBIRS array was pointed in that direction, it, like the DSPs, could provide position information on the crash.

It is also possible that data from Lacrosse imaging radar satellites, that could sweep the ocean area for signs of debris, is being employed or that signal intelligence "eavesdropping" spacecraft data is being examined for unusual static or other transmissions they may have picked up coming from the stricken aircraft.