Indian rocket launches Israeli-built spy satellite
BY STEPHEN CLARK
SPACEFLIGHT NOW
Posted: April 20, 2009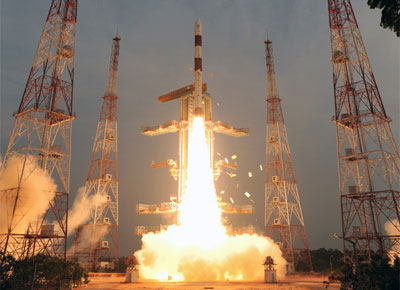 The PSLV blasts off with RISAT 2. Credit: ISRO



India launched a closely-guarded Israeli-built radar spy satellite Monday to begin gathering valuable intelligence data from a 342-mile-high perch above the planet, regardless of lighting and weather conditions.

The country's 15th Polar Satellite Launch Vehicle ignited at 0115 GMT and leapt from the Second Launch Pad at the Satish Dhawan Space Center on India's east coast. Liftoff of the 144-foot-tall rocket was at 6:45 a.m. local time.

The Indian Space Research Organization, which oversaw the launch, declared the flight a success on its Web site.

The PSLV was carrying a secretive satellite fitted with a dish-like radar antenna designed to see through darkness, clouds and camouflage, Spaceflight Now reported Saturday.


| | |
| --- | --- |
| | The PSLV rocket climbs away. Credit: ISRO |
The satellite, named RISAT 2, weighs about 660 pounds at launch and was built by Israel Aerospace Industries. It is designed for an orbit with an altitude of about 342 miles and inclined 41 degrees to the equator.

Radars transmit beams toward Earth and measure the reflected signals to create detailed images of objects on the ground.

"RISAT 2 is a radar imaging satellite with all-weather capability to take images of the Earth," ISRO said in a document on its Web site. "This satellite will enhance ISRO's capability for disaster management applications."

But Indian news agencies have reported RISAT 2 will be used by the military.

RISAT 2 is similar to Israel's TECSAR satellite launched by another PSLV rocket last year. Both satellites look identical in available public imagery, have the same launch mass, and will operate in comparable orbits.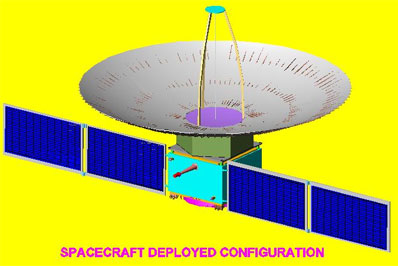 An artist's concept of the RISAT 2 satellite. Credit: ISRO



The new satellite provides an important new capability for Indian intelligence services. Previous Indian satellites, including a high-resolution observer launched last April, carried optical imaging sensors that were hampered by darkness and bad weather conditions on the ground.

For more information on RISAT 2, see our preview story.

Monday's launch also hauled into space a small 84-pound educational satellite called ANUSAT.

ANUSAT will demonstrate technologies related to message store-and-forward operations, according to ISRO.

The craft was built by students at Anna University, a leading engineering institution in India.