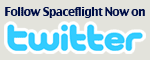 Spaceflight Now +





Subscribe to Spaceflight Now Plus for access to our extensive video collections!
How do I sign up?
Video archive

Weather satellite launch

The NOAA-N Prime weather observatory launches from California aboard a Delta 2 rocket on Feb. 6.

Play

Carbon observatory

Preview of the Orbiting Carbon Observatory, NASA's first spacecraft dedicated to mapping the global distribution of carbon dioxide.

Play

Expedition 19 crew

The Russian commander and two American astronauts to serve aboard the space station during the Expedition 19 mission hold this pre-flight news briefing.

Play

Delta 4-Heavy launch

The Delta 4-Heavy rocket launches a new intelligence-gathering satellite for the nation.

Full coverage

Become a subscriber
More video







Russian military satellite launched by Proton rocket
BY STEPHEN CLARK
SPACEFLIGHT NOW
Posted: February 28, 2009


A Russian Proton rocket hauled a military communications satellite into orbit early Saturday.

The three-stage Proton booster, topped by a Block DM upper stage, blasted off at 0410 GMT (11:10 p.m. EST Friday) from Complex 81 at the Baikonur Cosmodrome in Kazakhstan.



The rocket's Block DM upper stage completed several burns to place mission's payload into a geosynchronous transfer orbit stretching from an altitude of approximately 136 miles to a high point of about 22,000 miles.

The payload, believed to be a Raguda military communications satellite, separated from the Block DM at 1046 GMT (5:46 a.m. EST), successfully punctuating the six-and-a-half hour mission, according to Russian defense officials.

Raguda satellites are also known as the Globus series. The craft operate in geosynchronous orbit 22,300 miles above the planet to relay critical communications between troops and military leaders.

Saturday's launch was the second Proton mission of 2009, coming two-and-a-half weeks after another Proton rocket delivered two Russian civil communications satellites into space.

The next Proton flight is scheduled for March 28 to launch the W2A communications satellite for Eutelsat.