Delta 4 rocket rolls out for the launcher's 10th mission
BY JUSTIN RAY
SPACEFLIGHT NOW
Posted: February 27, 2009


The Delta 4 rocket to launch an advanced U.S. weather satellite was rolled out to the pad at Cape Canaveral's Complex 37 this week.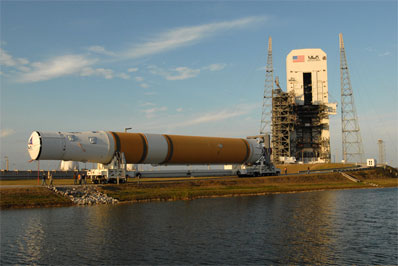 Credit: NASA



Liftoff of the Geostationary Operational Environmental Satellite O, or GOES O, is scheduled for April 28.

The spacecraft is the second in an updated series of weather observatories with sharper vision and extended life. The GOES program has a long history of providing the weather imagery seen daily during news broadcasts.

GOES O will be placed into a geosynchronous transfer orbit by the Delta rocket, then maneuvered by its onboard engine into a circular geostationary orbit 22,300 miles above the equator. It will be thoroughly tested and then put into storage mode to await its eventual job of replacing an aging weather-watching spacecraft in the coming years.

Boeing built the satellite and is overseeing the launch under a commercial arrangement with the government.

A Delta 4 Medium+ vehicle will be used in launching the 6,900-pound GOES O. This particular "4,2" version of United Launch Alliance-built rocket features a four-meter payload fairing and two strap-on solid rocket boosters.

Initial assembly of the rocket, including mating of the cryogenic upper stage with the Common Booster Core first stage using a precision laser alignment system, was completed in the Horizontal Integration Facility over the past few months.

A special motorized transporter moved the 165-foot-long rocket to the launch pad on Tuesday.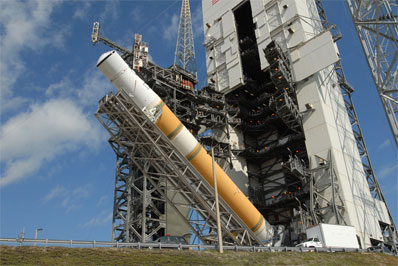 Credit: NASA



In preparation to raise the rocket vertically, the pallets in which the vehicle was cradled were tied down to the Fixed Pad Erector. The diesel-powered transporter used to drive the rocket to the pad then disengaged from the pallets and pulled away.

The erector system and its hydraulic pistons lifted the rocket upright on Wednesday, putting the vehicle on the pad's launch table within minutes.

Once the rocket was set, workers unhooked the booster from the pallets. That allowed the erector, along with the pallets, to be lowered back to the ground.

Over the next two months at Complex 37, a full pre-launch test program and the final rocket assembly steps will be carried out, including attachment of the solid-fuel motors to the first stage and delivery of the payload to the pad.

GOES O will be flown from its Boeing factory in Los Angeles to the Cape next week to undergo checkouts and fueling in a processing facility.

The 60-minute launch window on April 28 opens at 6:24 p.m. EDT (2324 GMT).

It will be the second Delta 4 launch of the year. A Heavy successfully flew in January with a classified national security payload.

In all, GOES O will mark the 10th Delta 4 mission dating back to the 2002 debut.


Additional coverage for subscribers:


VIDEO: DELTA 4 ROCKET ROLLED TO COMPLEX 37 PLAY | HI-DEF


VIDEO: VEHICLE LIFTED UPRIGHT ONTO PAD PLAY | HI-DEF


VIDEO: ERECTOR LOWERS BACK AWAY PLAY | HI-DEF


MORE: PREVIOUS DELTA 4/GOES N COVERAGE


SUBSCRIBE NOW