Two Russian communications satellites share ride to space
BY STEPHEN CLARK
SPACEFLIGHT NOW
Posted: February 11, 2009;
Updated after spacecraft separation


A Proton rocket blasted off from a snow-covered launch pad early Wednesday and successfully put a pair of Russian civil communications satellites 22,300 miles above Earth.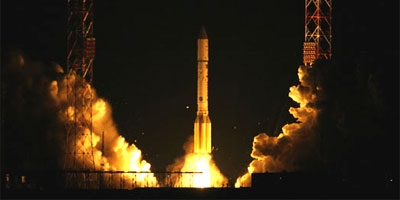 Credit: Khrunichev



The Proton booster ignited its six first stage engines and roared skyward at 0003 GMT from Complex 200 at the Baikonur Cosmodrome in Kazakhstan. Liftoff occurred in the predawn hours at the launch site.

The rocket's three core stages powered the launcher into space within the first 10 minutes of the mission, leaving the Breeze M upper stage to complete a series of burns to place the Express AM44 and Express MD1 satellites into the targeted orbit.

The Breeze M upper stage released Express AM44 on schedule at about 0915 GMT. Deployment of Express MD1 was confirmed about 15 minutes later, according to the Russian space agency.

Both satellites, weighing a combined 8,100 pounds, were injected directly into a 22,300-mile-high geostationary orbit, according to Khrunichev, the Russian builder of Proton rockets.

The launch used an enhanced version of the storied booster that was first tested during a commercial flight in July 2007.

The upgraded configuration includes lighter graphite epoxy material connecting the rocket's stages, instead of heavier metal adapters. Designers also revamped the Breeze M stage's reaction control system and reduced the number of fuel tanks from six to two, according to International Launch Services, the U.S.-based firm that sells Proton rockets on the commercial market.

Officials ordered the improvements to increase the rocket's performance, particularly on marathon missions to geostationary orbit.

Express AM44 was built by Reshetnev Co., a Russian aerospace company formerly known as NPO PM.

Engineers confirmed Express AM44's solar panels unfurled and acquired the sun within minutes of spacecraft separation.

Khrunichev manufactured Express MD1, but the company gave no report on the status of that satellite.

Thales Alenia Space provided the communications payloads for both satellites, which will be operated by the Russian Satellite Communications Co. for government and commercial users.

Express AM44, weighing 5,582 pounds at launch, will use its own propulsion system to park itself at its permanent home in geostationary orbit at 11 degrees west longitude.

The craft will eventually replace the aging Express A3 satellite at that orbital location, which serves customers across Russia, former Soviet states, Europe, Asia and Africa.

The satellite carries a communications payload of 16 Ku-band, 10 C-band and a single L-band transponder. The gear is designed to provide digital television and radio broadcasting, data networking, videoconferencing and Internet services for at least 12 years.

Express MD1 is the first member of a new series of smaller communications satellites to be launched for RSCC. The 2,513-pound satellite will be positioned in geostationary orbit at 80 degrees east longitude to increase communications capacity at that location, according to Khrunichev.

The satellite's eight C-band and one L-band transponder will provide secure communications for senior government leaders, digital broadcasting services and Internet access for other customers.

RSCC also plans to launch the identical Express MD2 satellite, but the company has not released a launch date for that mission.

The company is also developing Express AM4, a massive high-powered satellite built by EADS Astrium. That launch is scheduled for late 2010.

The next Proton mission could occur later this month with a Russian military communications satellite.